Hail to the Kale with this Kale Strawberry Salad with Lemon Basil Vinaigrette!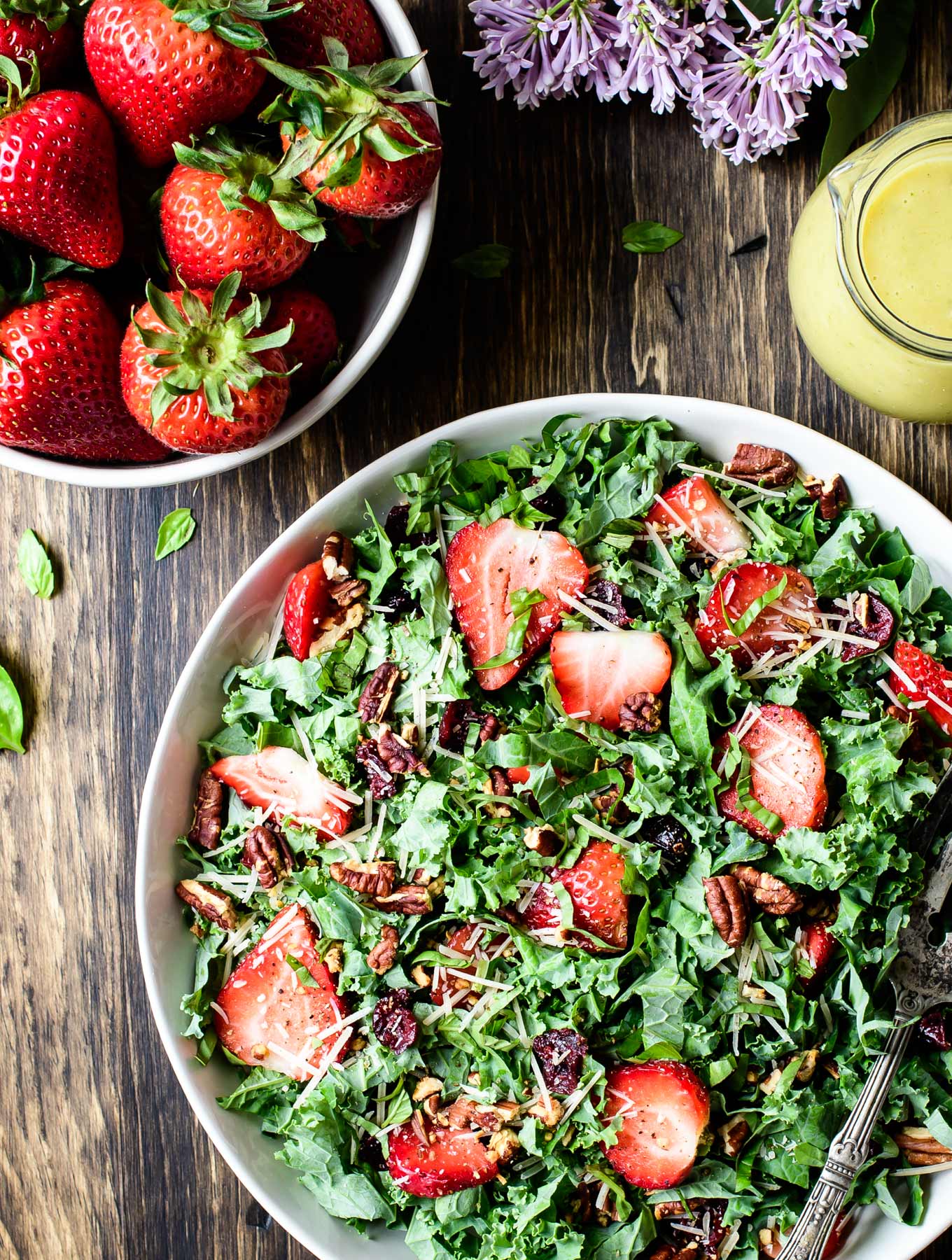 So, this week I'm continuing my farmers market theme with this amazing kale strawberry salad paired with the simplest and most delicious lemon basil vinaigrette. For all of you kale lovers, rejoice! As for the kale haters, I say give this recipe a try. Even if you are not willing to take a leap of faith with the salad, at least make the dressing. It's so good you'll want to put it on everything.
What makes this salad SOOO good? Well, it's:
Easy
Super Healthy
Tastes Amazing
In terms of my criteria for making a recipe, these are usually my top three motivators. You can't go wrong with this criteria. Just saying.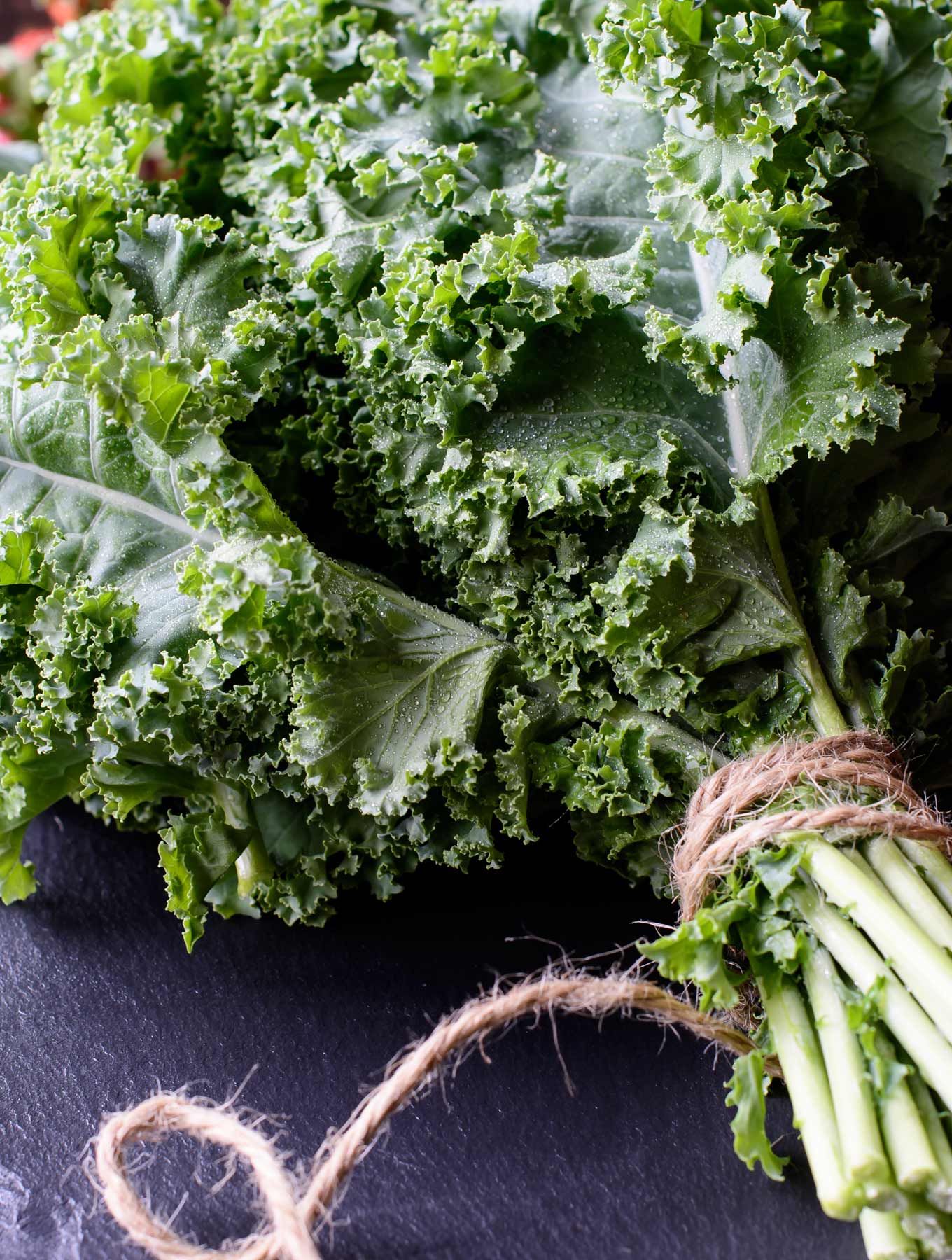 Let's talk about the star ingredient of this salad show, the kale. Ahhh, how I love thee! My husband and many others don't share in my love affair with this yummy green. Some say it's bitter, they don't like the texture or it's just plain rabbit food! And you're thinking in your head, I want to learn to love this trendy and healthy ingredient but can't. I am here for you!
The two key reasons people normally don't like kale are:
Not Removing The Stems: Yes, the stems are bitter, and very fibrous, and need to be removed. This can be done simply by running your knife along each side of the rib. Or if you want an easier way, just grab the end of the leaf by the rib and pull upwards releasing the leaves.
Secondly the massaging: I know this might sound sorta strange but trust me it works! Massaging the kale helps to tame the bitterness. I also find that when you chiffonade the kale you get similar results which is the method that I chose for this salad.  Chiffonade is a fancy french word used to describe a slicing technique in which leafy greens or flat leaf herbs such as basil are cut into long, thin strips. You accomplish this by stacking the leaves, rolling them tightly, then slicing the leaves perpendicular to the roll. Easy peasy! If you want an even easier step to less bitter kale, choose baby kale.
And now for the best supporting ingredient in the salad show, the strawberries. I love the sweetness the berries add to this salad especially paired with the lemon basil vinaigrette. This is a marriage made in salad heaven. Feel free to substitute blueberries in this salad if you want. Heck, you can even do half strawberries and half blueberries.
The one good thing about many of the recipes I share here and in my cooking classes, is the adaptability. I don't want anyone to feel locked in to a recipe. For me, cooking is all about flexing, it's less stressful that way. I don't follow any rules. I guess when you're not a classically trained chef, you don't have any rules to begin with. How liberating!!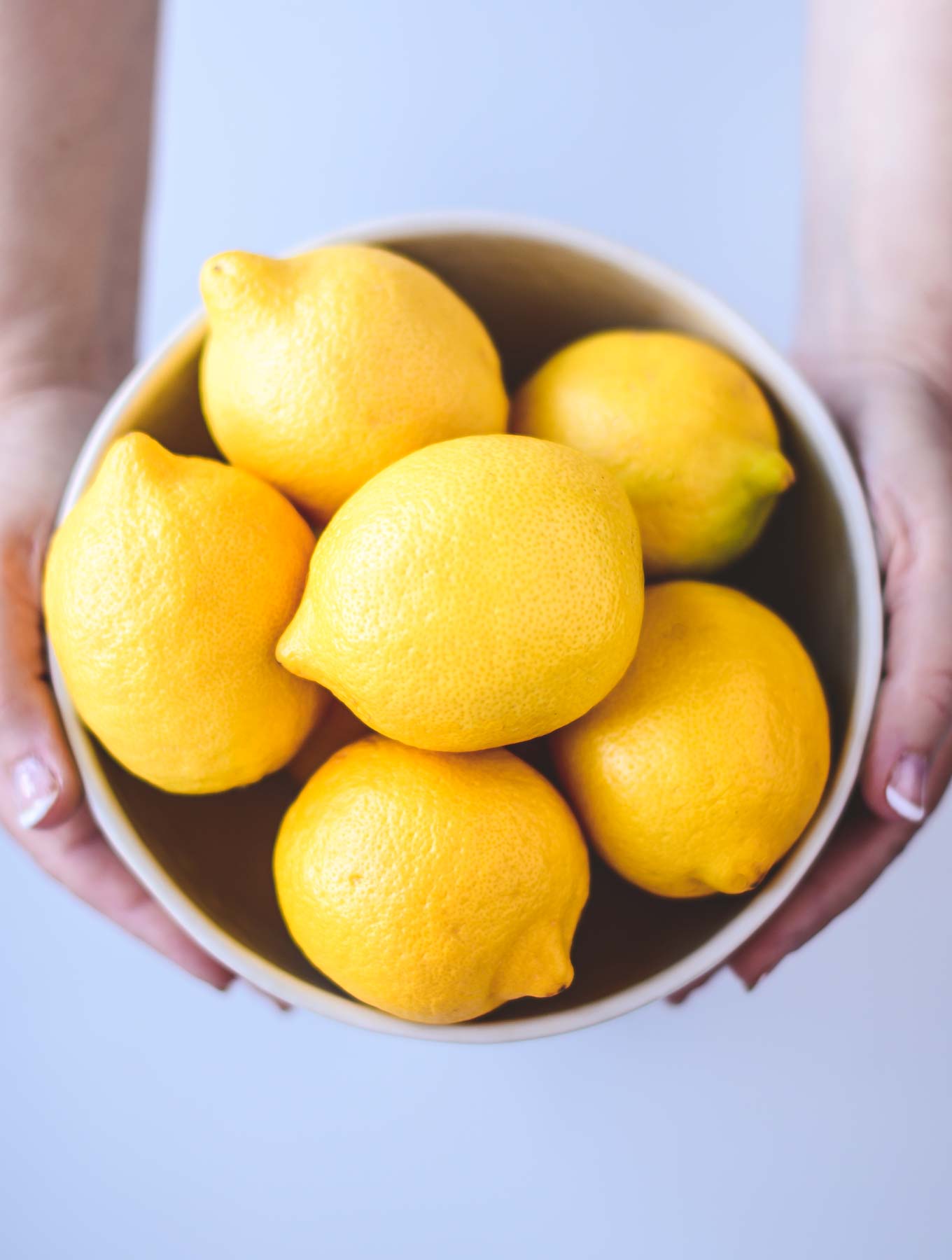 I am leaving the dressing for the grand finale. I love this lemon basil vinaigrette for it's simplicity and bright flavors. Plus, I am a sucker for anything with lemon. This recipe could not be any easier. It literally involves taking a hand full of fresh ingredients popping them into a high speed blender and voila, a yummy, delicious vinaigrette. I love easy blender vinaigrettes and dressings. To be honest, since I learned how to make them, I have not bought a bottle of salad dressing in years. The home made ones are the best, super fresh and free of all those nasty preservatives and chemicals..eww!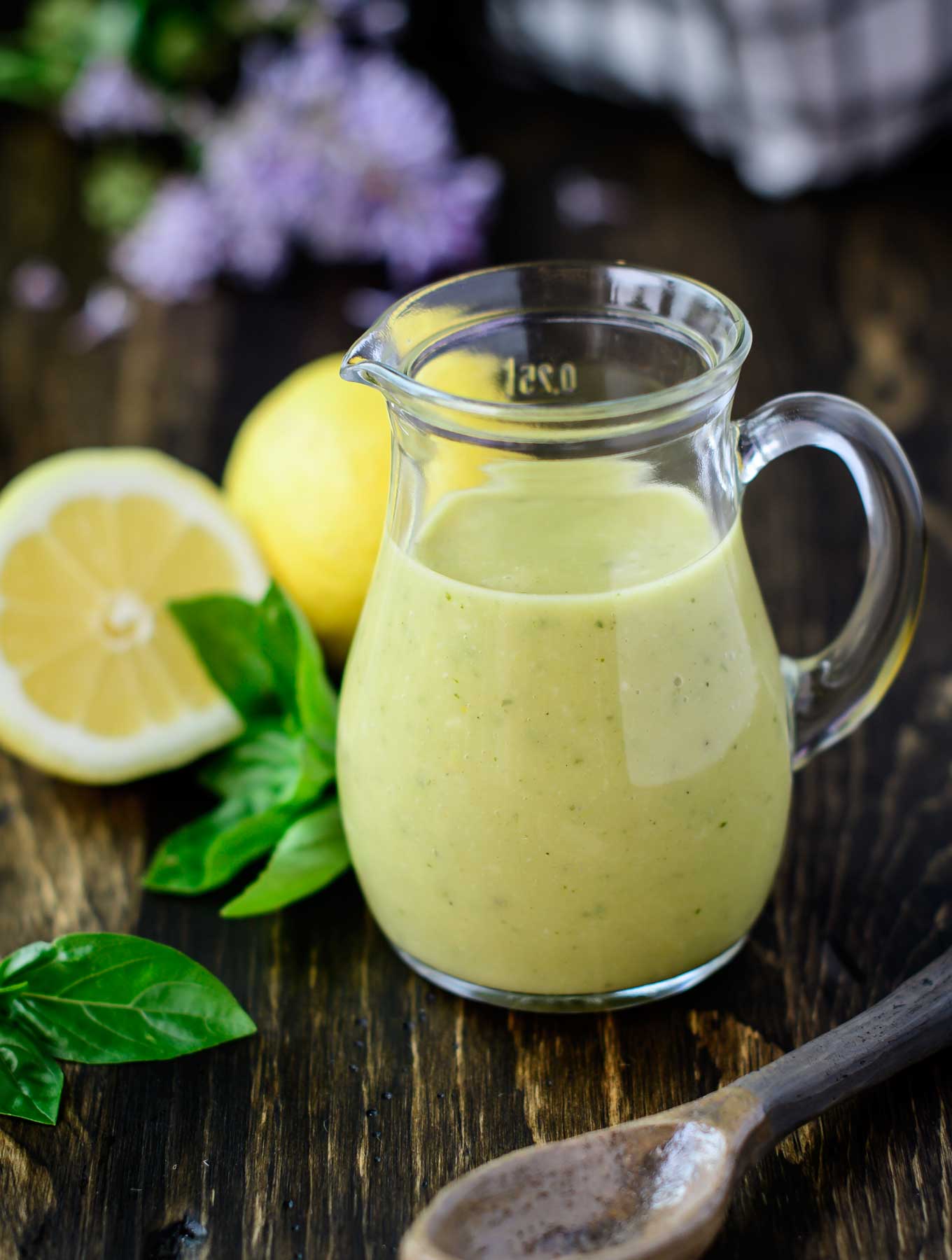 Would love to hear what you all think of this salad. Leave a comment below and let me know if you try it.
Pin for Later!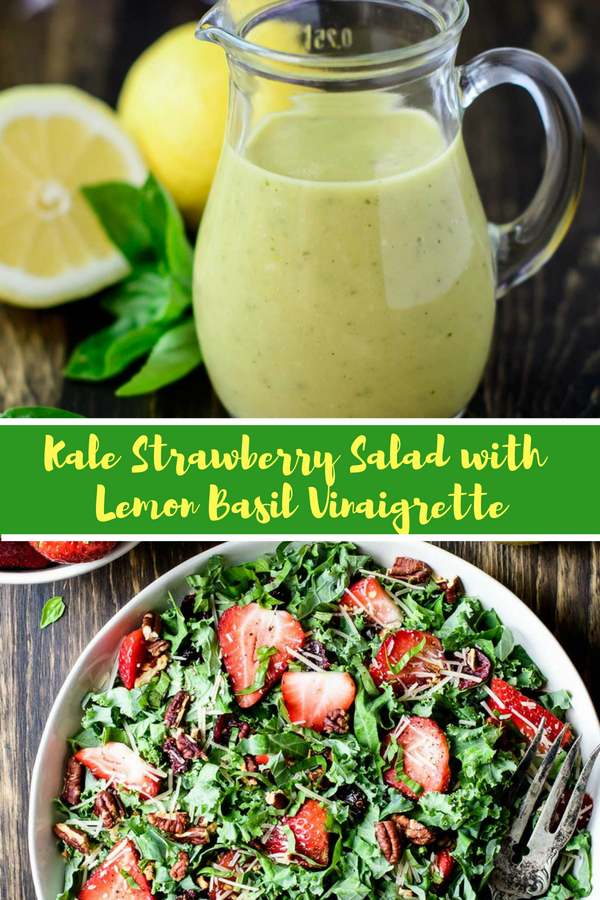 Print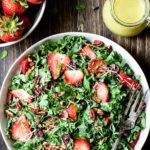 Kale Strawberry Salad with Lemon Basil Vinaigrette
Author:

Prep Time:

25

Total Time:

25 minutes

Yield:

4

-

6

Servings

1

x
---
Description
Say hello to summer with this kale and strawberry salad. It's the perfect blend of color and texture paired with a simple lemon basil vinaigrette.
---
Ingredients
Salad Ingredients:
1/4

C. Pecans (toasted)

6

C. Green Curly Kale (chiffonade)

1/2

C. – 1 C. Fresh Strawberries (sliced)

1/3

C. Dried Cranberries

1/4

C. Fresh Parmesan Cheese (shaved or shredded)

2

T. Fresh Basil (chiffonade)
Dressing Ingredients:
½

C. Olive Oil

3

T. White Wine Vinegar

1

T. Dijon

1

Clove of Garlic

1

t. Honey

1

T. Fresh Basil (chopped)

1

t. Lemon Zest
Salt & Pepper
---
Instructions
For the Salad:
Toss all salad ingredients together.
Add dressing and toss until greens are well coated.
Top with extra shaved parmesan and cracked pepper.
For the Dressing:
Add all dressing ingredients to a high speed blender except olive oil. Blend until well combined.
Slowly drizzle olive oil into blender and continue blending on low until emulsified (fancy word for combining oil into a second liquid using force i.e the blender)
---
Notes
Add grilled chicken to this recipe to make it a meal.
You can swap out the kale with romaine.