Today, I bring you one of my favorite art styles applied to a pumpkin. Simple, stylish, and perfect for Fall!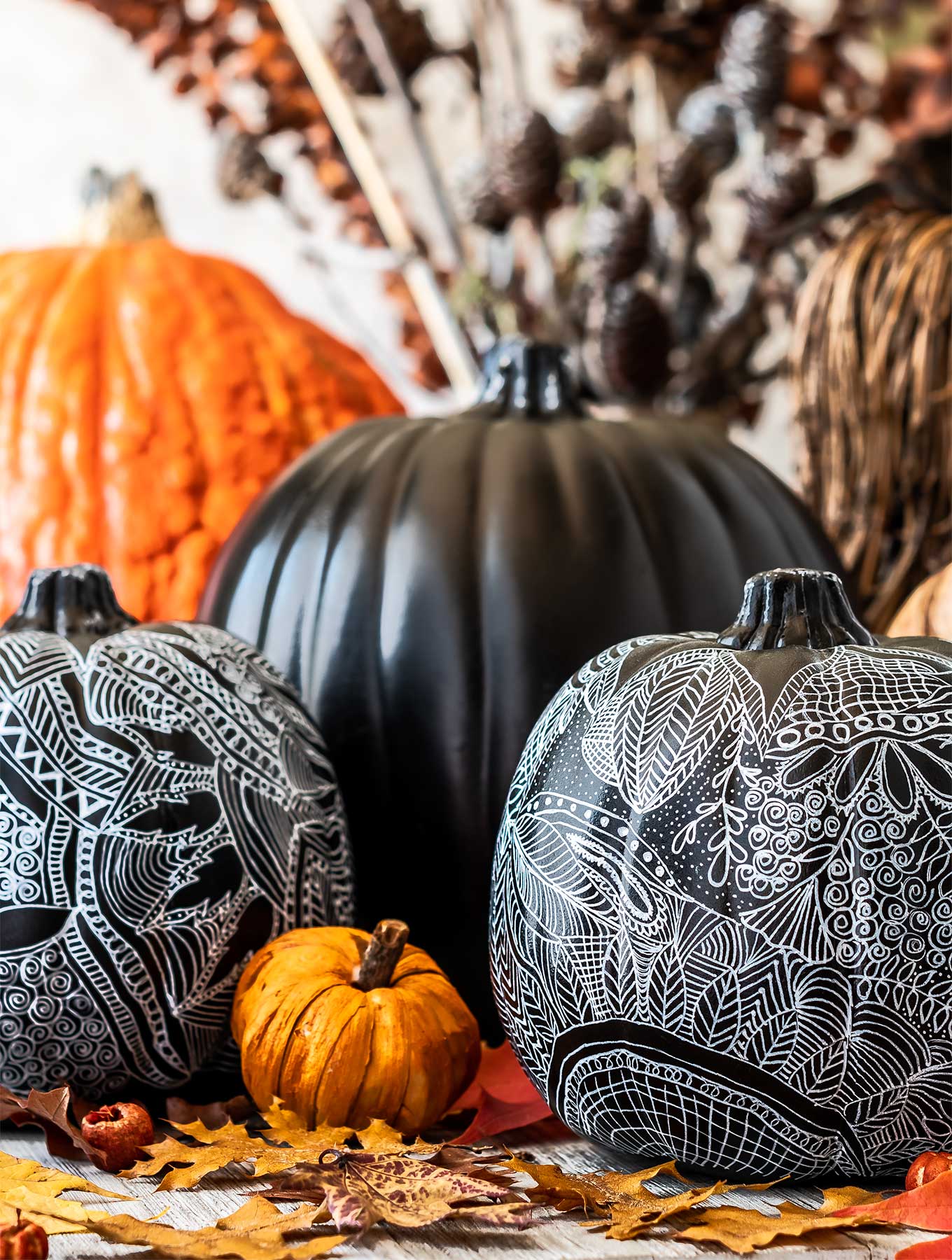 So you may be asking, what is zentangle exactly? In its simplest form, Zentangle is the creation of beautiful images linked together in structured patterns. It was developed by a couple named Rick Roberts and Maria Thomas. They created this art practice as a form of meditation. I can attest to the fact that it's incredibly meditative. It may look extremely difficult at first glance, with all of the winding interlocking patterns, but it's really very easy once you get the hang of it.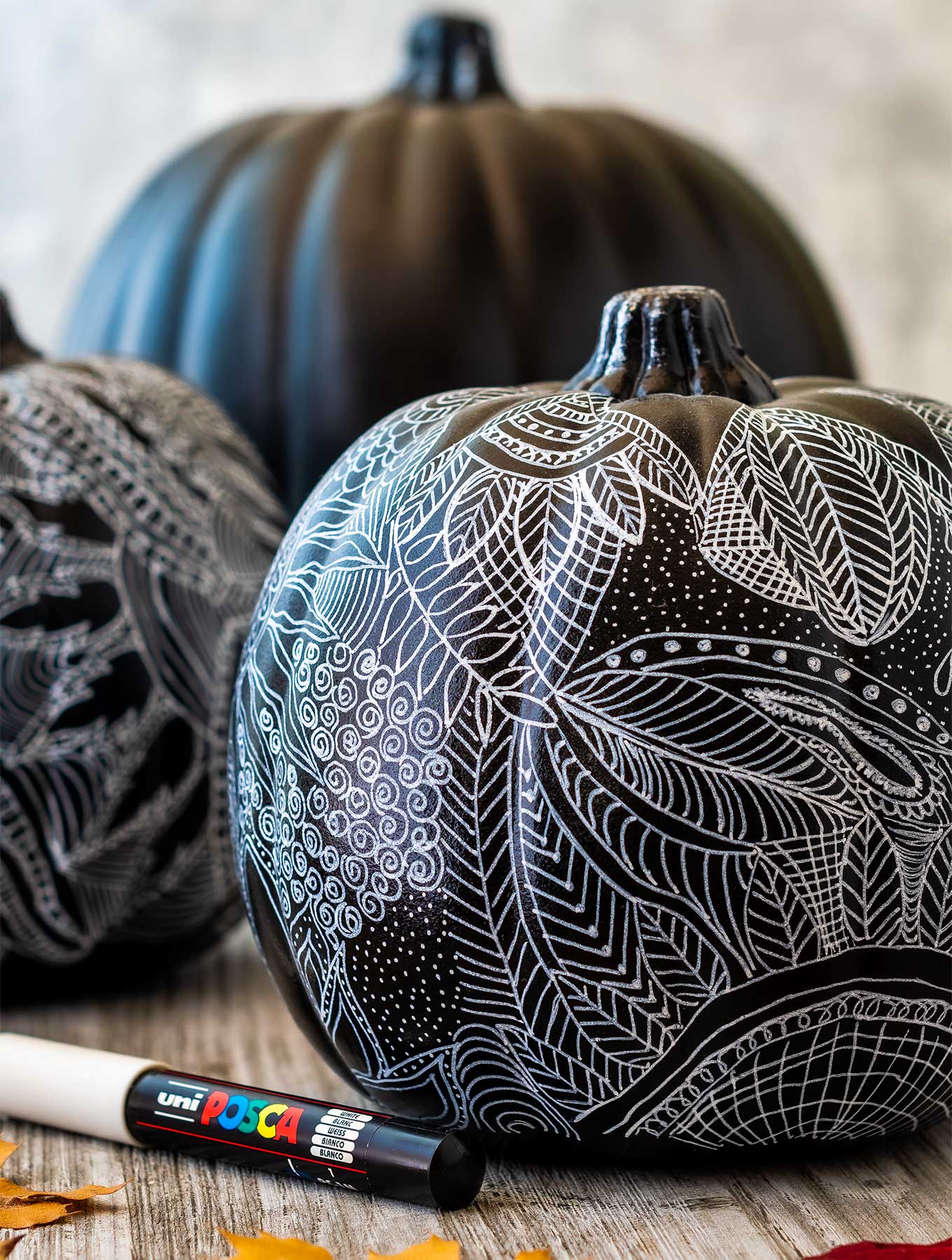 I became immediately addicted for a couple of reasons:
It only requires a couple of products
It's extremely relaxing
It's inexpensive (you really only need a white paint pen and a surface to draw on)
Anyone can do it!
For me, the most important tool is the white paint pen. I've tried so many over the last couple of years and I've finally settled on the Uni Posca as my ultimate favorite. My second favorite is the Molotow, but I found that the nib would get clogged too often. I like the finer nib (.7mm) because you can get a really nice thin line. I like doing the zentangle in black and white because of the contrast. You could also use a black fine sharpie on a white pumpkin for the same effect.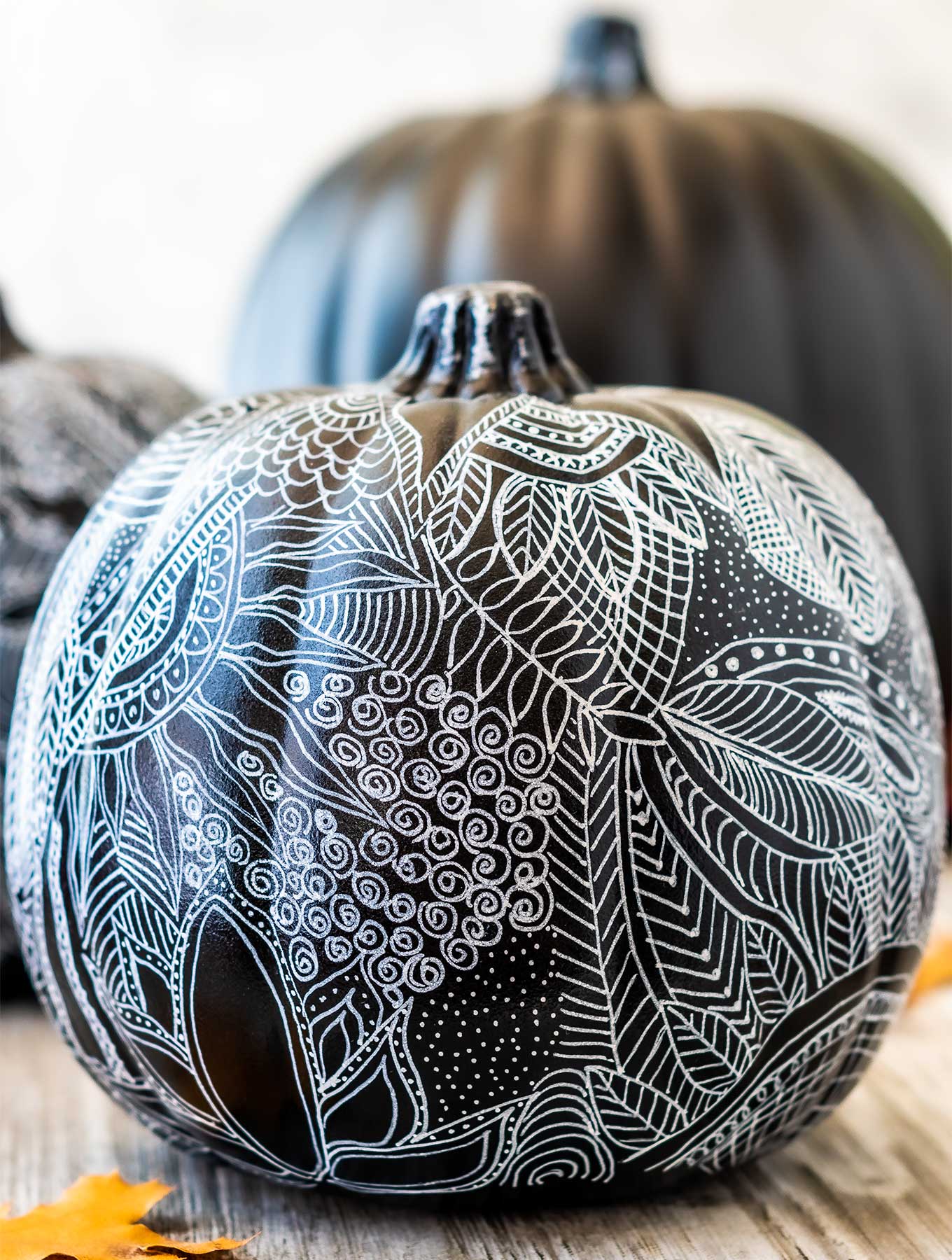 For this project, I chose a pre-painted black craft pumpkin that I bought at Michaels. You could always spray paint a real pumpkin with some flat black paint but why spend the extra work when you can have this one for next year too! The key to this project is to let go, not over think it, and just let your creativity flow.
I've included a practice sheet (linked below) to start with before you jump into transforming your pumpkin. You can either trace over the lines or draw on a separate piece of paper. If your feeling adventurous and free, just go for it. Remember you are just linking patterns together until your object is full of your beautiful design. No stress! This is supposed to be relaxing and meditative.
Here is what you will need to get started:
Black Craft Pumpkin ( I bought mine at Michaels)
Clear Varnish (this is optional as it will extend the life of your project)
This art style can be applied to so many surfaces. I've entangled my laptop cover, water bottles, journals and even threatened to zentangle my husband (he wasn't too keen on the idea..LOL).
So that's it, short and simple. I will be sharing a quick video on instagram of me decorating a pumpkin, so head over and take a look. If you create one yourself, please share by tagging crazy inspired life on instagram. I love seeing the amazing projects you create. Have fun!