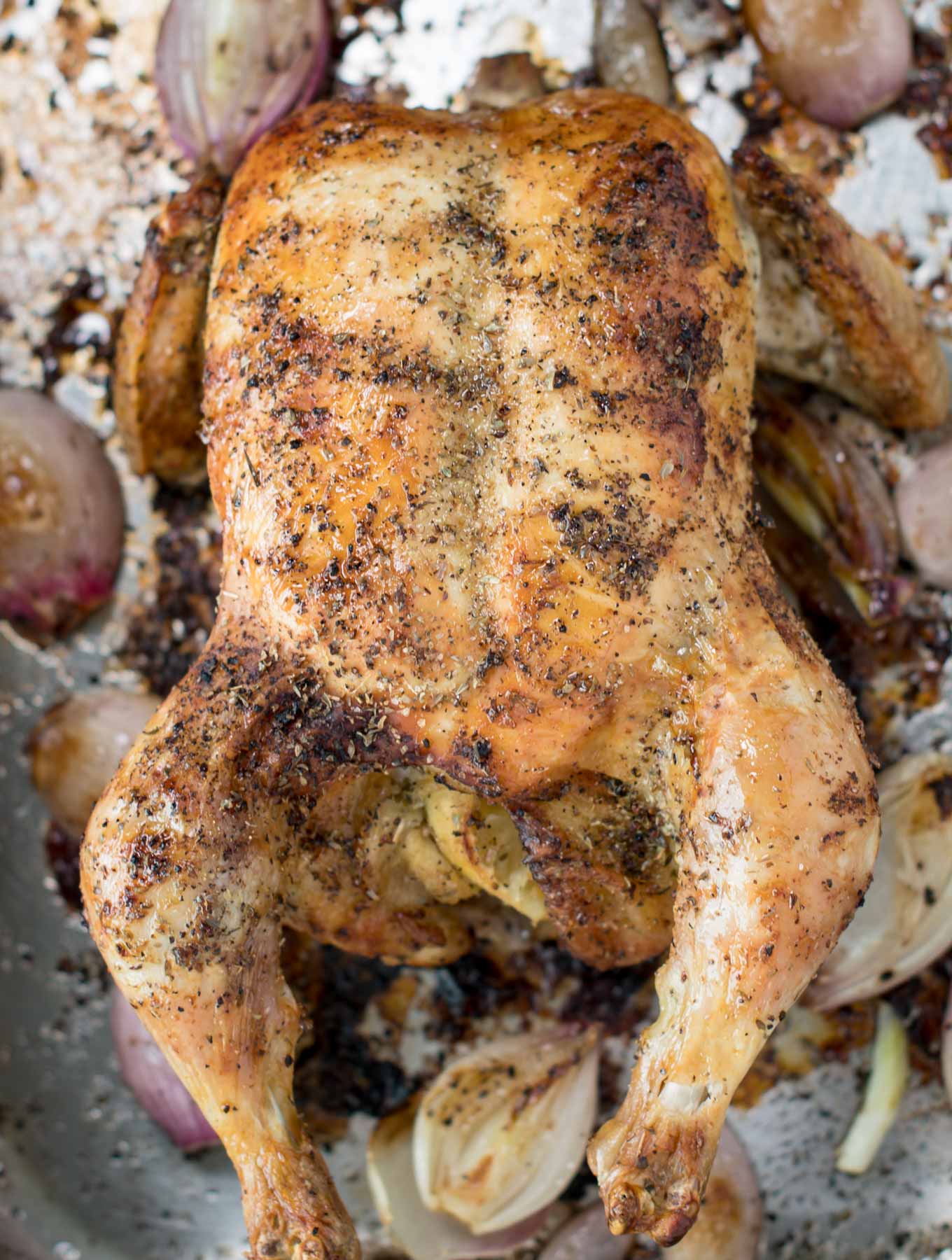 Friends..Let me introduce you to the humble PERFECT ROASTED CHICKEN.
A simple bird that has been elevated in a way that only your olfactory senses can explain. If smell-o-vision were a thing, you would be out of your mind right now.
This chicken is hands down, one of my husbands most favorite things I make. He said if that if he had to choose his last meal, this chicken would be it. No lie! It is hard to believe, I know. Out of the hundreds of things that I have made during our marriage, from a painstakingly potato wrapped sea bass, to a blue cheese stuffed, 24 hour marinated filet mignon, this simple chicken always wins out. When I say simple, I mean simple. Only four key ingredients:
Whole Chicken
Lemon
Kosher Salt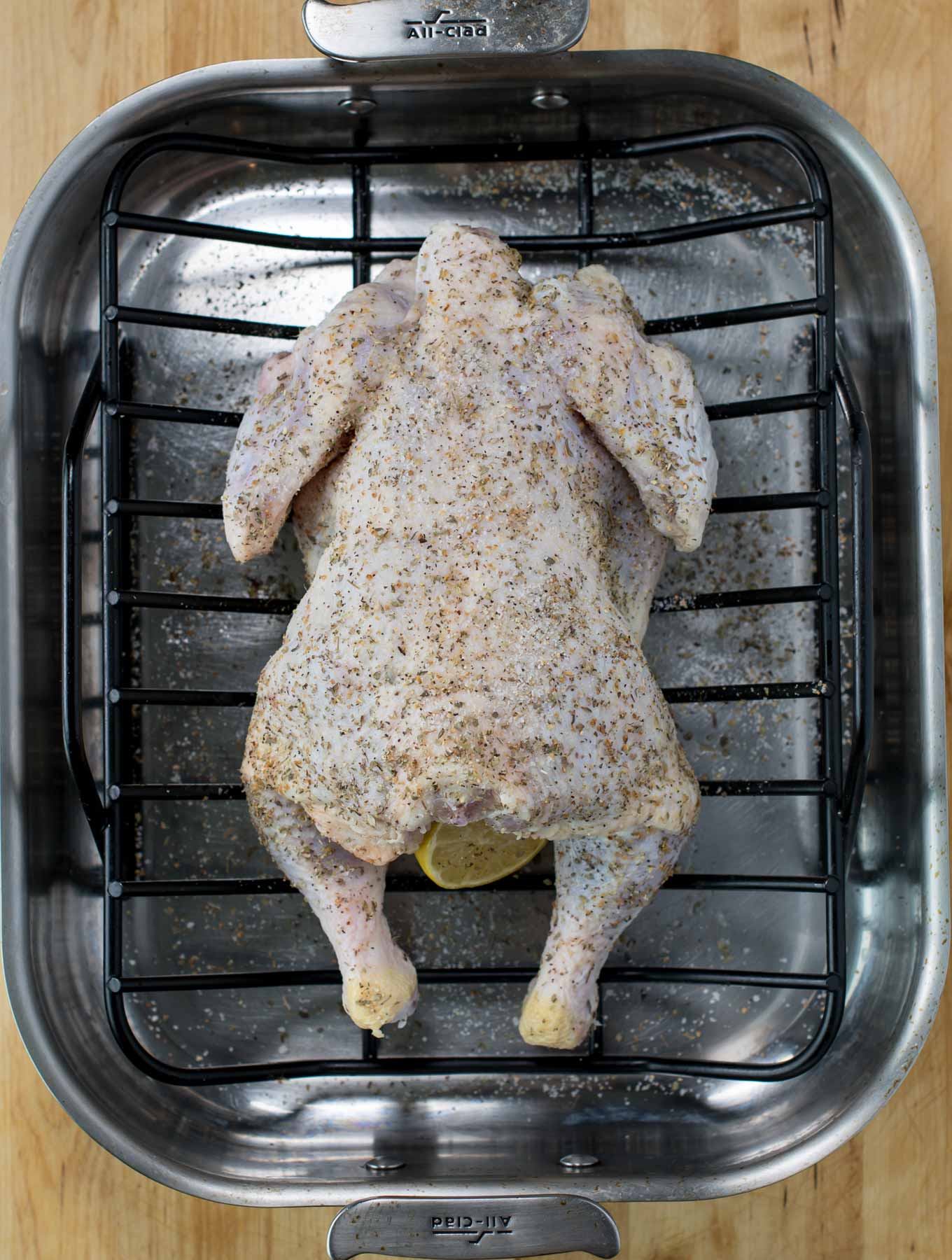 It all starts with a simple whole chicken. For those of you who are in the habit of only buying breasts or thighs, please do not be intimidated by using a whole chicken. This recipe is by far one of the easiest recipes to prepare. You have at most 5-10 minutes of prep here. I guarantee you that you'll spend more time trying to get through the line at Chipotle.
The key ingredient to the success of  this chicken is the Greek Seasoning. In case you missed it, I talked all about the Greek Seasoning in a previous post. I will repeat..this is the numero uno spice blend to have in your kitchen at all times. I use it for everything!! It is what kicks this chicken into high flavor gear along with cooking it at high heat. I remember reading somewhere about cooking a chicken at hight heat and to be honest I thought..OMG it's going to burn. No friend..perfectly cooked, perfectly moist, to die for chicken.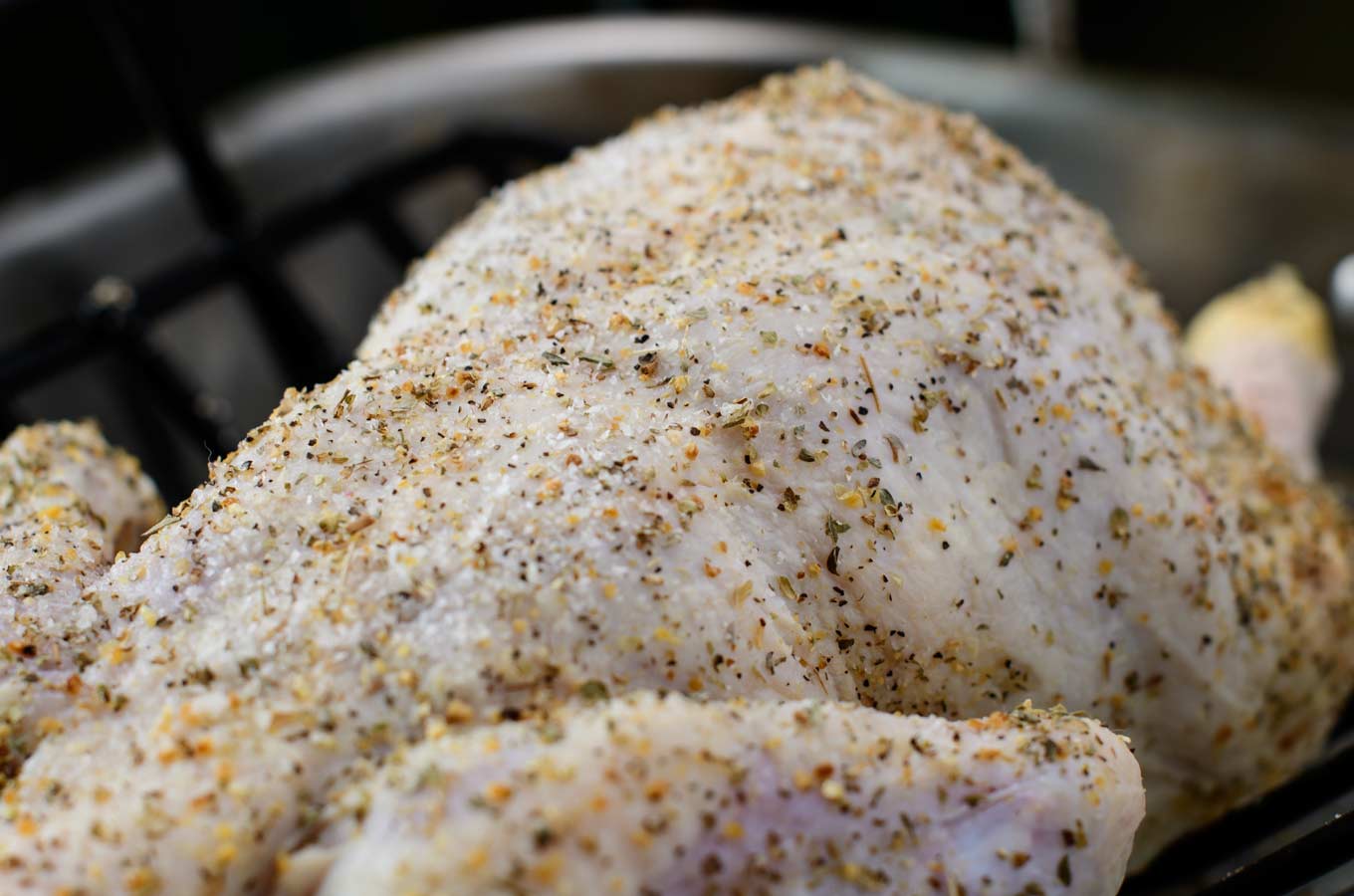 I know I said 4 ingredients, but there are two optional ingredients that we should discuss. First, shallots.  These are a must do for me. I could probably eat a bowl of them on their own. They are that good. They cook at the bottom of the roasting pan in all those yummy juices that are releasing from the chicken as it cooks and paired with the high heat  they tend to caramelize a bit leaving you with the most unctuous mouth feel. The recipe suggests 4-6 but I always throw in more because… well because, they're that flippin' awesome.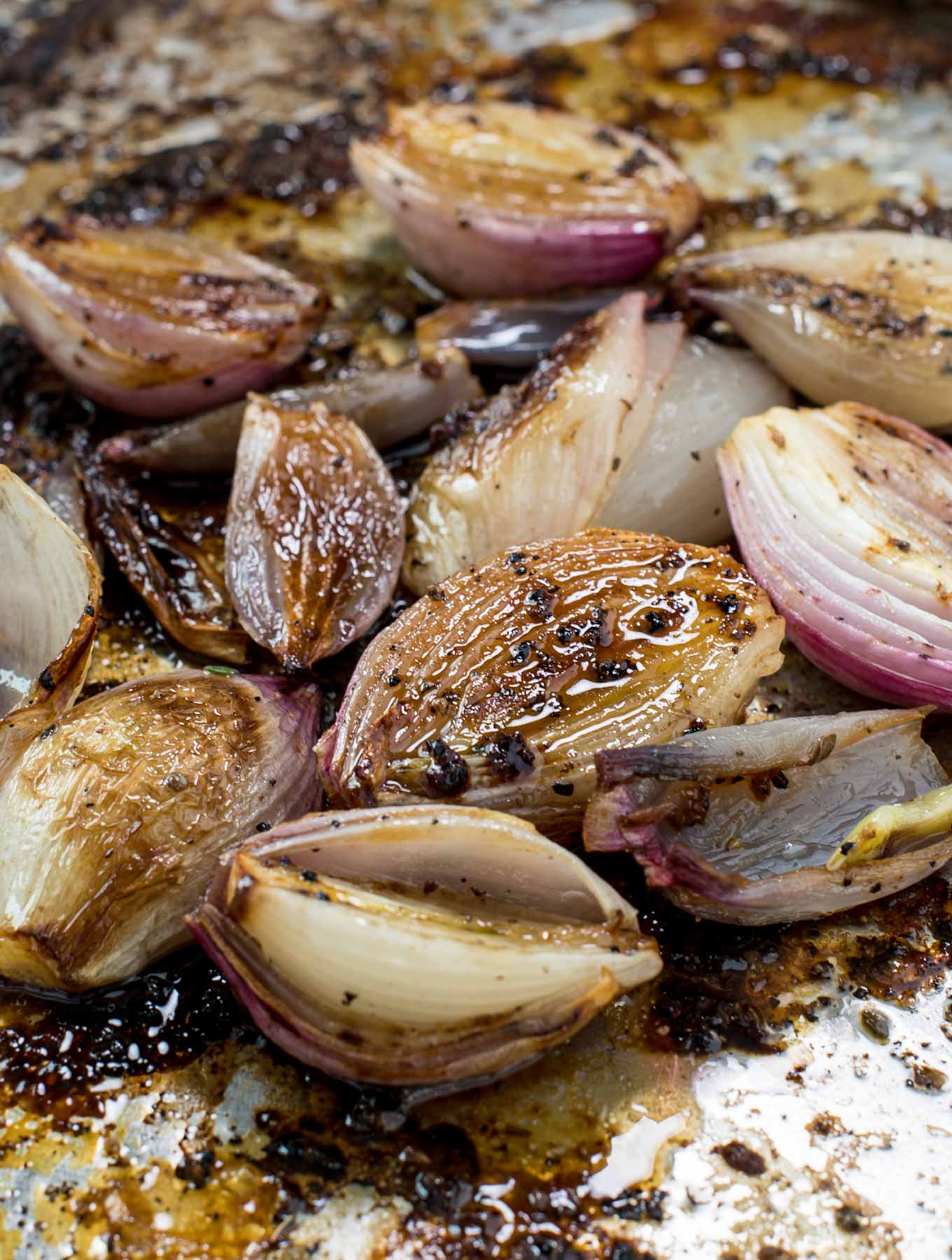 The second optional ingredient is white truffle oil.  I assure you that your chicken will be amazing without it, but if you really want to take it to the next level, splurge on the white truffle oil. It only takes a little bit because a little goes a long way. We are just going to be basting the crispy skin at the end with this flavor enhancing oil. For those of you that have no idea what white truffle oil is, I should probably give you a little info. It's a culinary finishing oil that's used to impart the flavor and aroma of truffles. It is not an oil that you cook with. White truffles are essentially mushrooms, but not just ordinary run of the mill mushrooms.
They are a true delicacy running around $6,000-$10,000 a pound. Wow! So at this point you might be thinking – nope, not gonna do it, that oil is going to cost me! – in this recipe, I used the Urbani brand which will run less than $12 for 1.8 oz. This oil is great brushed on steak, used in pastas, scrambled eggs and my husband swears it could work on apple pie… I'm not going there.  (The struggle is real people!) Bottom line is, pick up a small bottle of quality white truffle oil, if you've never tried it, you'll be amazed at what a difference it makes.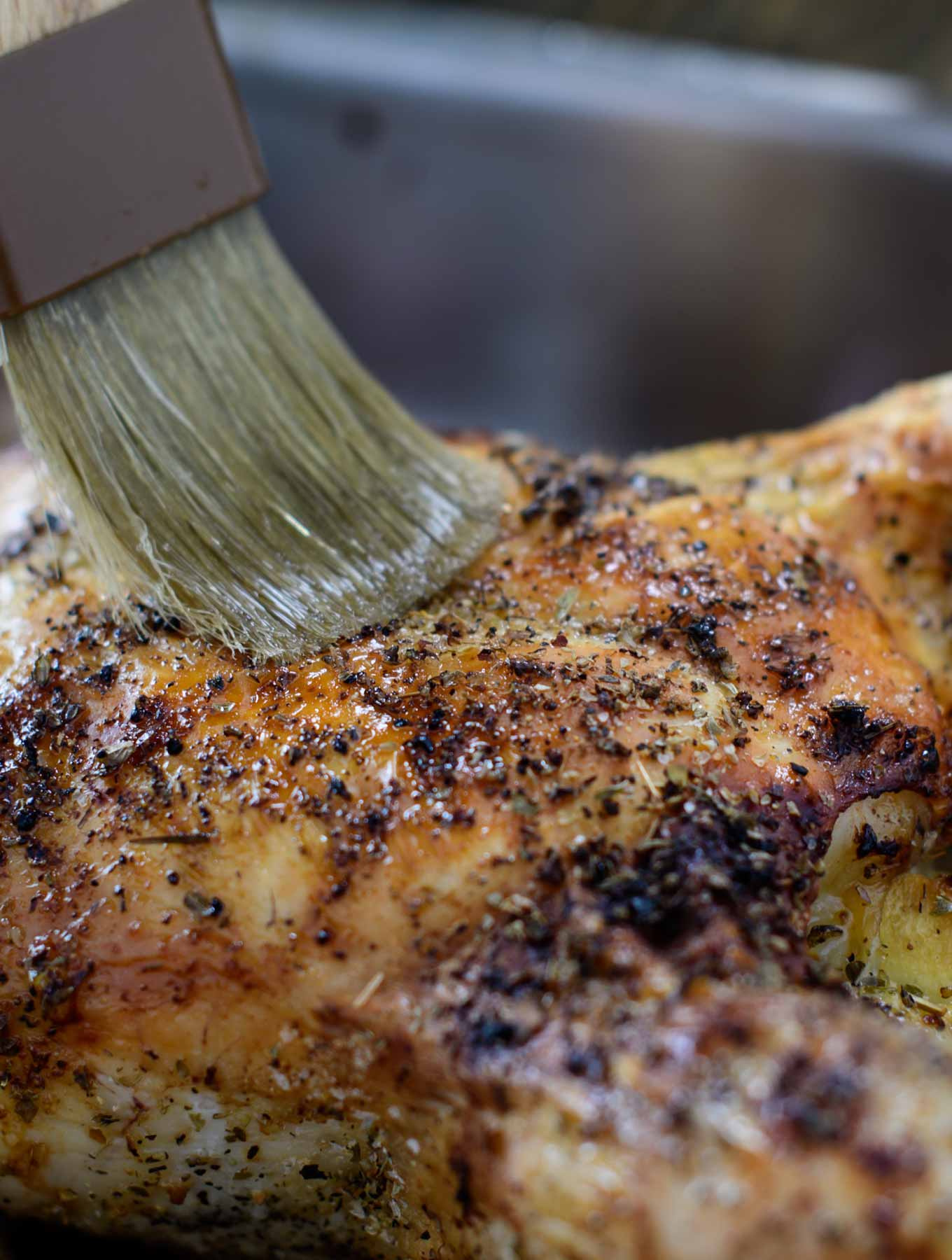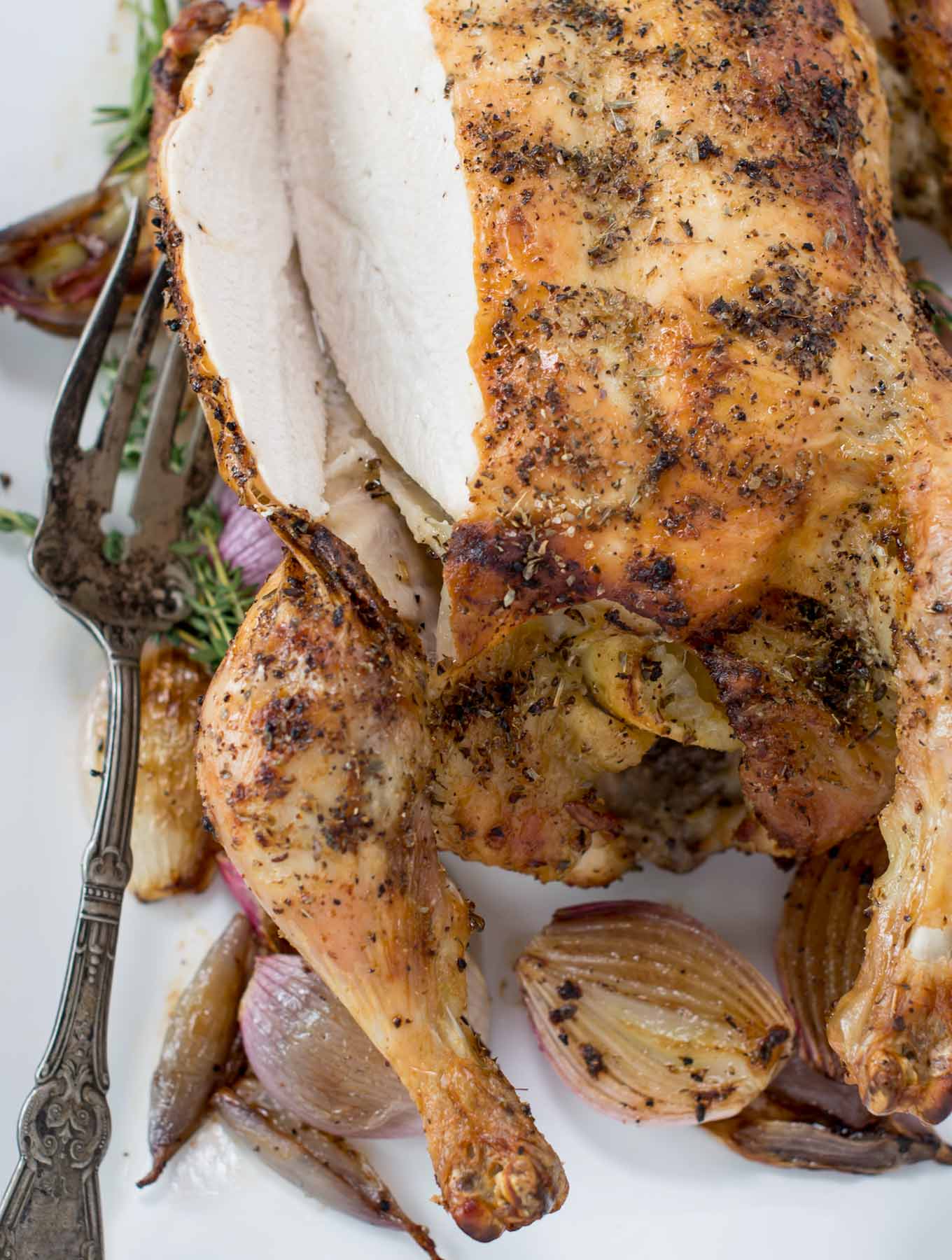 So, there you have it! The most delicious, simple, moist, easy to make, chicken ever. If you have left overs, which you probably won't, you can use the remaining meat in salads, soups and any recipe that you would use left over rotisserie chicken for. If your into time saving meal prep, pop two of these babies in the oven. It's just as easy to cook two as it is one.
All we have here is…..Roasted Chicken Perfection!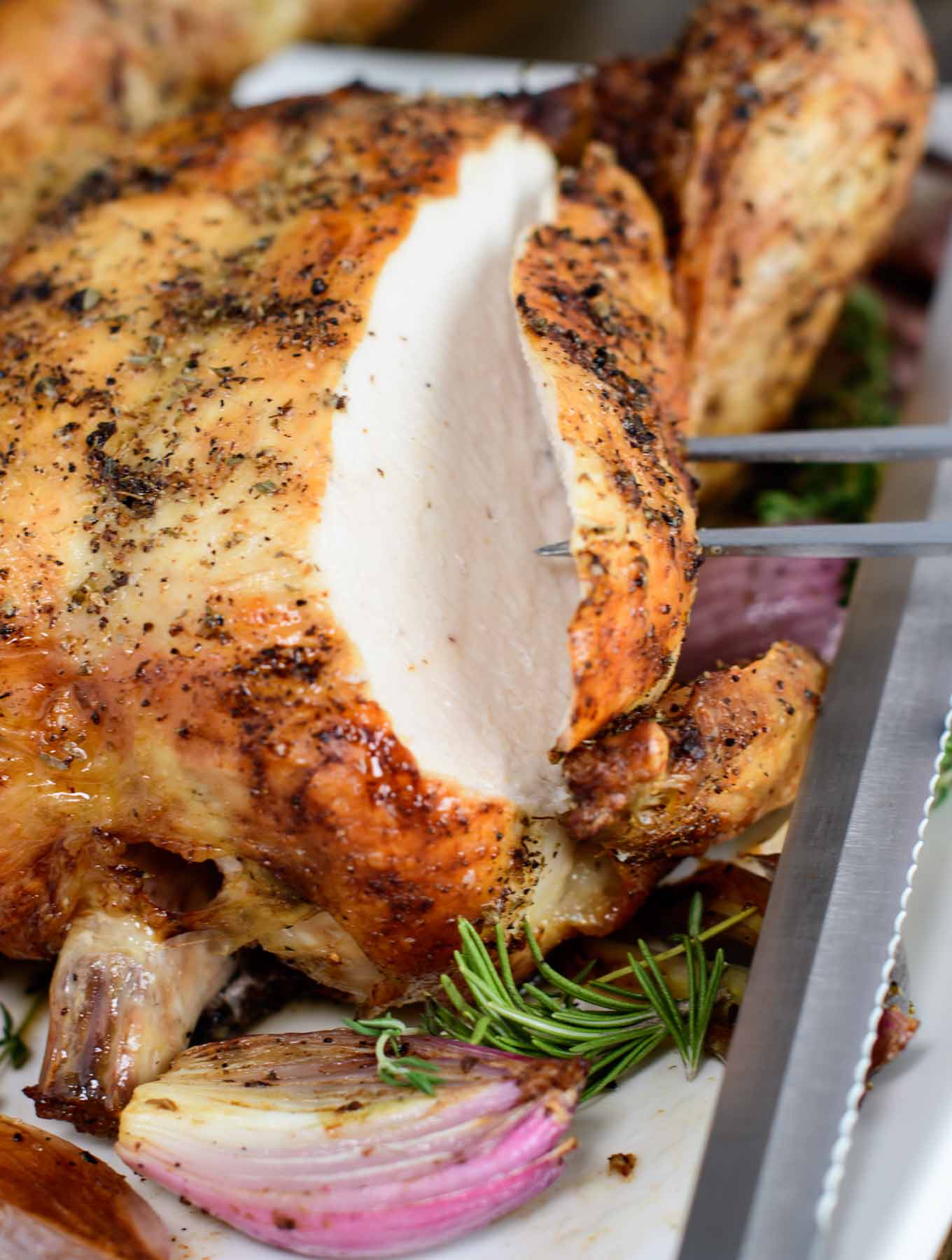 Print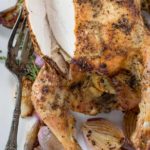 The Perfect Roasted Chicken
Author:

Prep Time:

10

Cook Time:

60

Total Time:

1 hour 10 minutes
---
Description
This perfect roasted chicken takes only 4 key ingredients and is the most delicious and moist chicken ever. Great for an easy meal and fancy enough to have when company comes over.
---
Ingredients
1

Whole Roasting Chicken

1

T. Greek Seasoning

1

T. Kosher Salt

1

Lemon

4

–

6

Shallots (optional) peeled an cut in half
White Truffle Oil For Basting (optional but well worth it)
---
Instructions
Pre-heat oven to 450 degrees.
PREP: Wash and dry chicken. Remove any bundles of parts from inside of chicken. Cut lemon in half and squeeze lemon on both sides of chicken and then place lemon halves in the cavity of the chicken. Give chicken a generous coating of kosher salt on both sides and then coat with the Greek seasoning on both sides.
COOK: Place chicken on a rack in roasting pan with the breast side down. Roast for 30 minutes and then flip chicken to breast side up. To flip chicken, use a pair of tongs and a carving fork. Insert carving fork into the cavity and flip over with the aid of the tongs letting the juices fall into the pan. Add optional shallots to bottom of roasting pan. Return chicken to oven and cook for 30 more minutes or until thigh registers at 170 degrees on a meat thermometer.
FINAL TOUCH: Remove chicken and brush with white truffle oil (optional). Tent the chicken with foil and let rest for about 10-15 minutes. Carve and serve!
SaveSave
SaveSave
SaveSave
SaveSave
SaveSave
SaveSave
SaveSave
SaveSave
SaveSave
SaveSave
SaveSave
SaveSave
SaveSave
SaveSave
SaveSave
SaveSave
SaveSave