Sheet Pan Shrimp Tacos with Cilantro Lime Drizzle…So Easy and So Good!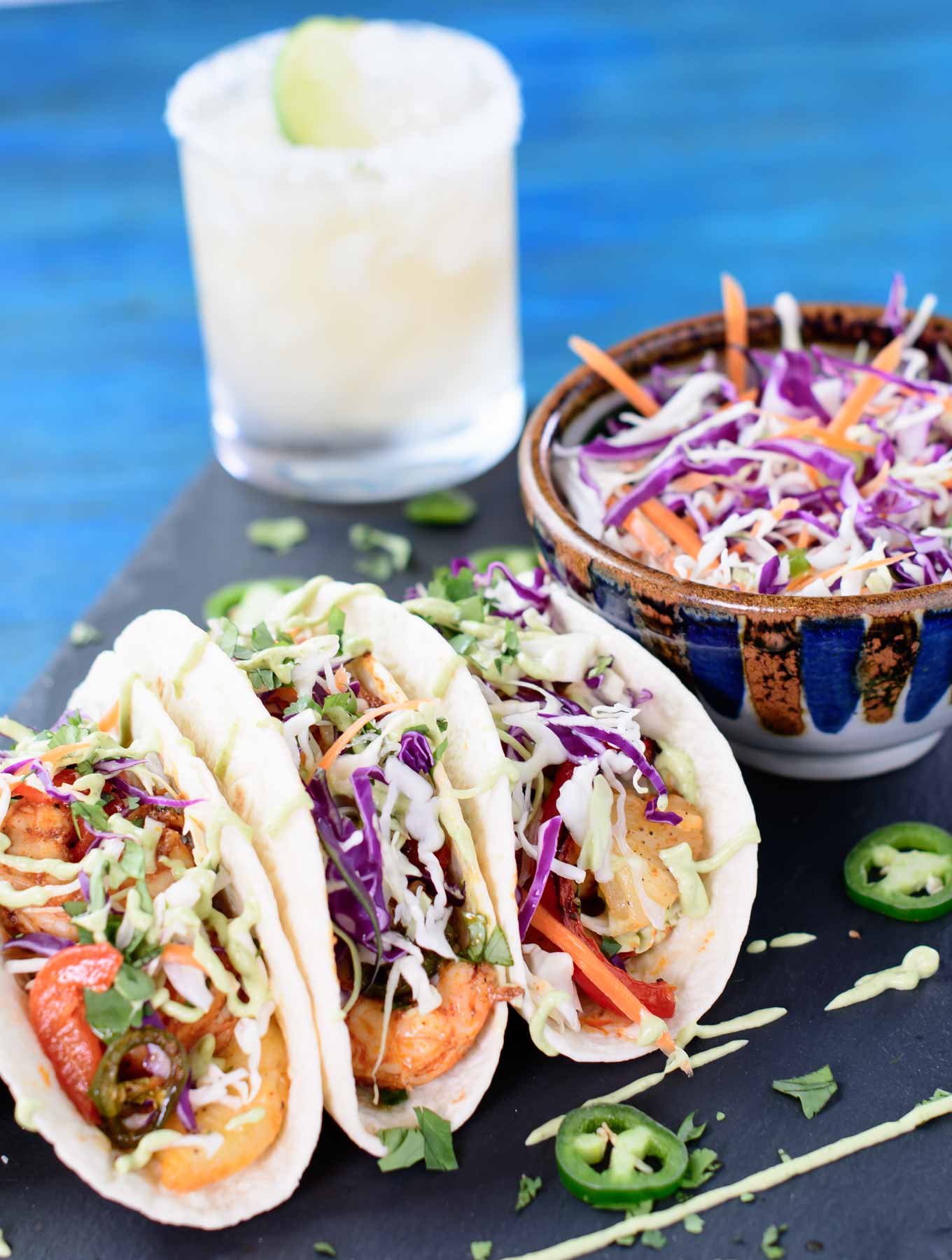 I don't know if I'm the only one late to the party on this sheet pan cooking trend, but it's everywhere. Where have I been? So, let's break it down. It's this simple, you cook both your protein and your veggies, etc. together on one pan. It's the sheet pan version of the one skillet meal. You know what that means? Super easy with minimal clean up…yes please!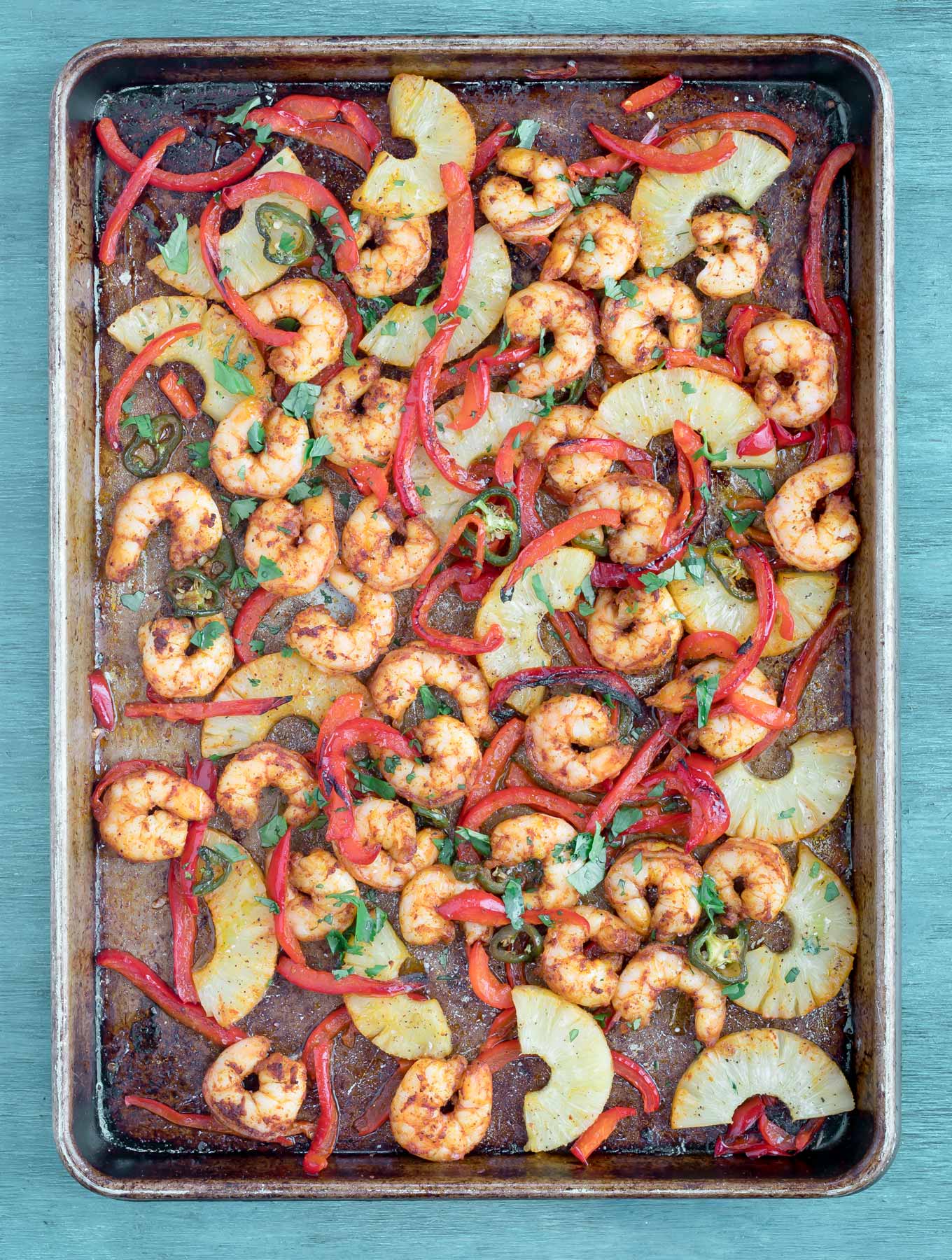 These shrimp tacos have the perfect mix of sweet, salty, spicy, crunchy, creamy and amazingness. This recipe is also great with fish or even chicken. It all starts with the spice blend, a balanced combination of cumin, smoked paprika, chili powder, garlic, salt and pepper. I am not a fan of spicy food, but I think this blend has just the right amount of zip. For those of you that crave that alluring sensation of your tongue on fire, you have the addition of the jalapeños. Adding the pineapple and red pepper adds just the right amount of sweetness to tame the heat.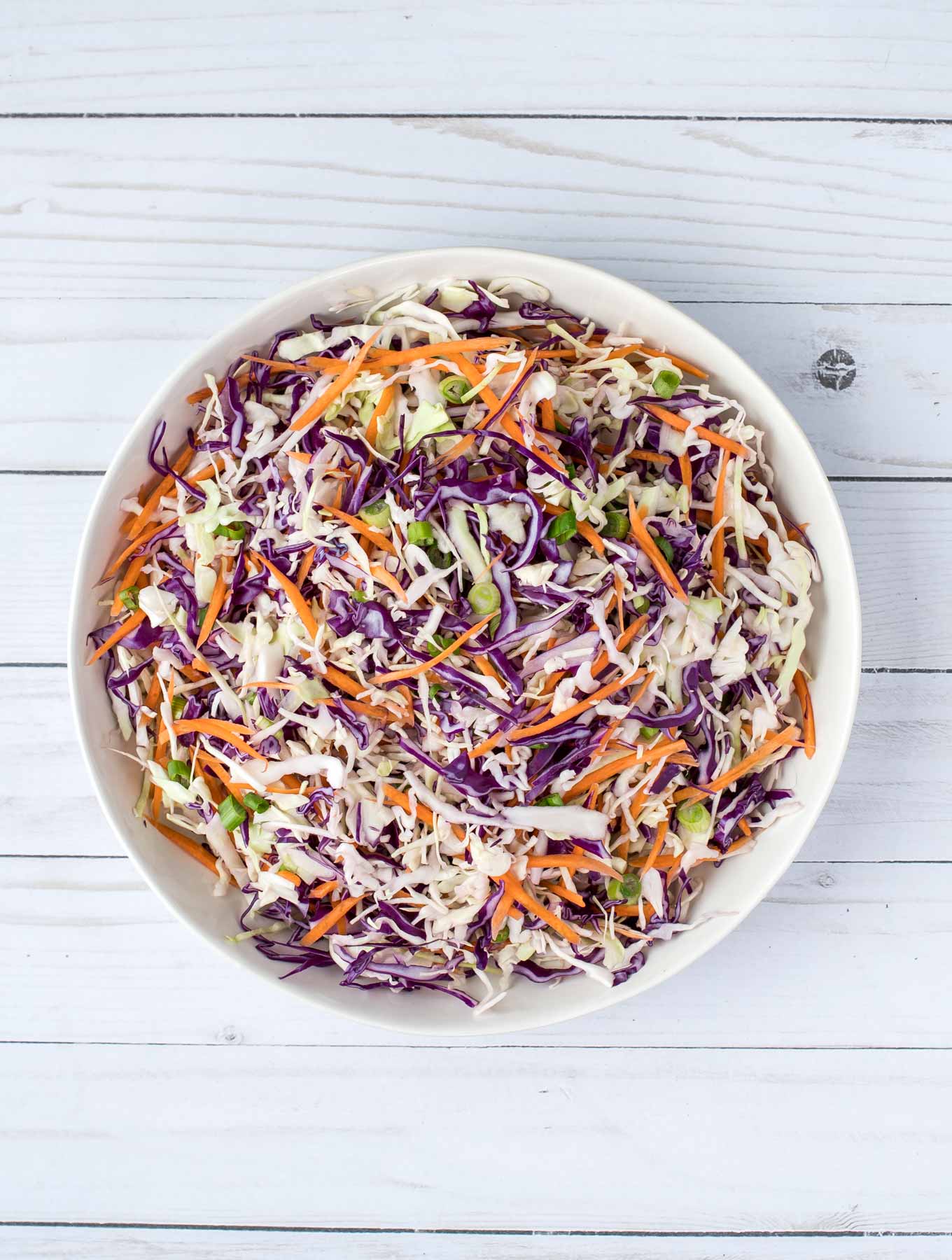 These shrimp tacos would not be the same without the addition of the colorful rainbow slaw. With just four ingredients, the slaw not only adds great texture and color to your taco but some great health benefits too! I chose red and green cabbage, carrots and some scallions. The more color the better. You know..eat the rainbow. If your pressed for time, you can always buy a packaged mix of ready made slaw. More time savings = more time sipping margaritas on the deck. Remember, it is spring and warmer weather is on it's way even in Minnesota where I live.
The final addition to the tacos is the creamy cilantro drizzle. Drizzle is just a fancy name for a sauce that you, well… just drizzle on your tacos, hence the word… drizzle (Hit me up if you have any other creative suggestions, I'm open). If you belong to the "cilantro tastes like soap" club,  you have to try it. I have converted many of you with this drizzle and I'm not done yet. 
The only thing missing from these tacos now, is a frosty margarita. Happy Friday!
Print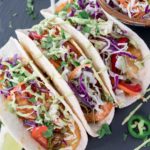 Sheet Pan Shrimp Tacos with Cilantro Lime Drizzle
Author:

Prep Time:

10

Cook Time:

25

Total Time:

35 minutes

Yield:

Approx. 8-10
---
Description
Dinner just got easier with these sheet pan shrimp tacos with pineapple and peppers topped with a creamy cilantro lime drizzle.
---
Ingredients
Sheet Pan Shrimp Ingredients:
1 1/2

Pounds of Shrimp (peeled and deveined)

1

Can of Pineapple Rounds cut in half (or fresh if available)

1

Red Pepper (sliced into strips)

1

Jalapeno (sliced)

1

t. Smoked Paprika

1/4

t. Chili Powder

1

t. Cumin

1/4

t. Salt

1/2

t. Garlic Powder

1/8

t. Black Pepper
Olive Oil
Slaw Ingredients:
1/4

head each of Red & Green Cabbage (shredded)

1

Carrot (julienned- fancy word for thin strips)

2

–

3

Scallions (green and white parts sliced)
Cilantro Drizzle Ingredients:
1/2

C. Just Mayo

1/4

t. Salt

1/2

C. Fresh Cilantro Leaves (chopped)

1/4

C. Grapeseed Oil
Juice of

1

Lime

1/2

t. Cumin

1

Clove of Garlic (chopped)
Additional Taco Ingredients:
Tortillas (flour or corn) I prefer flour for these if your not gluten free
Queso Fresco (optional)
Sliced Avocado (optional but yummy)
---
Instructions
Place pineapple, red pepper and jalapeño peppers on a baking sheet. Drizzle with olive oil and sprinkle with salt and pepper. Place in a 400 degree oven for about 13 minutes. While those ingredients are cooking, mix spices together until well combined and toss with shrimp and a little olive until coated. After 13 minutes, add shrimp to pan, making sure to spread out ingredients. Cook for about 10 minutes or until shrimp are no longer pink.
While shrimp are cooking, place all drizzle ingredients in a high speed blender except the grapeseed oil. Blend until well combined. Slowly add oil until mixture is creamy. Set aside.
Toss all slaw ingredients together in a bowl.
To assemble tacos, place shrimp mixture into a warm tortilla, top with slaw, optional toppings and drizzle with cilantro lime sauce…come on you know how to make a taco.
SaveSave
SaveSave
SaveSave
SaveSave
SaveSave
SaveSave
SaveSave
SaveSave
SaveSave
SaveSave
SaveSave
SaveSave
SaveSave
SaveSave