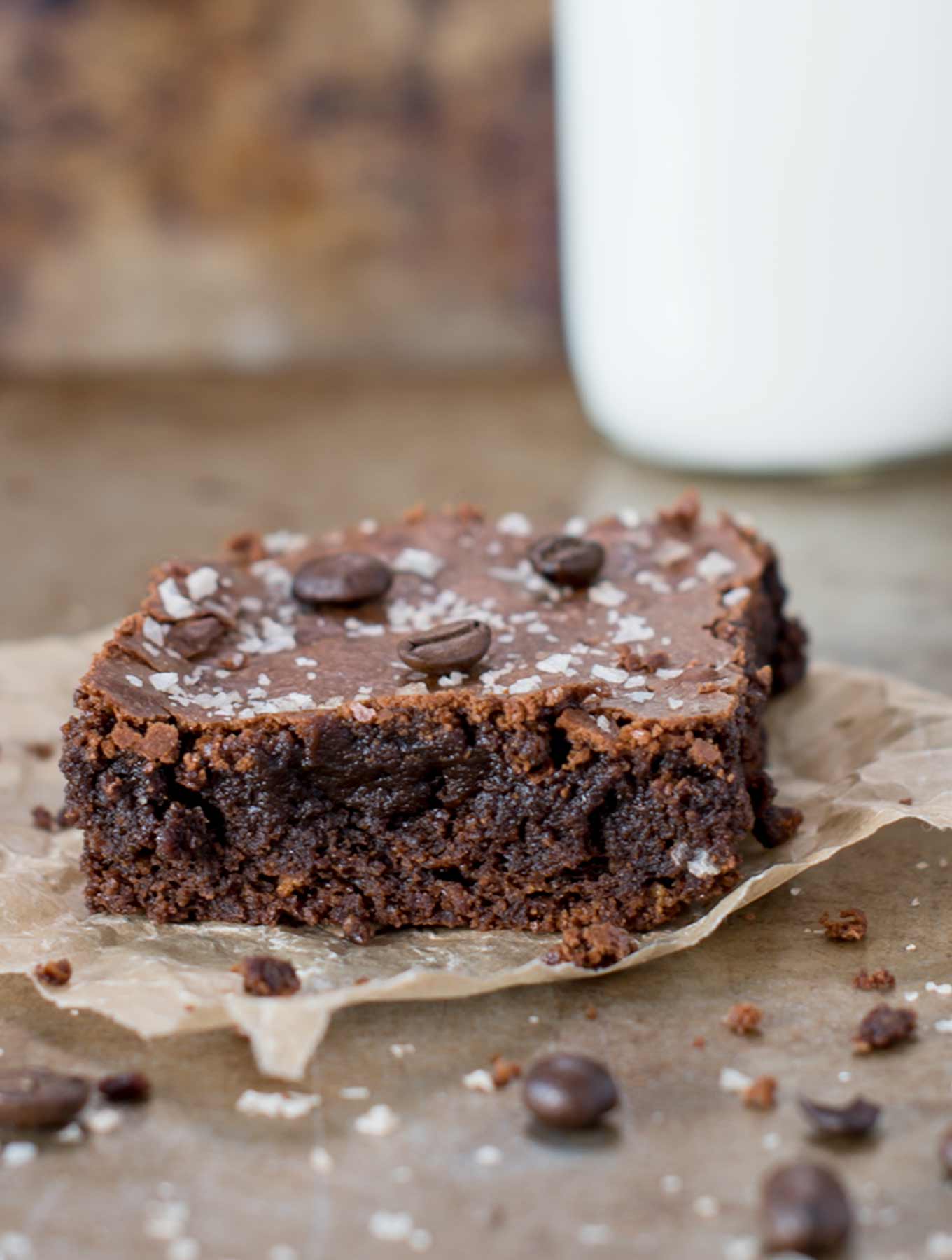 Gluten Free Espresso Sea Salt Brownies..Well, yeah!
These brownies are rich, fudgy, gooey, sweet, with a hint of salt and a subtle undertone of coffee. They are seriously something TDF (to die for). That just may become my new favorite acronym. In addition to the amazing texture and taste, they are gluten free and made without refined sugar and may be just slightly addictive.
With Valentines Day right around the corner, I could not think of anything more special to share with you than this brownie recipe. I have made it over and over and have tweaked it a little each time until I reached true brownie perfection. The combination of chocolate, espresso and sea salt are a match made in ooey gooey brownie heaven.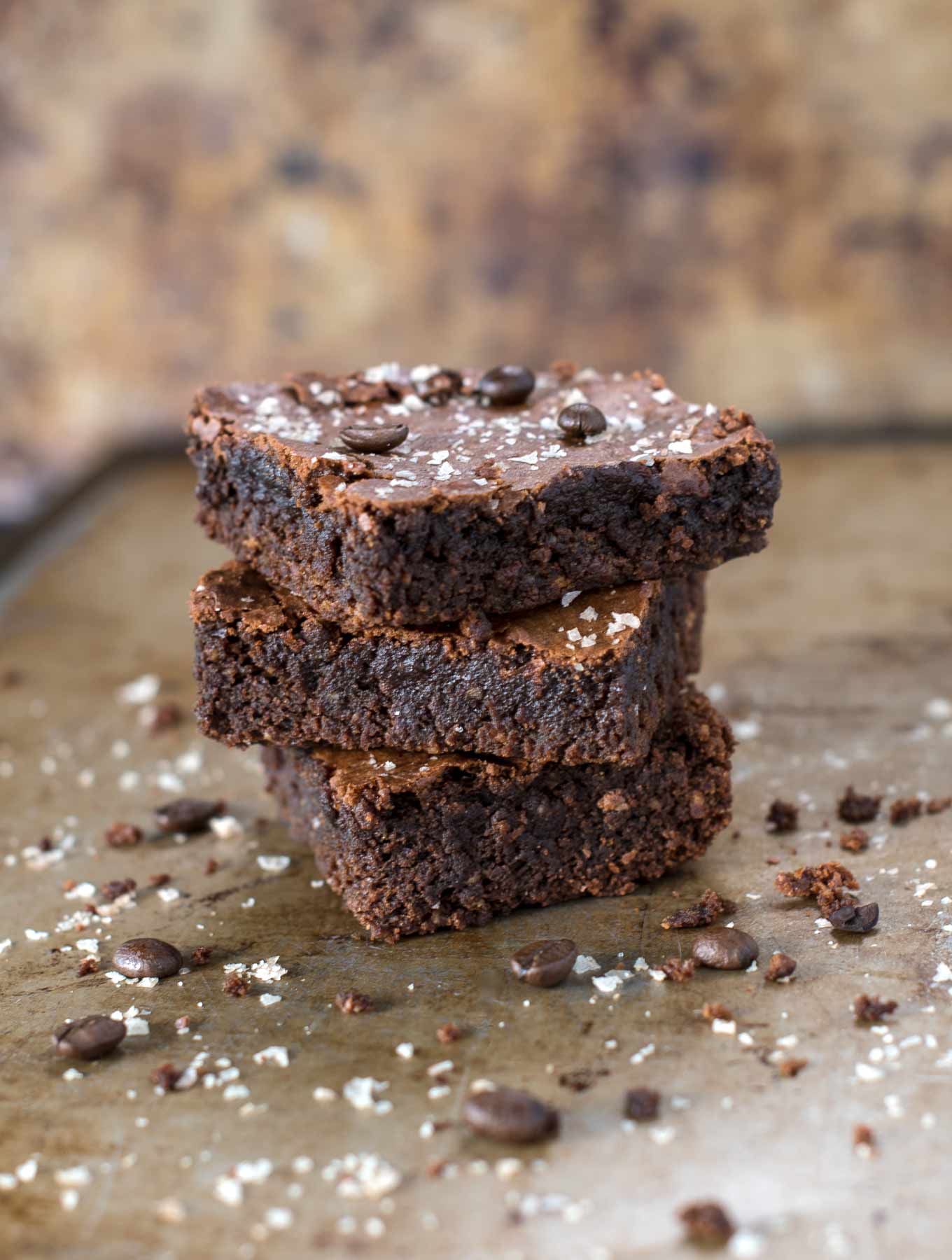 Now for those of you who do not like coffee (we can't be friends), just kidding of course. I LOVE coffee, but if you don't, I would still give these a try. I had some family over last month who don't like coffee at all, but loved these brownies. The coffee really brings out the richness of the chocolate without an overpowering coffee taste. TRUST ME!! If you want to make them, and just can't get past the coffee, they will still taste amazing without it. But, why in the world would you do that! It's like PB without the J!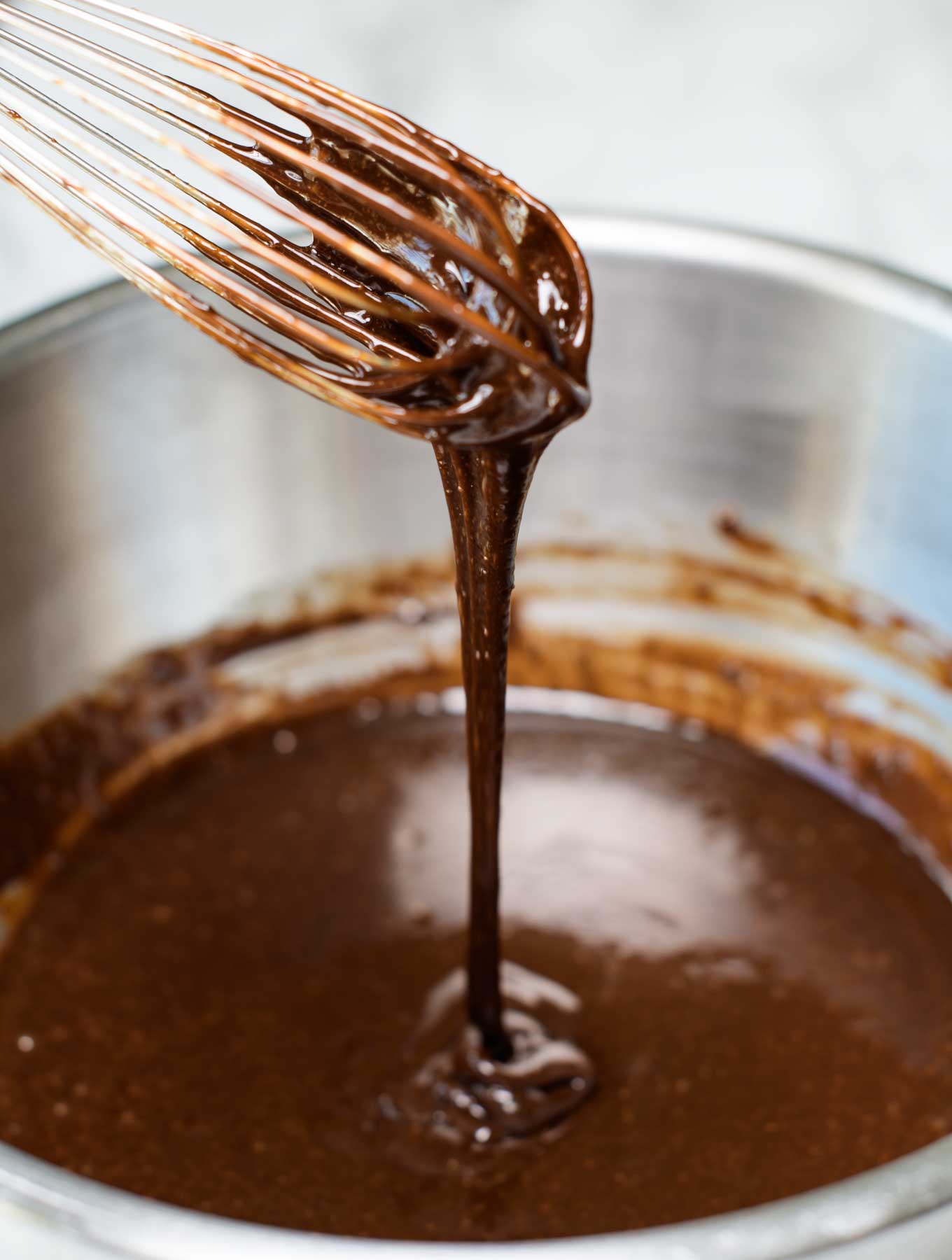 The fact that these brownies are gluten free, may scare some folk, but have no fear because these brownies are super duper moist. I used Pamela's baking mix that has some almond meal in it which makes your baked goodies every bit as good as their gluten-laden cousins. I don't know about you, but I have some strict brownie criteria: moist, fudgy, gooey and chocolatey. Well, I guess we already established that these brownies are all that, plus some, all without any refined sugar in them..BONUS!!
I'm not saying that I would put coconut palm sugar on the most healthiest foods list, but it is better for you than refined white sugar. And again, Valentines Day is approaching so we need some time to indulge. The fact that we are freezing are butts off in Minnesota, is another great reason to indulge in some good comfort yumminess. Or how about it's just Friday and we made it through a hectic week, that's grounds for a celebratory treat..don't ya think?
Another factor that contributes to the it's-so-wrong-it's-right goodness, is in the swapping out butter for coconut oil. This swap is essential to the fantastic texture and complex flavor.  Note, that they do have a slight hint of coconut, but in a good kind of way. I hope you're not a coconut hater, or worse yet a coconut, coffee hater. It would be a travesty to not have these brownies in your life for just one moment of time.
When we served them to our family last month, we served them with vanilla ice cream and a goat milk caramel sauce – shut the front door, were they ever TDF!
Print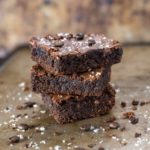 Gluten Free Espresso Sea Salt Brownies
Author:

Prep Time:

10

Cook Time:

25

Total Time:

35 minutes

Yield:

9

large or

16

minis

1

x
---
Description
These rich, fudgy brownies have a hint of coffee and sea salt are so moist that you would never believe they are gluten free.
---
Ingredients
1/2

t. Salt

3/4

C. Coconut Palm Sugar

1

t. Vanilla Extract

3

Eggs

3/4

C. Coconut Oil

1 1/2

T. Espresso or Very Strong Coffee

6 oz

. Chocolate (I used Enjoy Life Chunks)

2/3

C. Pamela's Baking Mix
Flaked Sea Salt for topping (I used Maldon)
---
Instructions
Preheat your oven to 350 degrees.
Melt the chocolate and the coconut oil over low heat. Remove from stove and whisk in the coconut palm sugar. Whisk in the eggs slowly, one at a time and mix until the mixture thickens. Add the Espresso and vanilla and stir together using a rubber spatula.
Stir in the flour and salt until just combined. Pour into a 9-inch square baking dish that has been sprayed with non stick spray. Bake for 25-30 minutes.
Remove from oven and sprinkle with sea salt. Let sit until completely cool before cutting. (you will be tempted, but you need to wait for them to cool before cutting..I know it's sad)
Great served warm with a scoop of vanilla bean ice cream on top..Yum!
---
Notes
I have also made these with smoked sea salt and they were amazing. If you don't have flaked salt, you can substitute a course sea salt, but don't put too much!
SaveSave
SaveSave
SaveSave
SaveSave
SaveSave
SaveSave
SaveSave
SaveSave
SaveSave
SaveSave
SaveSave
SaveSave
SaveSave
SaveSave
SaveSave
SaveSave
SaveSave
SaveSave
SaveSave
SaveSave
SaveSave
SaveSave
SaveSave
SaveSave
SaveSave
SaveSave