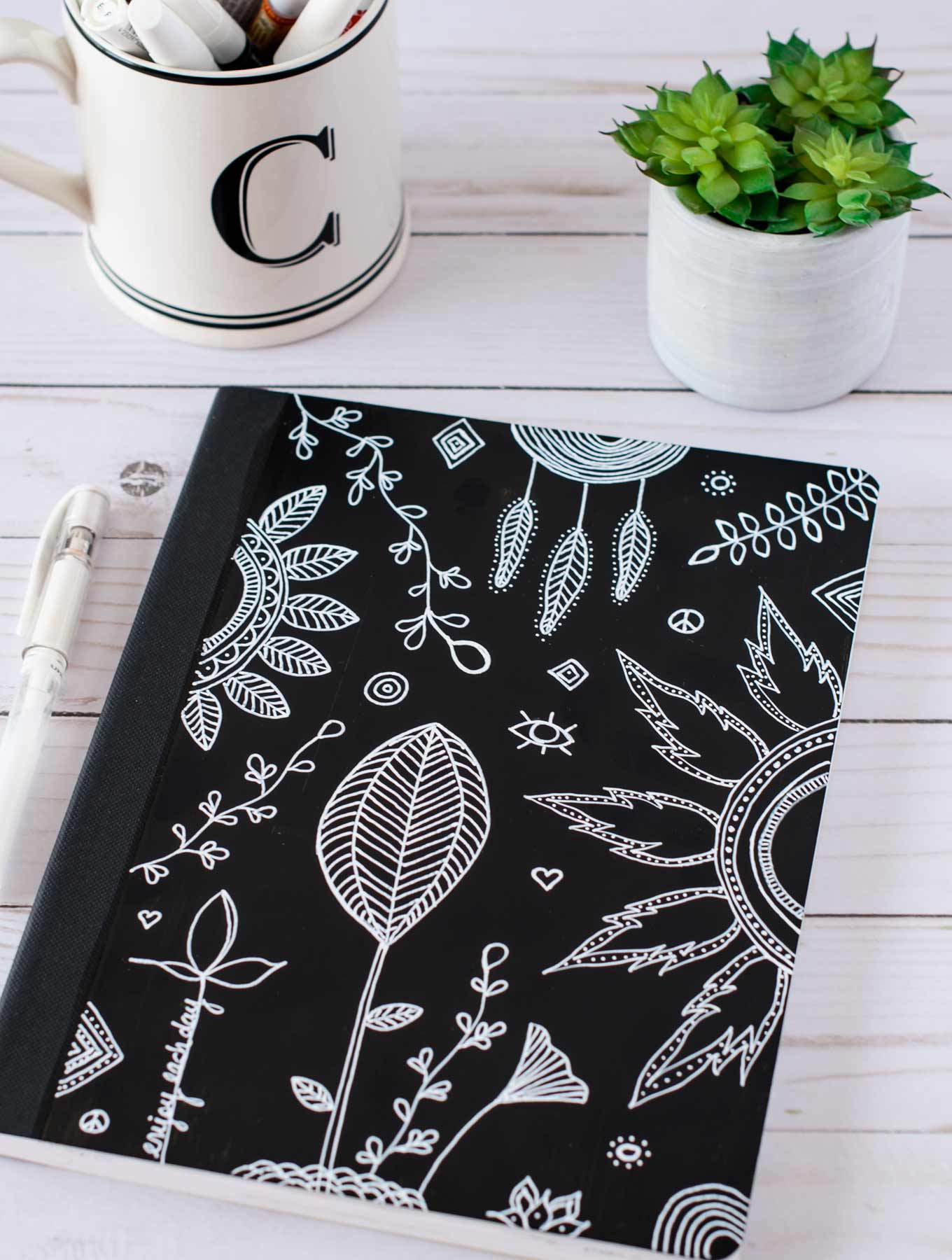 No artistic skills required for the making of this very cool and modern DIY journal!
Yes, you heard me correctly – you don't need to be an artist to make this. In all honesty, I used to be that person. The one that said "I can't do art. I am not an artist". Well guess what? This non-artist made this journal and so can you.  And, one more thing – this non-blogger started this blog last month that you're currently reading. Thank you! 🙂  The lesson here is, you can do this, and so much more. I spent most of life riddled with self doubt, not thinking I was good enough to make art since I didn't go to art school and thinking I couldn't ever teach cooking classes or develop recipes because I did not go to culinary school. SO NOT TRUE!! I've made art, sold art, and teach others how to make art, and never went to art school. I also create recipes for a living and never went to culinary school. What's holding you back from doing something you don't think you can do? Friends, the time is now! So let's get out some simple art supplies and do this thing!
Here's the supply list to make these fun DIY journals:
Composition Book (you can find these at the dollar store, office supply or most discount stores)
Black Paint (found at any craft store-I used Martha Stewart multi-purpose satin in Beetle Black)
Painters Tape
White Paint Pens (I used the Molotow 1mm acrylic pump marker & a Uniball Signo)
Paint Brush (any inexpensive brush will do)
Clear Varnish (I used Krylon Low Odor Clear Finish found at craft or art stores)
STEP 1: Tape off your spine
The first thing you want to do is tape off the spine with some painters tape so you don't get paint on it. I also like to place a piece of printer paper under the front cover to protect my interior pages from getting any black paint on them.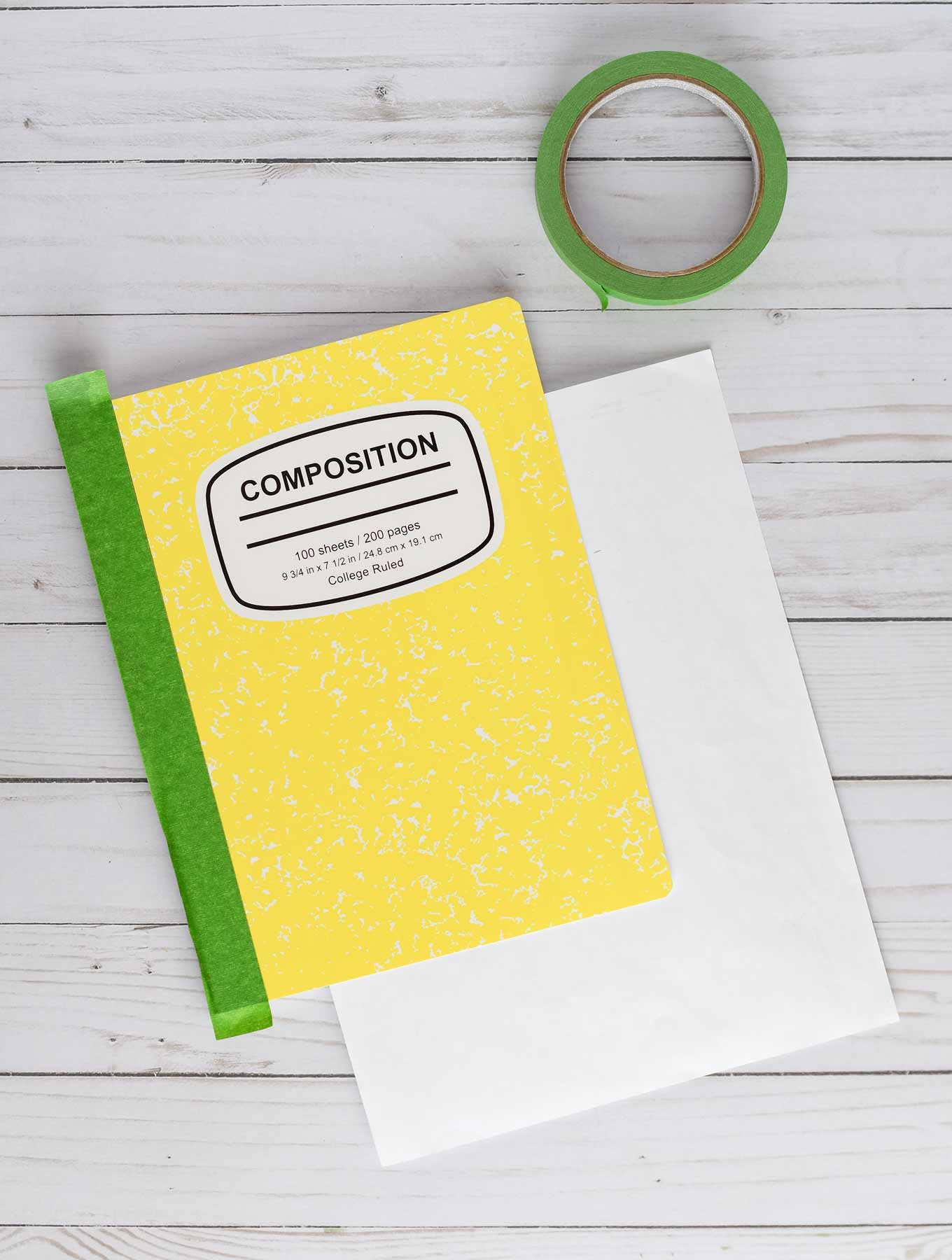 STEP 2: Paint your cover
Begin by starting at the top of your journal and paint in long brush strokes going from top to bottom. You're aiming for a nice even coverage. You may need to add two coats depending on the cover page you're trying to conceal with the paint and the quality of the paint itself. Mine only needed one coat, but I did go over a few areas that needed a bit of extra paint.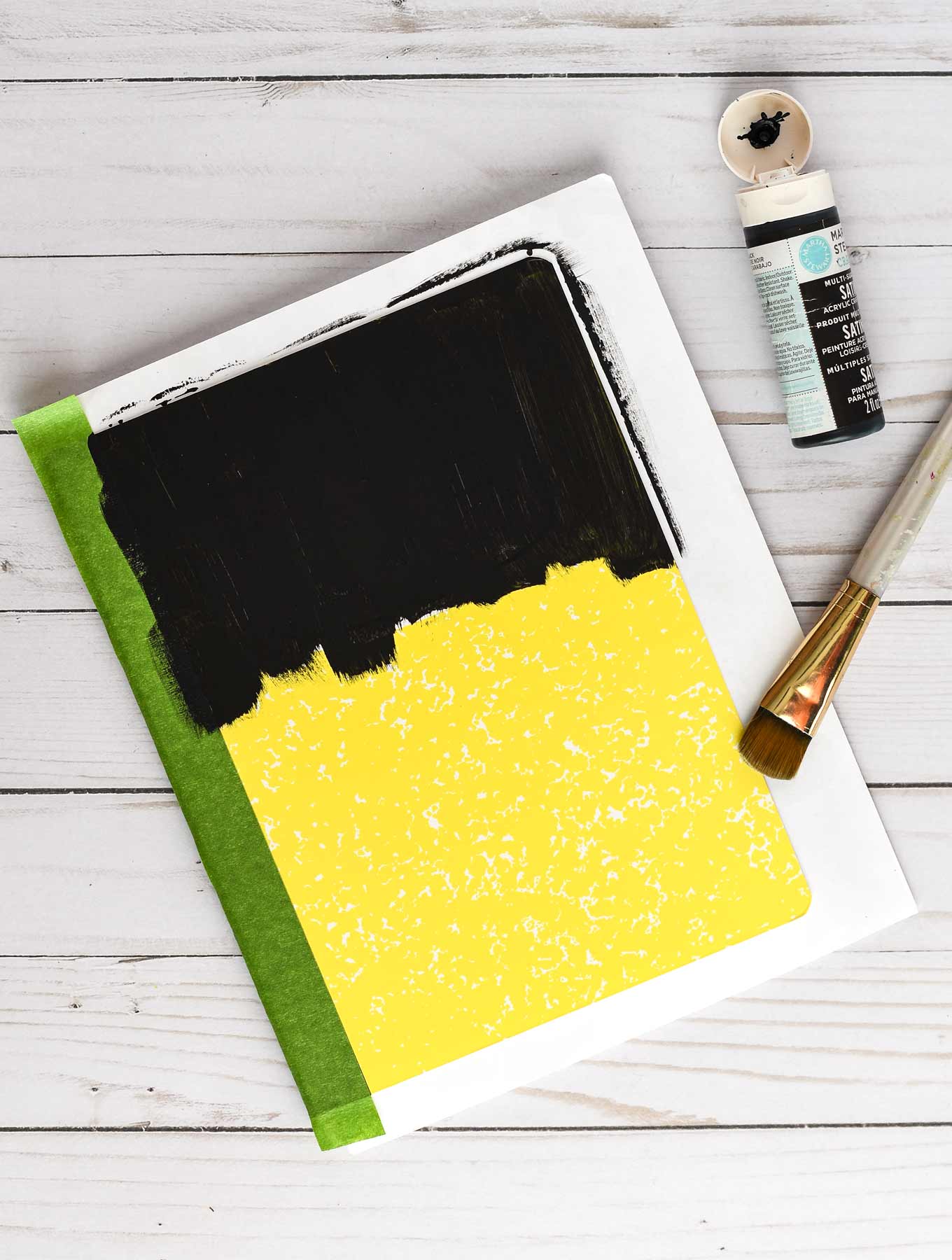 STEP 3: Let dry and give a second coat if needed
Once you are finished painting, it's time to let it dry. Don't worry if your impatient like me, the paint dries pretty quickly. You do want to make sure it's completely dry before you start drawing with your paint pen.  Otherwise, the tips of your pens could get all mucky, and that would be travesty!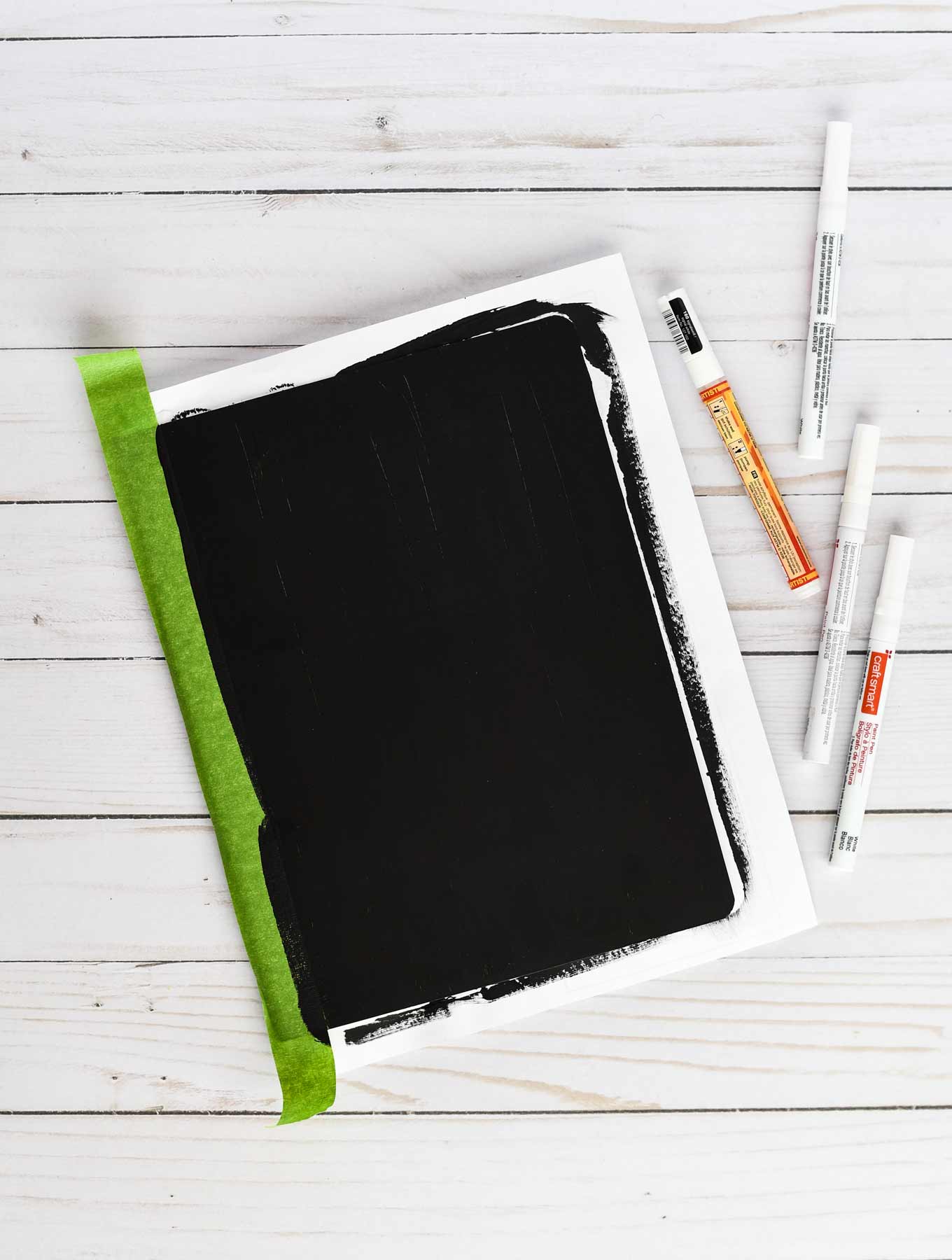 STEP 4: Design your cover
This is where you will let your inner artist emerge. Remember friends, no pressure here!! This is gonna be fun, not stressful. What I like to do before I start is to just doodle with a black pen on some white paper to practice some of the elements that I want to bring into my design. I have a sketch pad that I use to keep all my ideas in for any future projects or whenever inspiration strikes. So, remember when I told you in the Greek Seasoning post, the one with the cute chalkboard labels, and how obsessed I was with white paint pens? Yup, same pens. So, after you're comfortable with some simple design elements it is time to get your white paint pen and start drawing, doodling or whatever inspires you.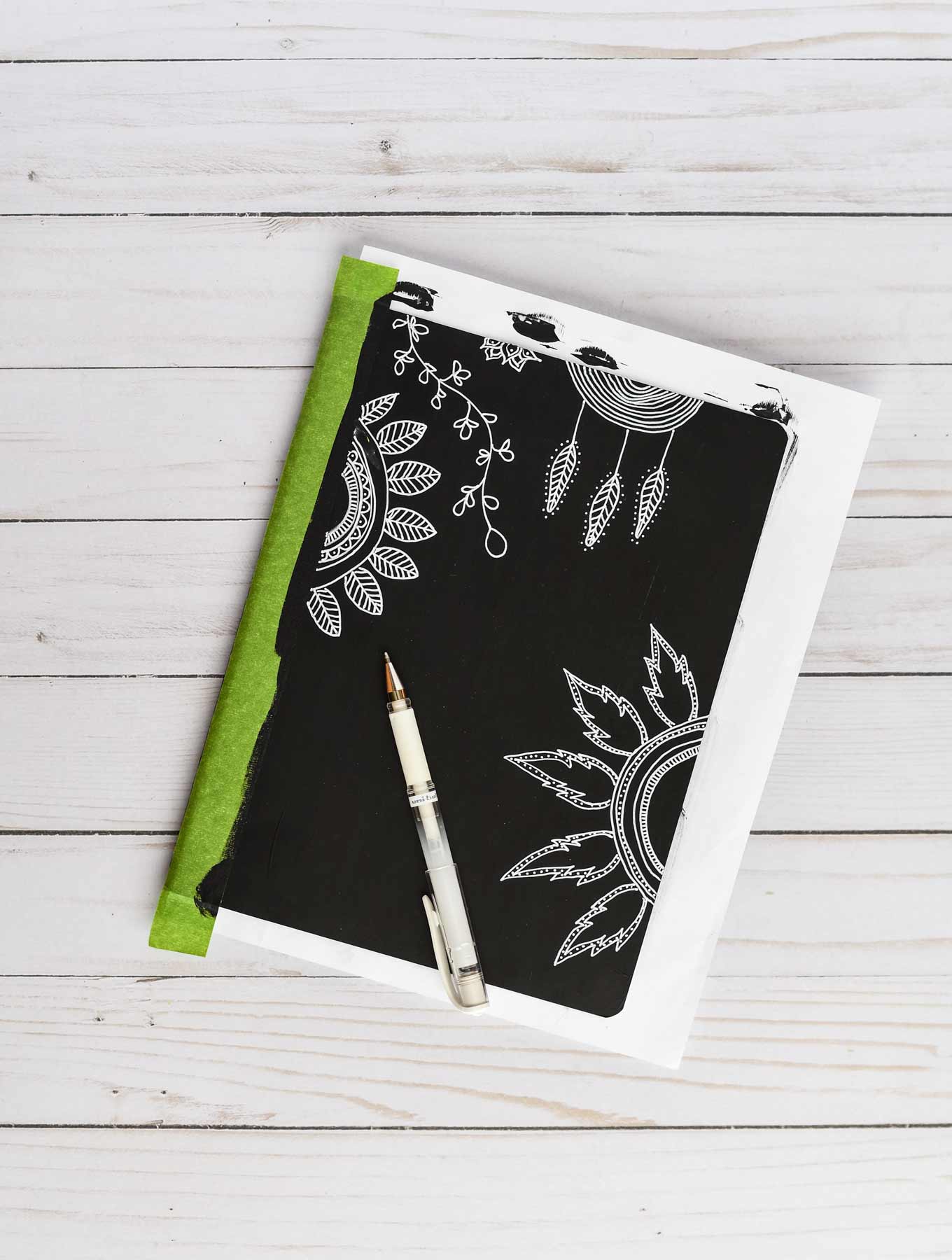 STEP 5:  Spray your project with a clear coat of varnish. This will seal the ink because if it gets wet, it will run.
STEP 6: Admire your amazingness!
The ink dries pretty quickly, less than 2 minutes.   So there you have it.  You could do this whole project in less than hour.  Or better yet, call your besties, lay out the supplies, brew some great tea, and make an afternoon of it.  Connect and create!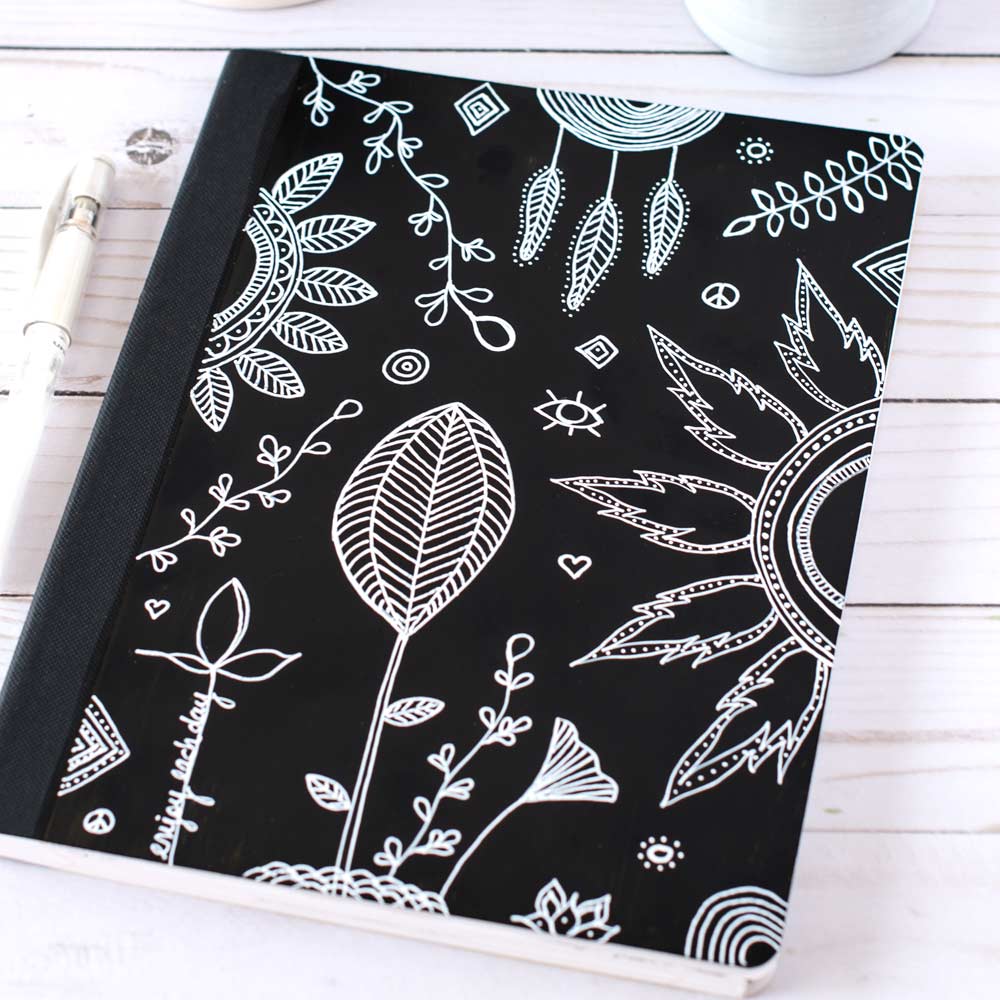 How will you ever know what you truly enjoy unless you try new things?
SaveSave
SaveSave
SaveSave
SaveSave
SaveSave
SaveSave
SaveSave
SaveSave
SaveSave
SaveSave