Sharing some Spooky Halloween Cocktails made with one of my favorite beverages…Kombucha!!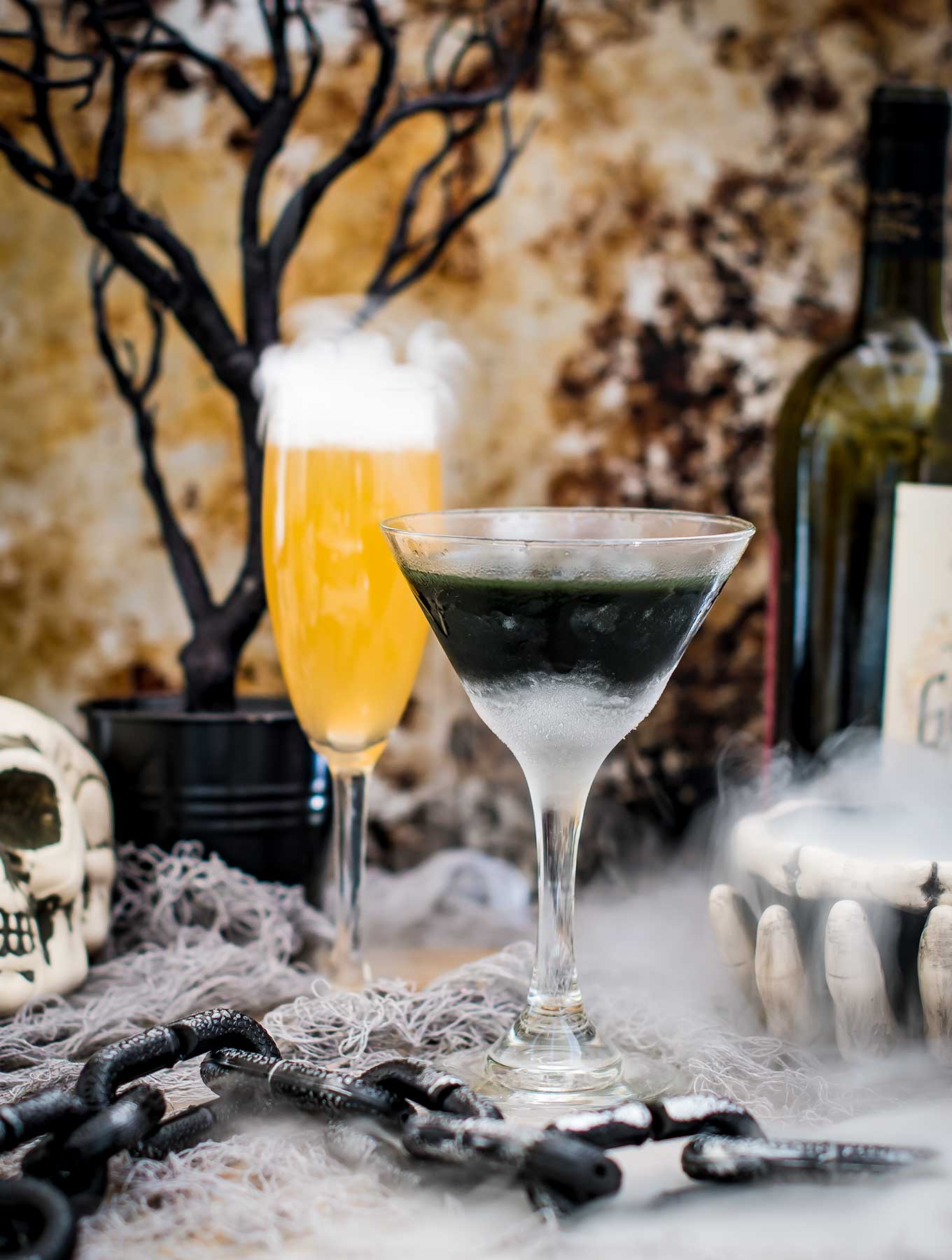 Let's begin this post by saying this had to be one of my favorite photo shoots EVER!! This, for a couple of reasons. First off, I had SO much fun with the styling. I went way out of my comfort zone here, playing with different props, lighting, etc., and it was a blast!  Working with dry ice, was well, interesting and took some time to get used to, but oh so fun!
Secondly, this was my first time collaborating with GT's Living Foods, they are the market leader in the kombucha category. GT's is such an incredible brand and I feel so incredibly blessed to be collaborating with them…more recipes to come.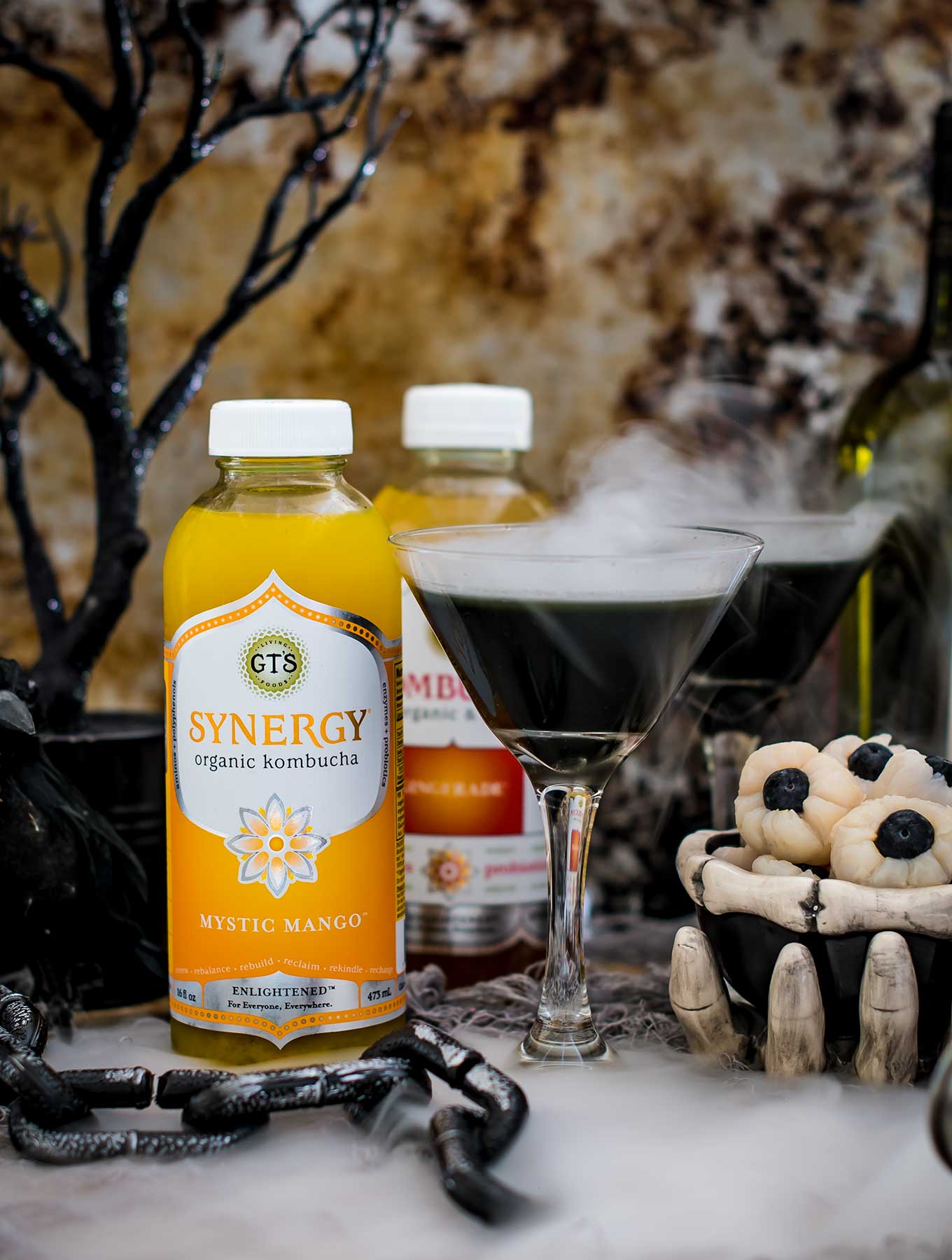 For those of you that may not be familiar with this trendy beverage, let me formally introduce you to kombucha. It's a fermented, lightly effervescent drink that is loaded with amazing health benefits. Kombucha has been around for over 2,000 years and is loaded with probiotics.
Probiotics provide your gut with healthy bacteria. These beneficial bacteria can improve many aspects of your health such as:
 immunity
digestion
inflammation
So, if you're going to make a cocktail, why not use kombucha as your mixer?
Did I forget to mention that this is a bonus post? You get not just one, but two recipes. The first one is the Mystic Moon cocktail, and yes it's black, thanks to the addition of activated charcoal. Activated charcoal is a supplement that is used to bind to toxins and chemicals in the gut.
This trendy supplement has been showing up lately in lattes, smoothies, water, etc. in many cafes and smoothie bars. It can be found in the supplement section of most health food stores or here
.
This one is definitely the "spookiest" of the two cocktails given the color.
Mystic Moon:
GT'S Gingerade Kombucha
GT'S Mystic Mango Kombucha
Gin
Thai Basil Simple Syrup
Lime Juice
Activated Charcoal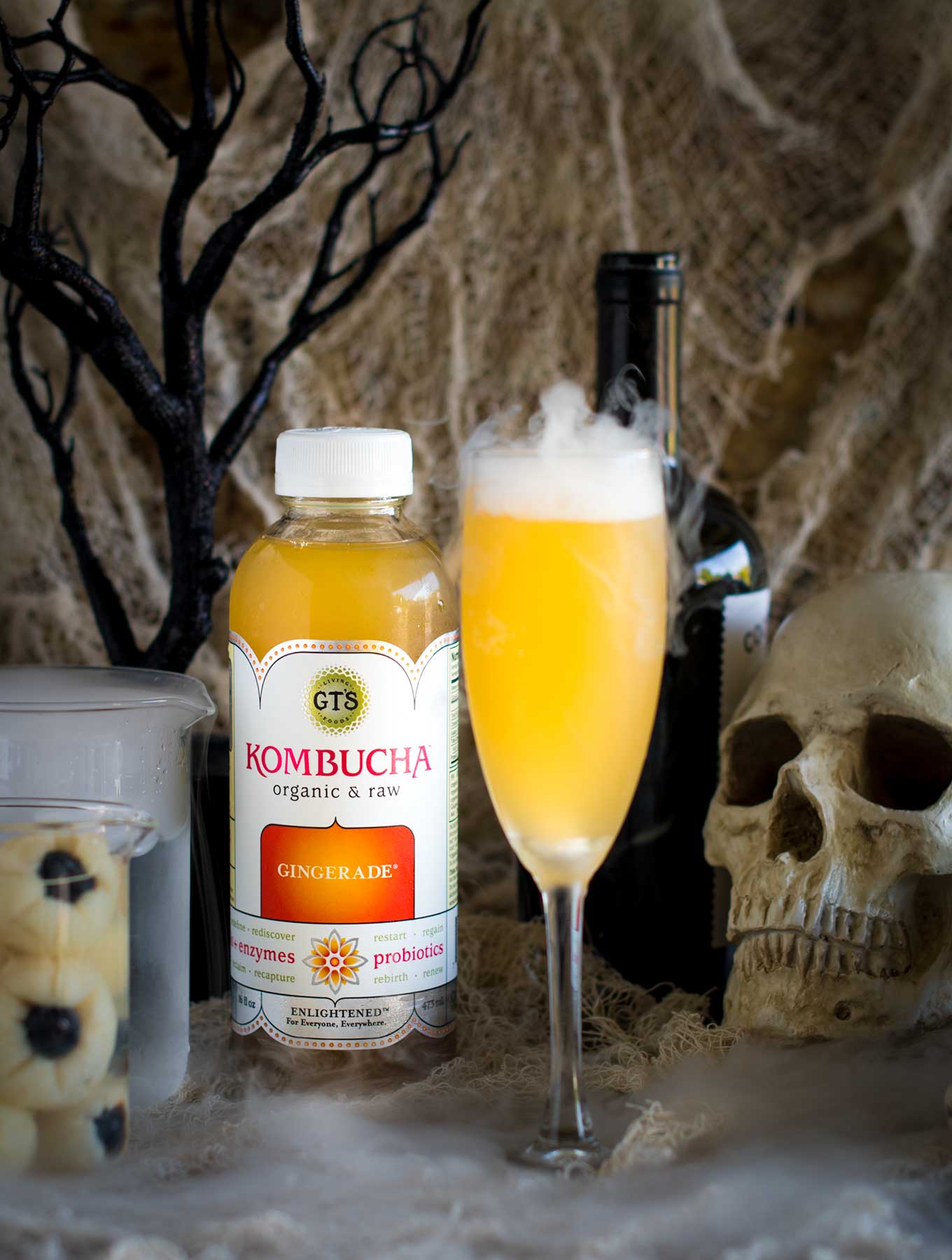 The second cocktail, Spellbound, is the simplest and hands down my favorite. Consisting of only three ingredients:
Spellbound:
GT's Gingerade Kombucha
Prosecco
Thai Basil simple Syrup
This trio of ingredients is perfection. I have been pairing Prosecco with kombucha for a while, but the addition of the thai basil simple syrup took this drink to a whole new level. I love the addition of herbs in cocktails and the combination of ginger and thai basil are a natural together.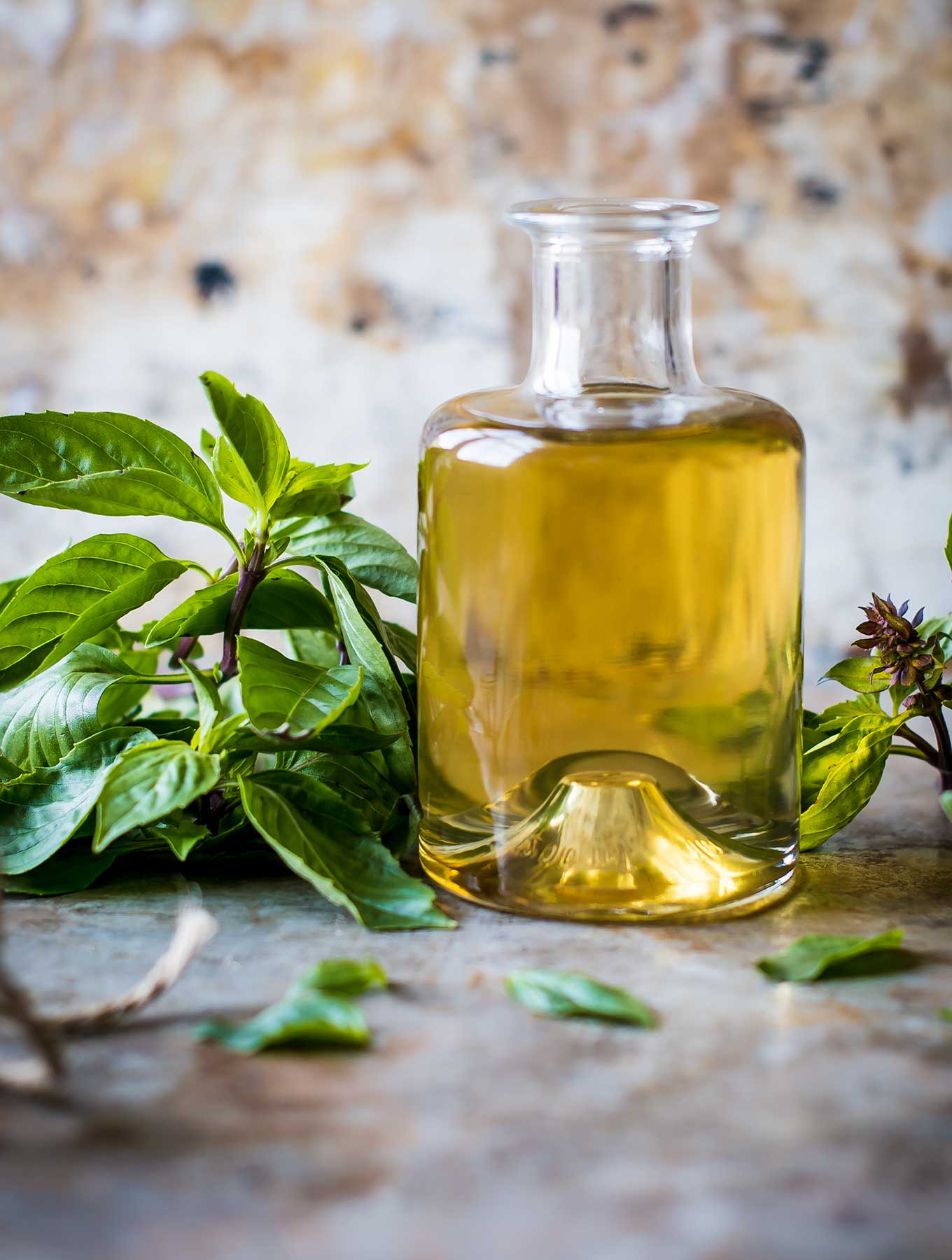 These cocktails may scream halloween in this post, but can be served and consumed any time, just eliminate the activated charcoal in the Mystic Moon and you have a great year round drink.
Have a Boo..tiful day! (so cheesy but I just had to..lol)
Print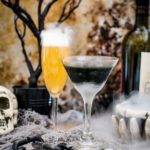 Spooky Halloween Cocktails
Author:

Prep Time:

10 Minutes

Total Time:

10 minutes
---
Description
These Spooky halloween cocktails come together in minutes and are made with healthy kombucha.
---
Ingredients
Mystic Moon Cocktail (Black version)
2 oz

. GT'S Gingerade Kombucha

2 oz

. GT'S Mystic Mango Kombucha

2 oz

. Gin

2 oz

. Thai Basil Simple Syrup

½

Lime (juiced)

1

Capsule of Activated Charcoal (powder only)
Spellbound Cocktail (Orange version)
GT'S Gingerade Kombucha                                              
Prosecco

1 oz

. Thai Basil Simple Syrup
Simple Syrup Ingredients:
1

c. Organic Sugar

½

C. Water

½

C. Thai Basil Leaves
---
Instructions
Mystic Moon Cocktail:
Add ice to cocktail shaker.
Add remaining ingredients except activated charcoal.
Carefully open capsule of activated charcoal and pour in powder only.
Gently shake or swirl.
Strain into martini glass.
Spellbound Cocktail:
Place 1 oz. of Thai basil simple syrup in the bottom of a champagne flute.
Fill glass half full of GT'S Gingerade komubcha.
Top with prosecco.
Gently stir.
Serve and enjoy!
Simple Syrup:
In a small saucepan, bring sugar and water to a boil; simmer until the sugar is dissolved.
Add Thai basil and simmer for about 2-3 minutes.
Remove from stove and let steep for 25-30minutes.
Strain and cool.
Syrup can be stored in the refrigerator for up to a month.
* Note: You could substitute regular basil for this recipe.
SaveSave
SaveSave
SaveSave
SaveSave
SaveSave
SaveSave
SaveSave
SaveSave
SaveSave
SaveSave
SaveSave
SaveSave
SaveSave
SaveSave
SaveSave
SaveSave
SaveSave
SaveSave
SaveSave
SaveSave
SaveSave
SaveSave
SaveSave
SaveSave
SaveSave
SaveSave