Tex-Mex Chicken Salad with Cilantro Lime Dressing. The best summer salad Ever!!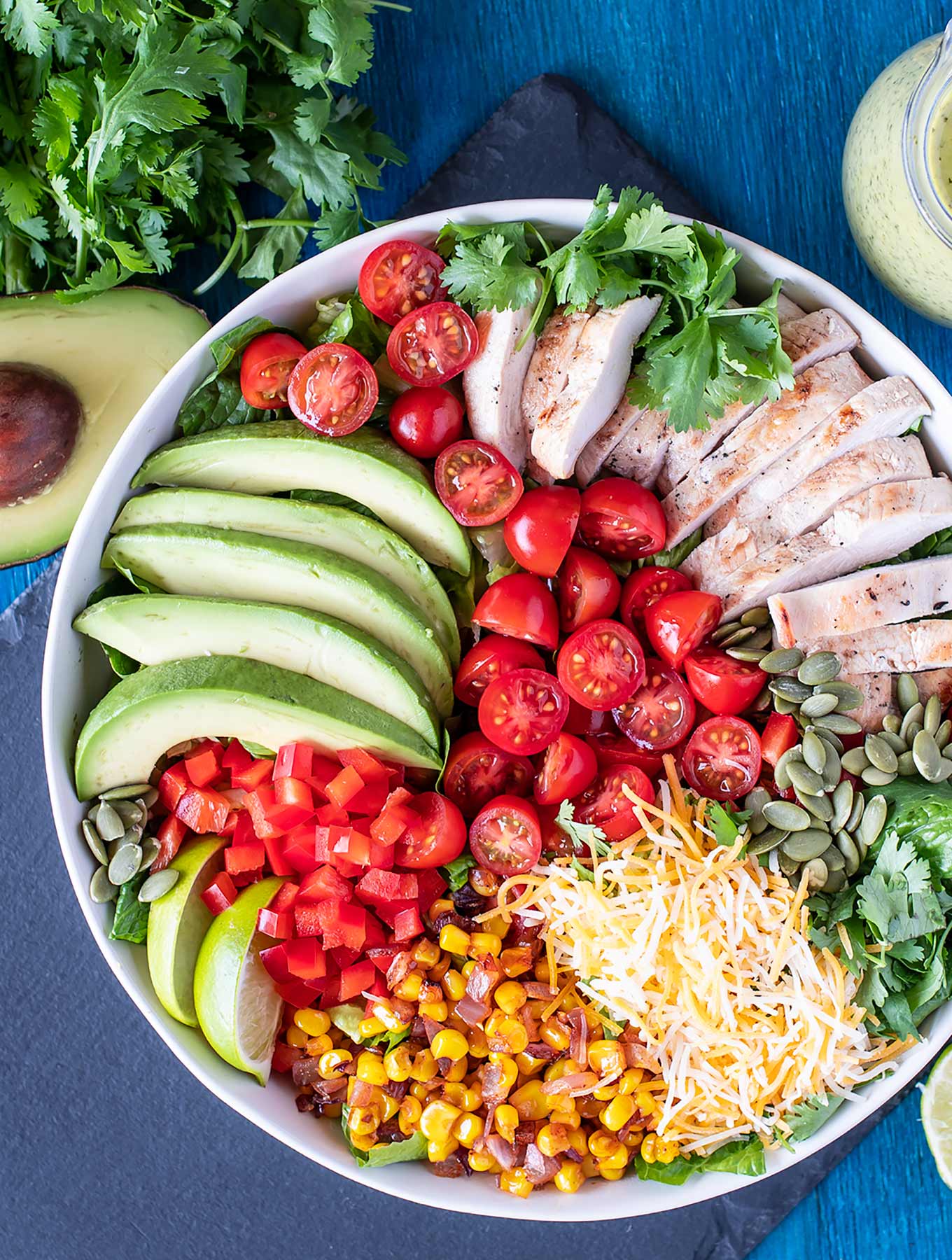 For those of you that read my blog regularly, you probably noticed that I did not post last week. To be completely honest, last week was, well just crazy. Nothing big and major, just lots of little stuff all crammed together that felt like one big ball of overwhelming stress.
I will spare you the details, but the highlight was weathering a massive rain storm and blowing out not one, but two tires in one sweep. At the moment I did this, my husband was in India, my daughter was at work which left me in the rain stranded. Top it off with having to tell your sleep deprived husband when he arrives that your car is sitting in a school parking lot with two flat tires and needs to be towed to the dealership. How do you think that ended? 
Ok, ok on with the good stuff!!
Can you believe only 38 days until Fall? It feels like Summer is slipping away fast, so I thought I better share some more amazing Summer salads with you. I don't know about you, but I'm kinda looking forward to fall. MN has had one HOT summer. And hot summers call for salad, salad, and more salad!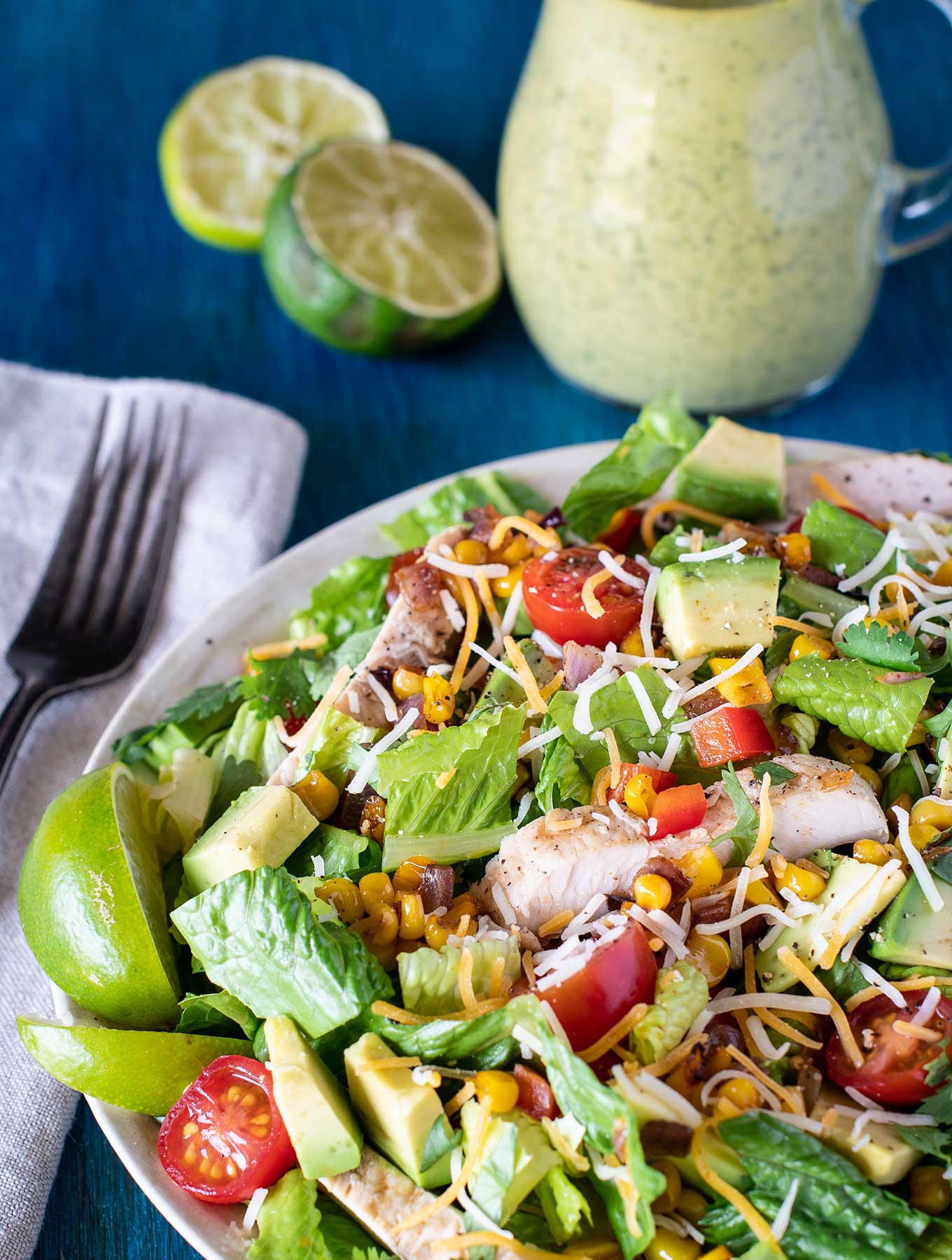 This Tex-Mex Chicken Salad with Cilantro Lime Dressing has to be one of my faves. Want to know why? The dressing!!! It's so good you may want to drink it..no lie. For me, a great salad starts with the best and freshest ingredients and ends with an amazing dressing. This salad meets all the criteria.
The core line up here just screams summer:
Tomatoes
Corn
Cilantro
Avocado
Onion
Romaine Lettuce
Red Pepper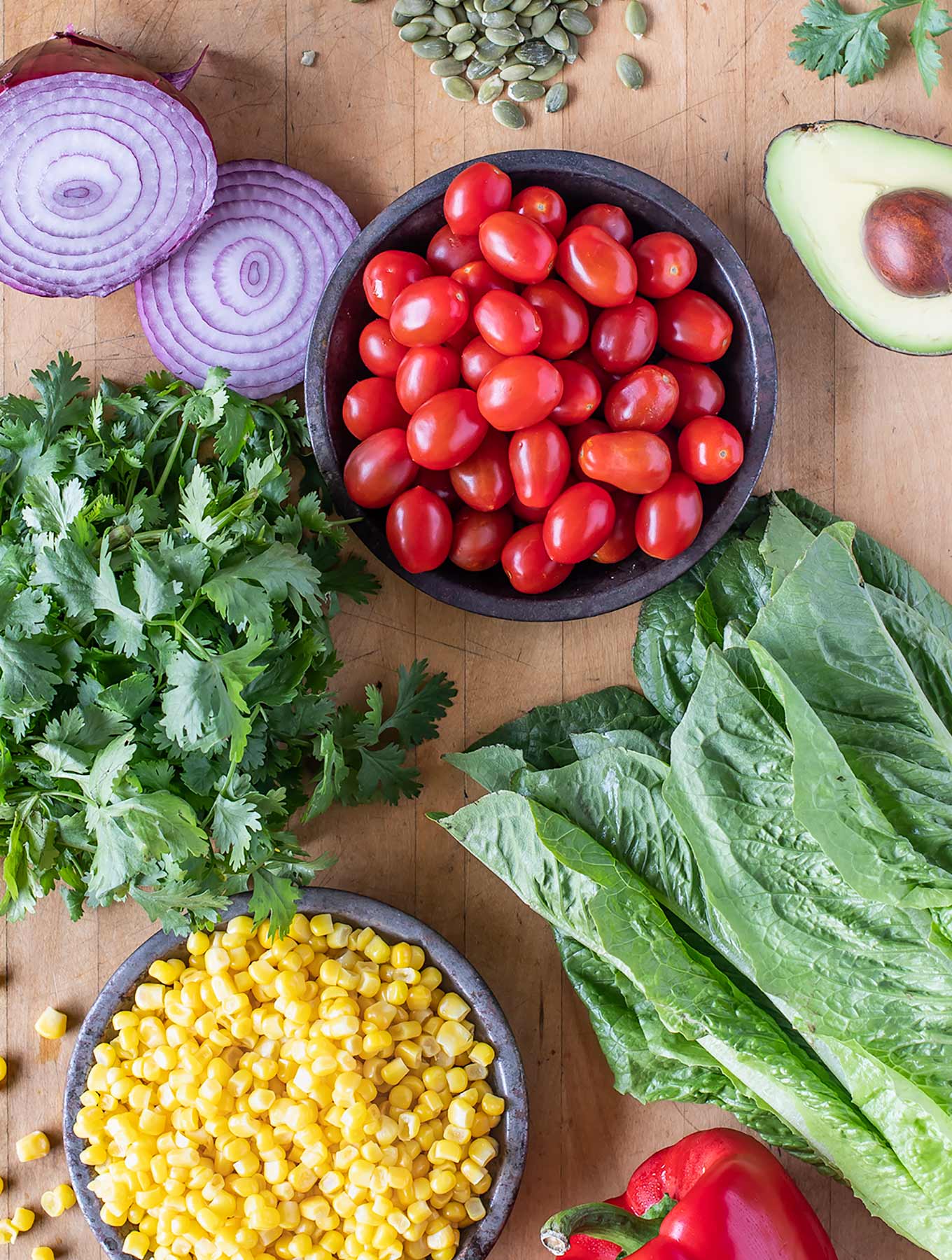 Most of these ingredients can be found at the Saturday morning farmer's market. I don't know about you, but one of my absolute fave things about summer is hands down the farmers market…and maybe Proseco with a splash of St. Germaine to sip on the patio. Theres that! No really, I am a farmers market junkie. The way I like to cook and eat is all about fresh, fresh, fresh! This salad is the perfect blend of color and crunch. It's oh so healthy too.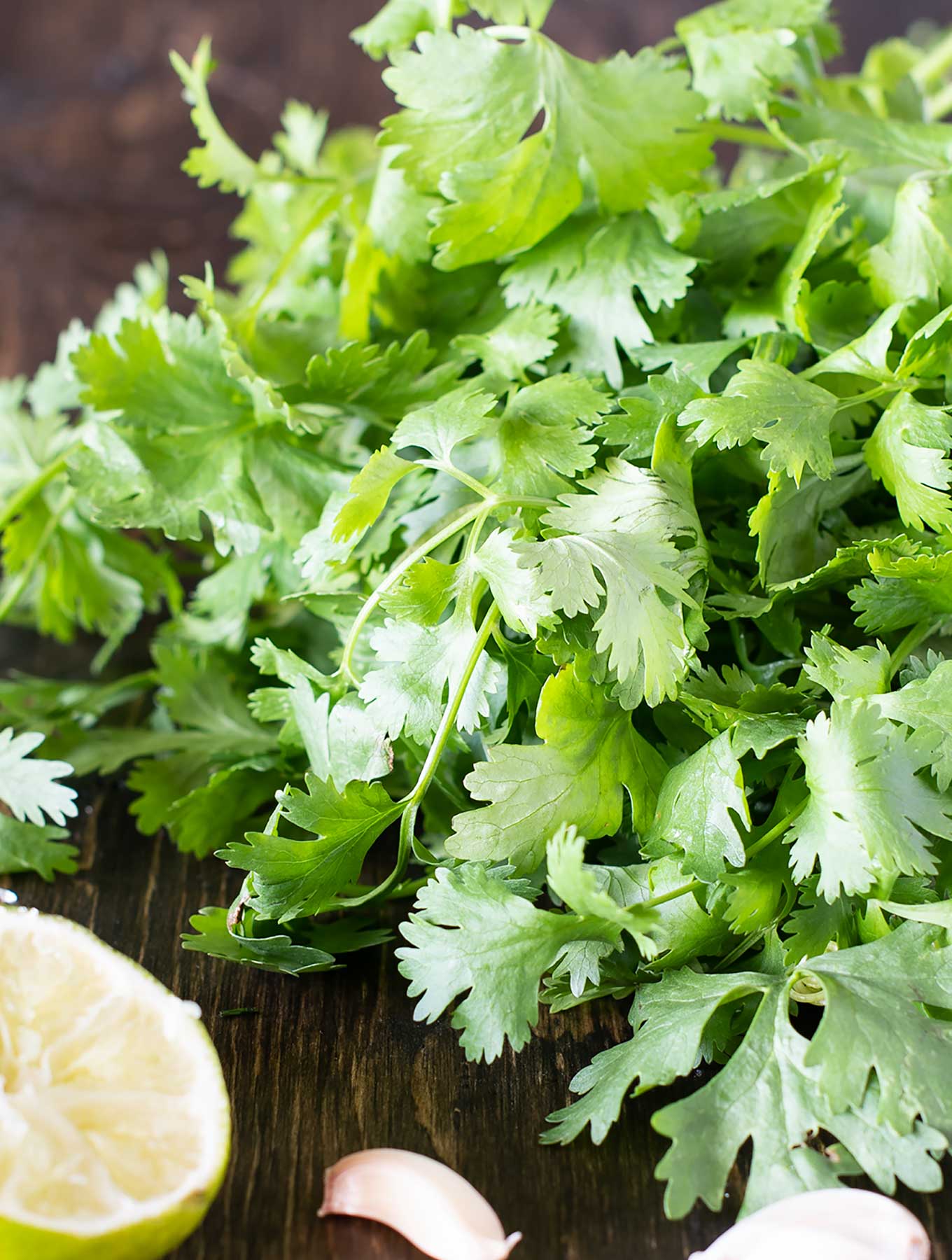 Now, let's talk about the dressing. This cilantro lime vinaigrette is amazing and comes together in minutes in a blender. I can't remember the last time I bought a bottle of salad dressing. Once I realized how easy it was to throw together a home made dressing, I never looked back. Who wants all those nasty chemicals and preservatives in store bought dressings when you can easily make your own at home. This dressing not only pairs well with this Tex-Mex salad, but feel free to use it on any salad of your choice.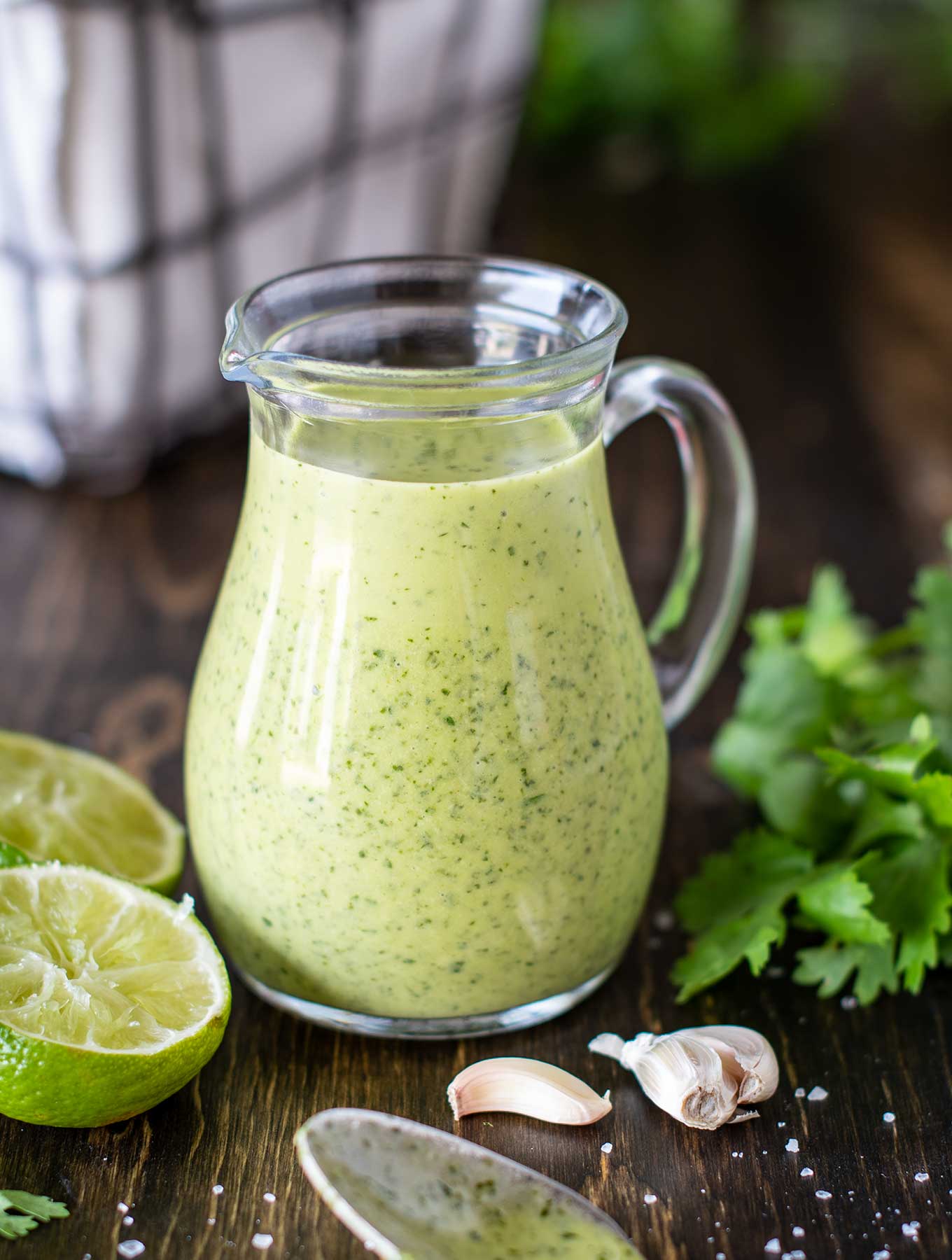 I also like to use it as a drizzle on tacos and quinoa bowls. Trust me, it goes with everything. I have even been know to add it to my breakfast. Picture this, a big bowl of roasted breakfast potatoes or black beans, topped with an over easy egg, some chopped tomato, sliced avocado and the cilantro lime drizzle to close the deal. OMG…Yum!!
Friends, there you have it. A beautiful salad to take you through the rest of summer. I promise you, this one won't disappoint!
As always, drop me a comment below if you make this recipe. I would love to hear what you all think.
Print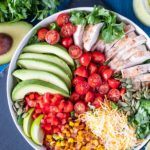 Tex-Mex Chicken Salad with Cilantro Lime Dressing
Author:

Prep Time:

20 minutes

Total Time:

20 minutes
---
Description
A delicious south west inspired salad full of fresh ingredients and paired with an amazing cilantro lime dressing.
---
Ingredients
Salad Ingredients:
1

Head of Romaine Lettuce (chopped)

½

Diced Red Onion (divided)

1

C. Grape Tomatoes (sliced)

1/3

C.  C. Red Pepper (diced)

2

C. Chicken (white meat)

½

c. Roasted Pumpkin Seeds

1/3

C. Cilantro (chopped)
Salt & Pepper

1

C. Shredded Monterey Jack Cheese

10 oz

. Corn

1

t. Smoked Paprika
Avocado (diced)
Dressing Ingredients:
2

T.  White Vinegar

1

Clove of Garlic (chopped)

3

t. Chipotle Sauce (I used Cholula)

2

t. Honey

1

C. Cilantro (leaves)
Juice of

1

Lime

½

t. Salt

½

C.  GrapeseedOil

¼

C. Just Mayo

¼

t. Cumin
---
Instructions
Salad Instructions:
Place corn and ¼ c. red onion on a baking sheet.
Drizzle with olive oil and sprinkle with salt and smoked paprika. Roast at 425 degrees for 15 minutes. Let cool and set aside.
Place all other ingredients in a bowl and toss.
Add cooled corn mixture, top with dressing and toss together.
Dressing Instructions:
Place all ingredients except oil in a high speed blender and blend until smooth.
Slowly drizzle oil into blender to emulsify.
---
Notes
This salad is great to make if you have leftover rotisserie chicken.
If you want to make this vegetarian, you can substitute the chicken with garbanzo beans or black beans.