Almond Butter Stuffed Dates…Satisfy all your cravings in one bite!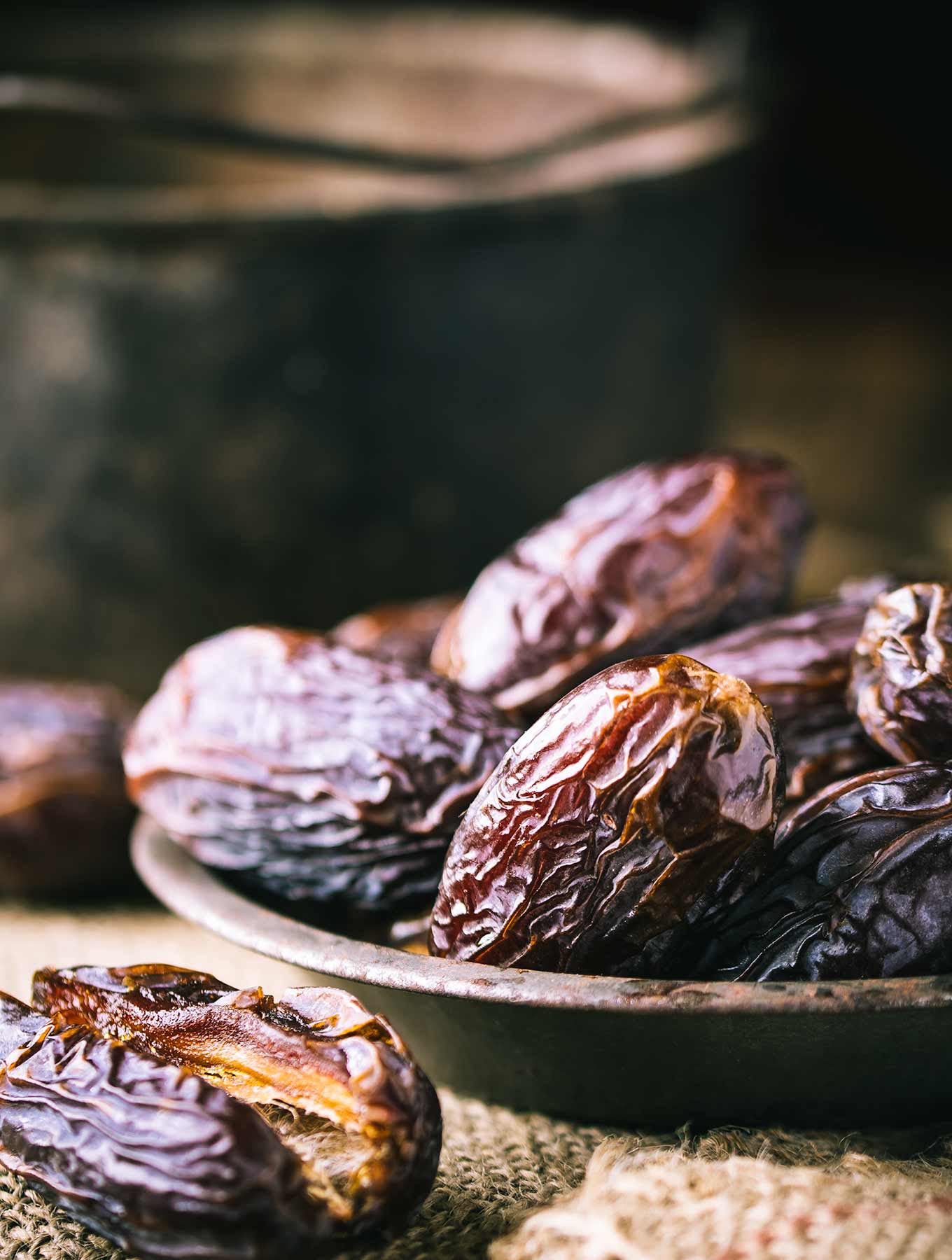 So, let's keep it real. We all have cravings from time to time. Right? Sometimes it's for something sweet, sometimes salty or crunchy. The fact is, we just have a craving. I don't know about you, but cravings need to be satisfied. What happens when we don't? We are in the pantry or fridge searching endlessly for something to satisfy the urge to snack. Enter your new life saving healthy snack hack….ALMOND BUTTER STUFFED DATES. And let's not forget the delicious filling made up of ONLY four amazing ingredients:
Almond Butter
Raw Cacao Nibs
Raw Shredded Coconut
Smoked Salt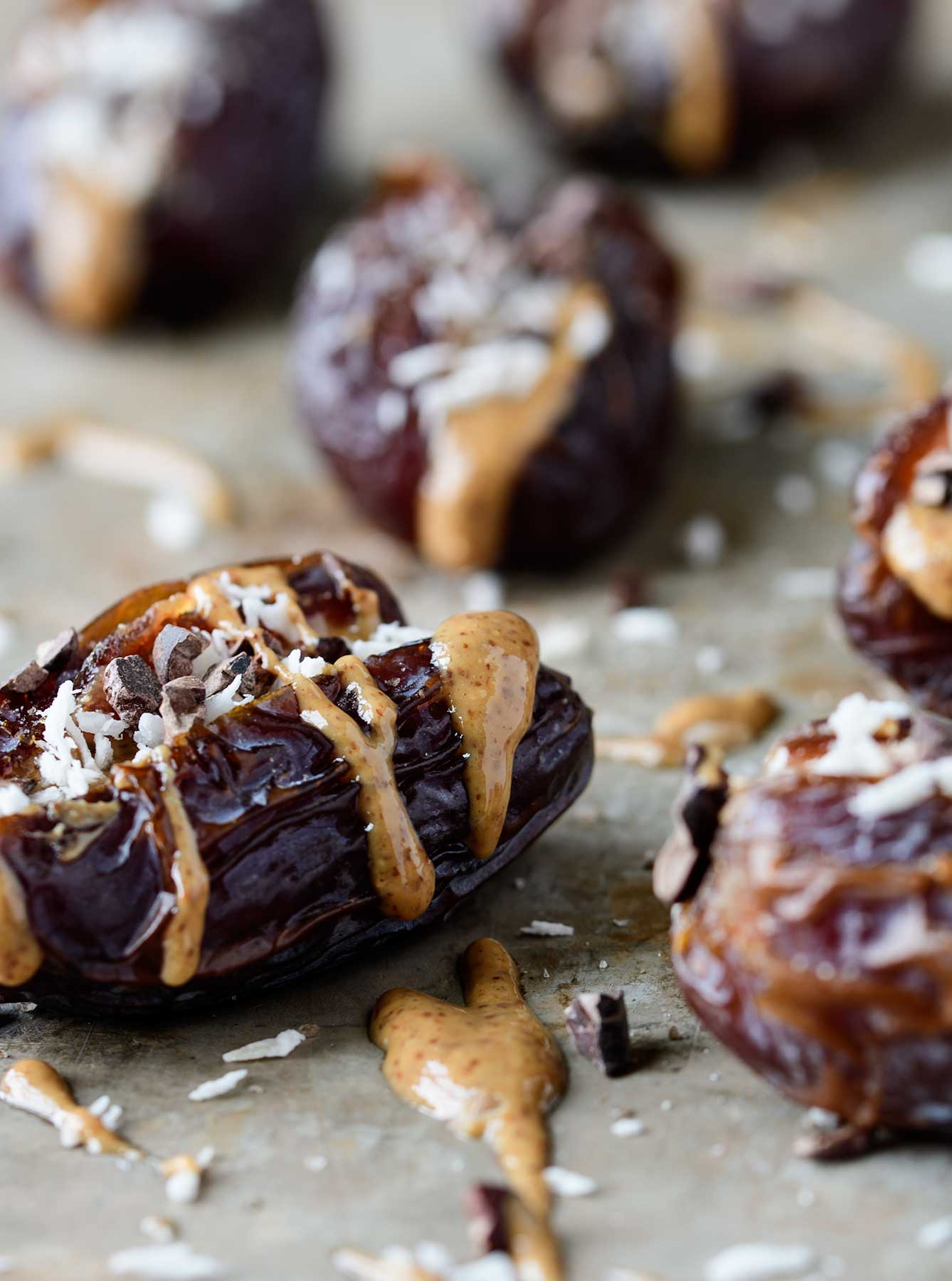 These dates are a snacking wonder with the crazy ability to satisfy all of your cravings in one bite. You have creamy, salty, crunchy, sweet, smokey..OMG did I miss anything? And, want to know the best part? They are so rich and indulgent, you can usually only eat a few. So let's summarize this, a snack thats SO easy to make, satisfies all of your cravings, and you only need to eat one or two. Yup! Your welcome very much!!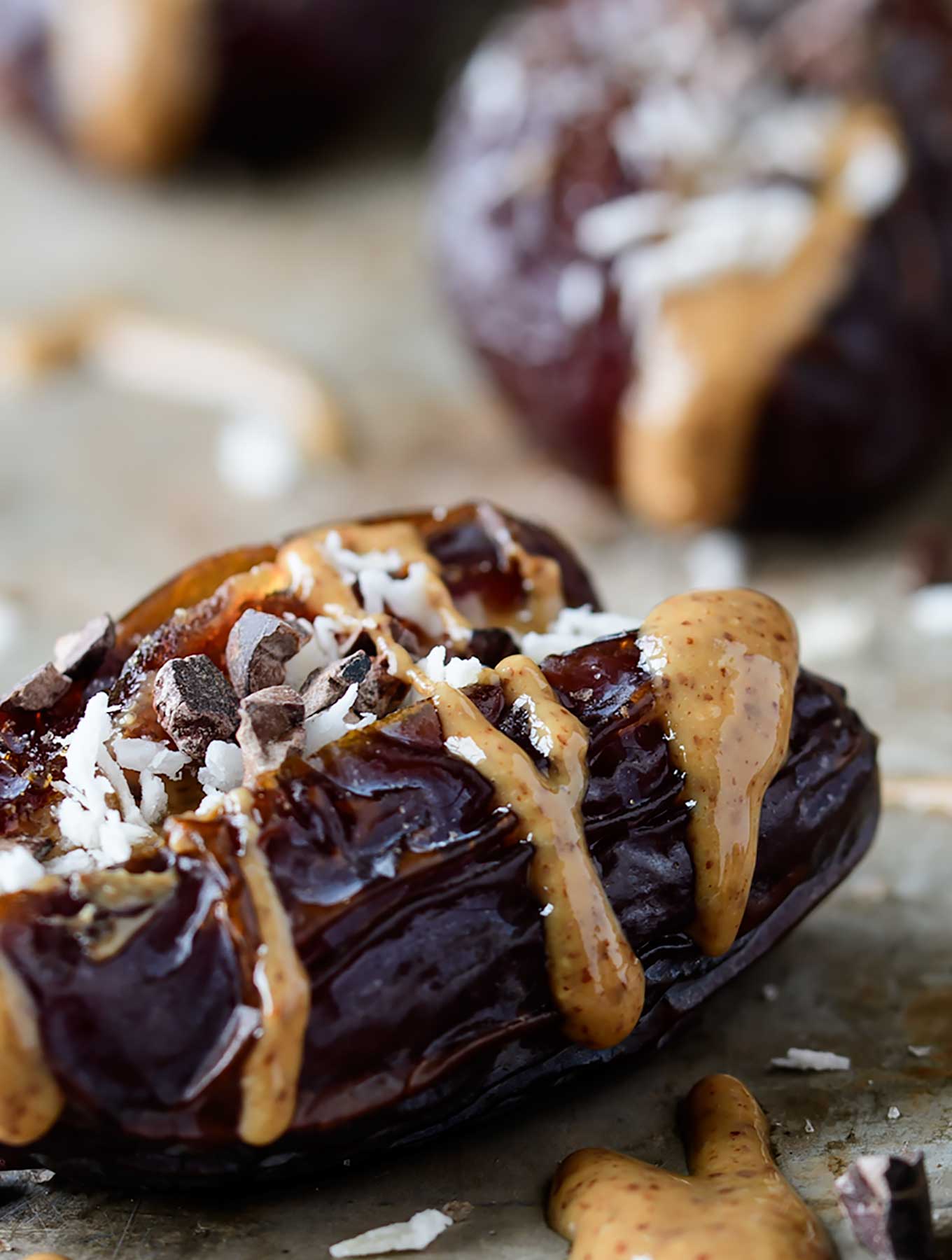 So, for this recipe I chose Medjool dates. They are my fave, because they are usually larger than other varieties and have an almost caramel-like taste and are sweeter too. You could use Deglet Noor, if you can't find Medjool or many of the other varieties of dates available. If your a newbie with dates, I say Medjool all the way.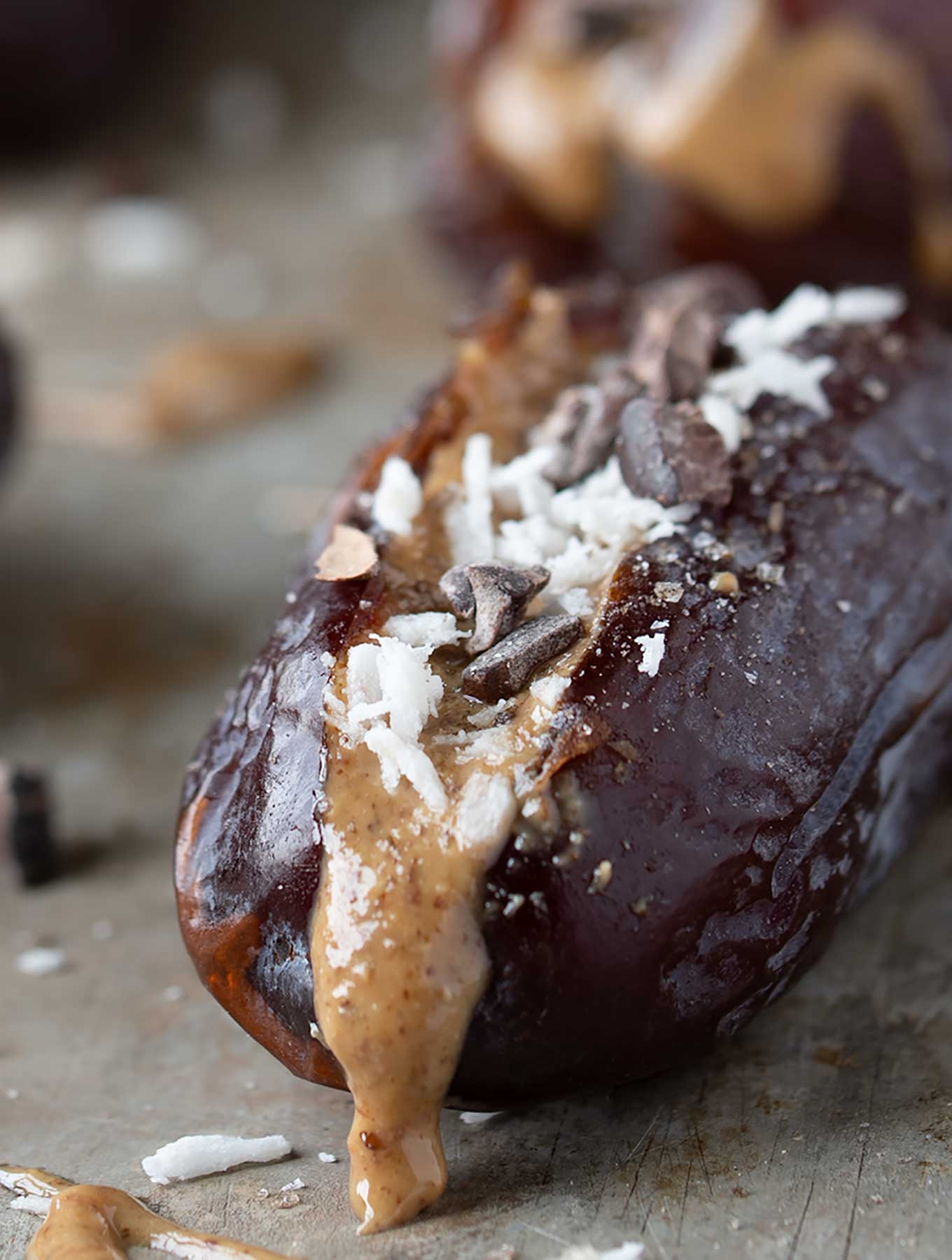 For the filling, I used a roasted almond butter but you could always use raw if you want. And now the toppings!! I chose raw shredded coconut but toasted would be amazing too. Then we have the raw cacao nibs. Friends, if you haven't had raw cacao nibs, let's have a moment. Raw cacao nibs are chocolate in the most purest form, nothing added, nada! Just pure chocolate which by the way is high in iron and magnesium…BONUS!!
Now, for the grand finale…SMOKED SALT! If salty wasn't enough, and now we have smokey. This for me seals the ultimate snacking deal. I am such a sucker for sweet and salty combos.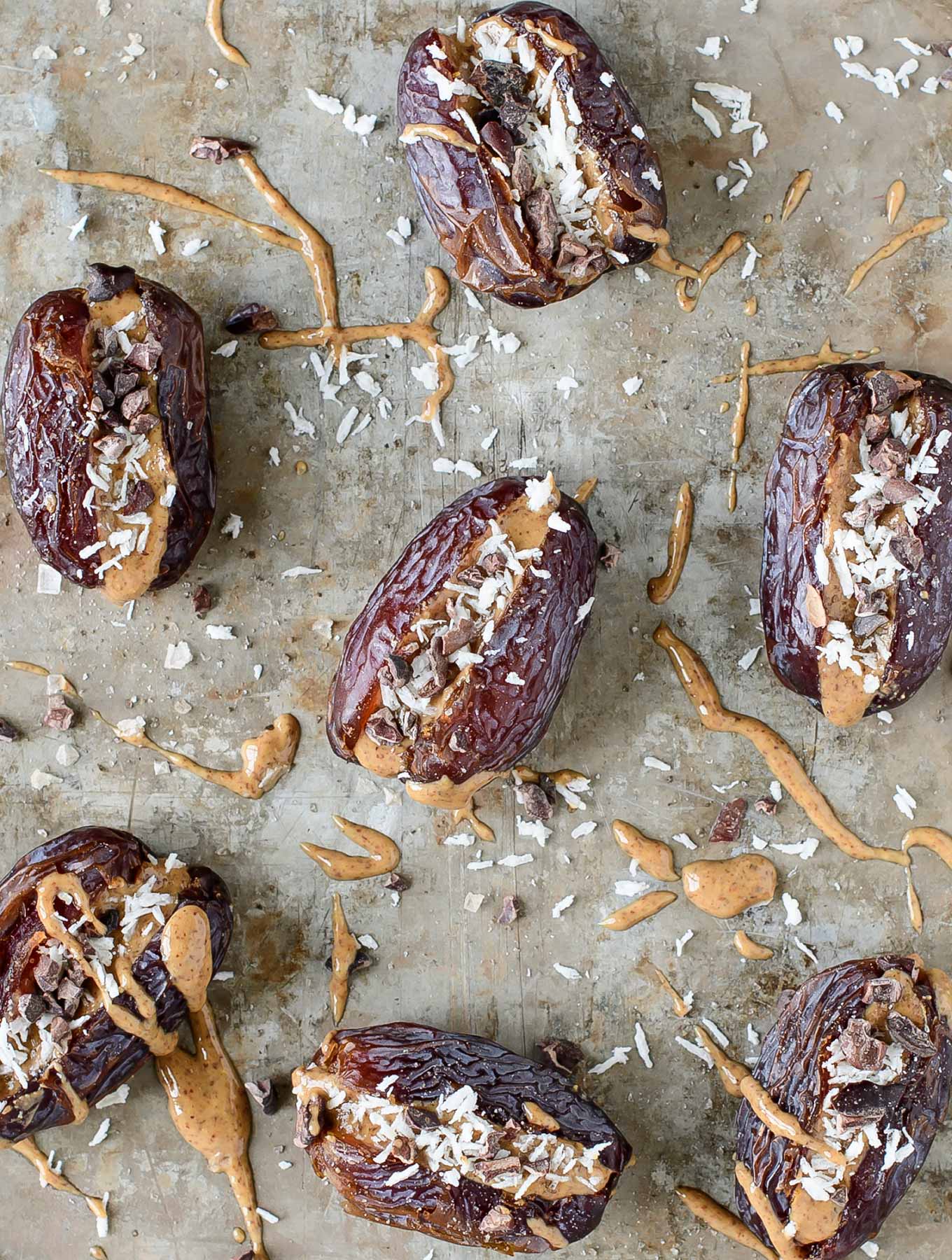 So, now it's time for you get creative. I am just giving you a jumping off point here. There are so many combinations out there waiting to be discovered.
I would love to hear what you all come up with. Drop me a line in the comments below.
Print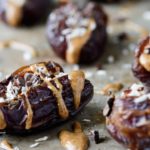 Almond Butter Stuffed Dates
Author:

Cook Time:

10 minutes

Total Time:

10 minutes
---
Description
Satisfy all of your cravings in one bite with these almond butter stuffed dates topped with coconut, cacao nibs and smoked salt.
---
Ingredients
Almond Butter
Medjool Dates
Raw Coconut (shredded)
Raw Cacao Nibs
Smoked Salt
---
Instructions
To remove pit from date, make a slit in the top and pull open to expose the pit and remove.
After pit is removed fill date with almond butter using a small spoon.
Top with coconut and cacao nibs.
Sprinkle with smoked salt.
Refrigerate until ready to eat.
---
Notes
If you do not have smoked salt, sea salt will work just fine. Some Maldon flaked salt would be amazing!