These Gluten Free Lemon Thyme Scones with Lavender Honey Butter have me feeling SPRING!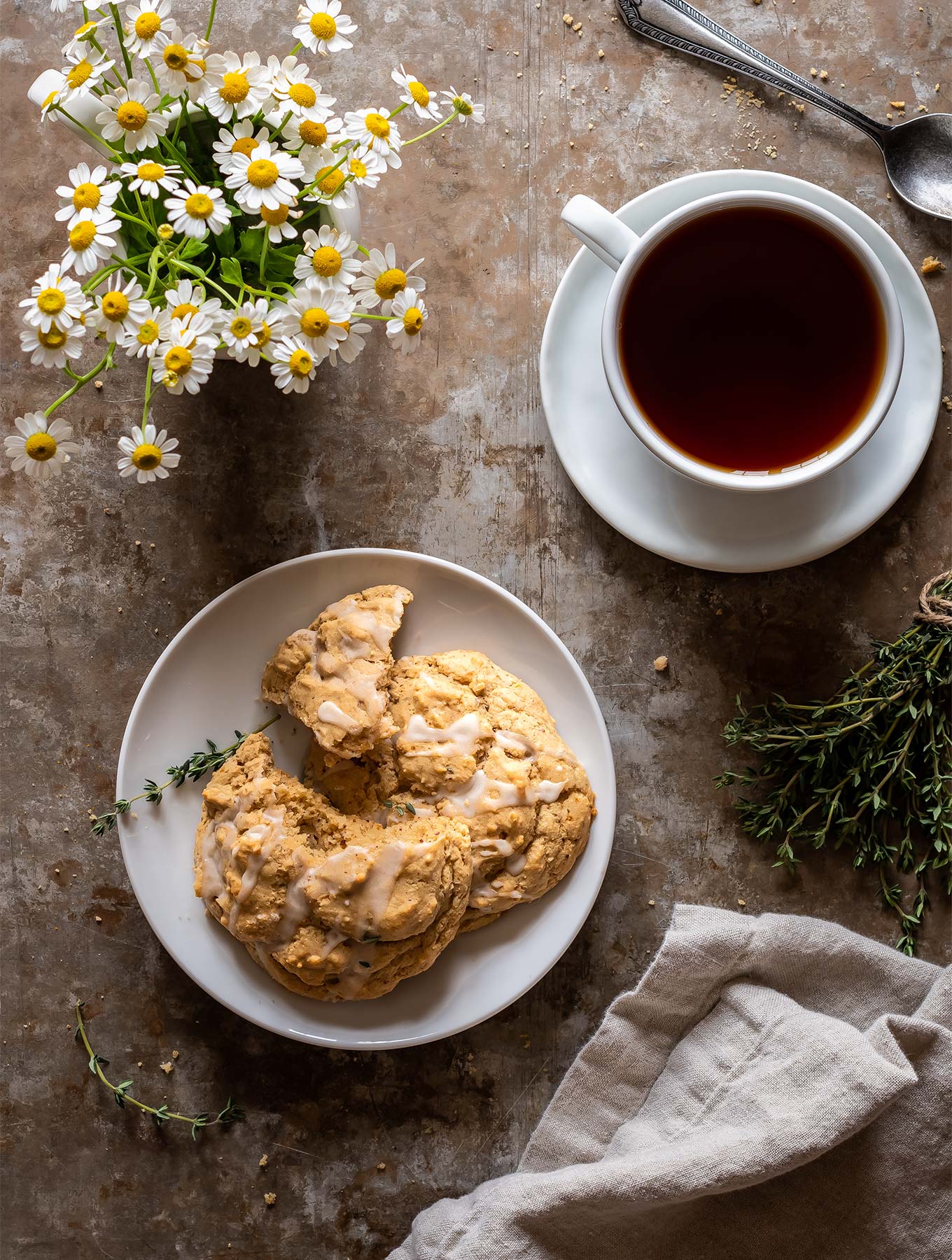 I'm happy to report that we are into the second week of spring here in MN and no snow!!! We have even managed to keep temps around the 50's. For us here in MN, this is a BIG deal!
Spring is one of my favorite seasons of the year. I love new beginnings, warmer weather, spending time outdoors and making yummy dishes inspired by fresh ingredients. These lemon thyme scones are just what I want on a sunny weekend morning. They are are so easy to make and pair beautifully with the whipped lavender honey butter..So so good! Elegant yet approachable. Perfect for a beautiful brunch or just because it's Saturday and you deserve them.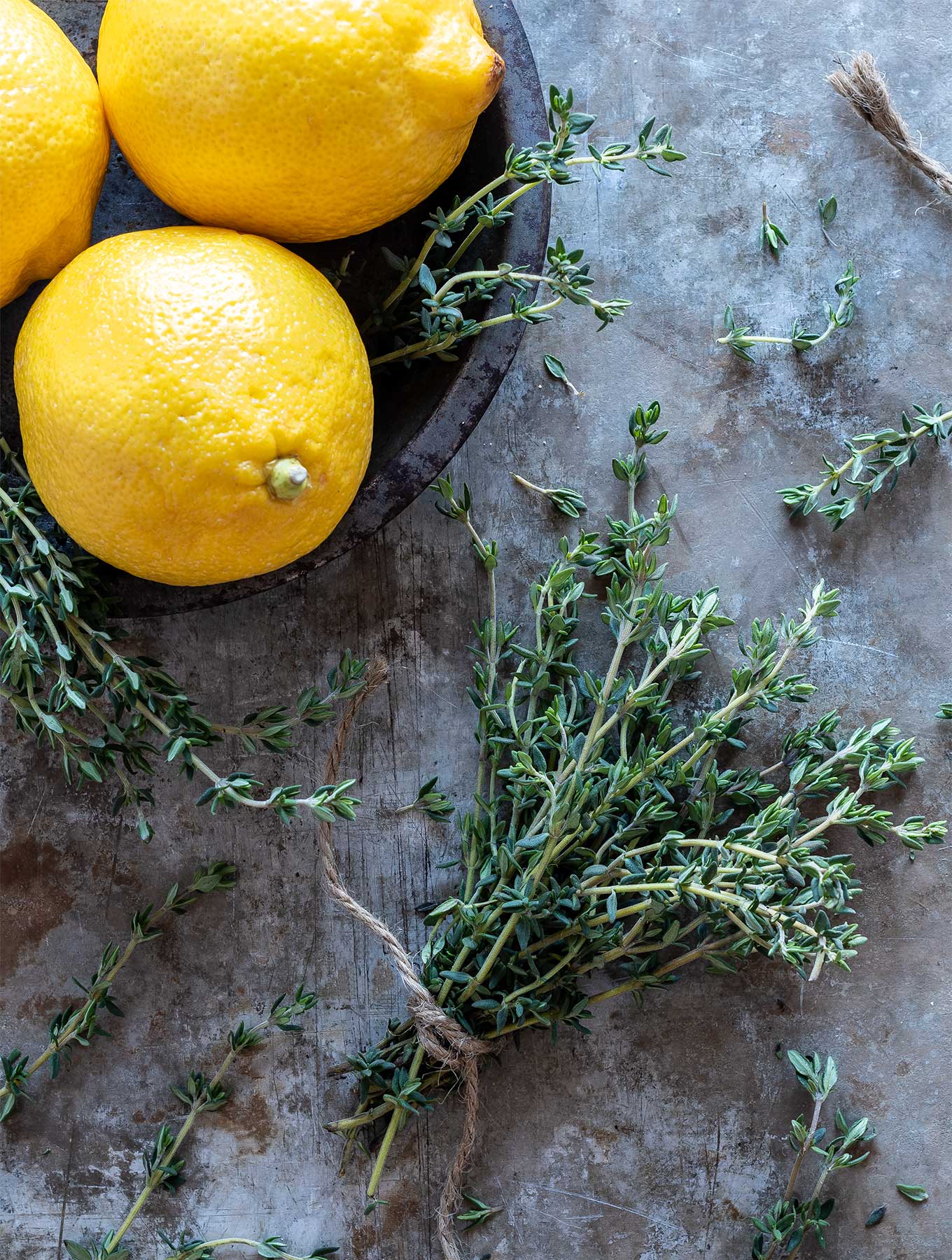 I love the combination of lemon and thyme together. One of the things I love most about cooking, is coming up with unique flavor combos that go well together. I wouldn't say that lemon and thyme is anything original, but paired with lavender, kicks up the pairing to a whole new level.
Don't be afraid to experiment in your own kitchen with combining ingredients. My favorite place for inspiration is the book "The Vegetarian Flavor Bible". It's the most amazing book to find inspiring flavor combinations of ingredients that go well together. It really takes a lot of the guess work out of the whole process and will make bringing together ingredients that you know when paired, will taste good .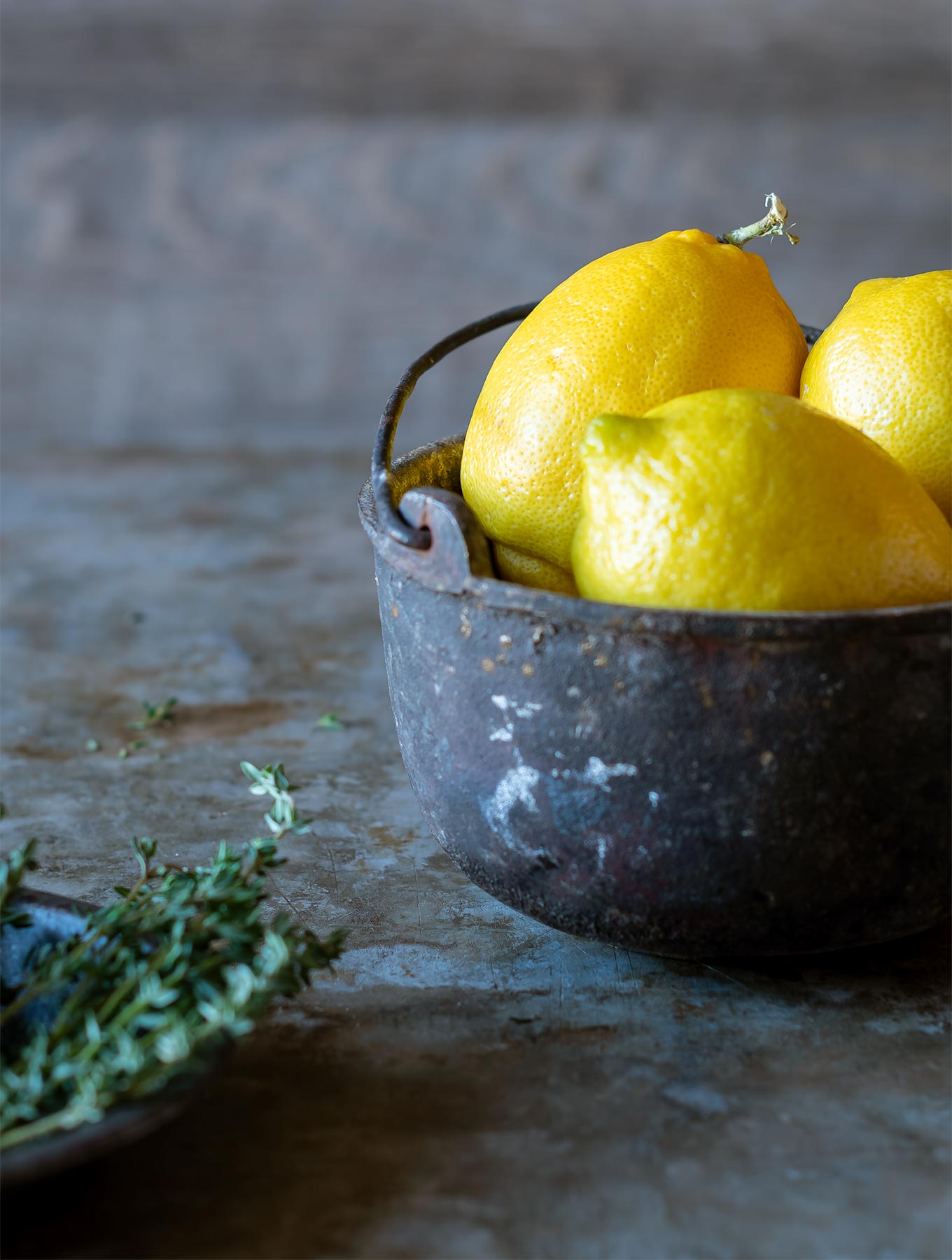 Now on to these baked morsels of goodness. Scones come in different shapes. I chose a drop scone for my recipe. They're super easy because there is no shaping involved. You basically just scoop up the batter with a measuring cup or cookie scoop and drop on your baking sheet. So so easy! I must confess when I dropped them on the sheet, I shaped them a bit to more of a circle shape. Because you know, they have to look pretty in the photo, all perfect and uniform.
I kinda wished I would of left them more random, because after I shot them, I thought they looked a bit like cookies…LOL. Not sure if that's a bad thing, but just keeping it real. My perfectionist tendencies got the best of me! Cookie shape aside, these scones are super yummy.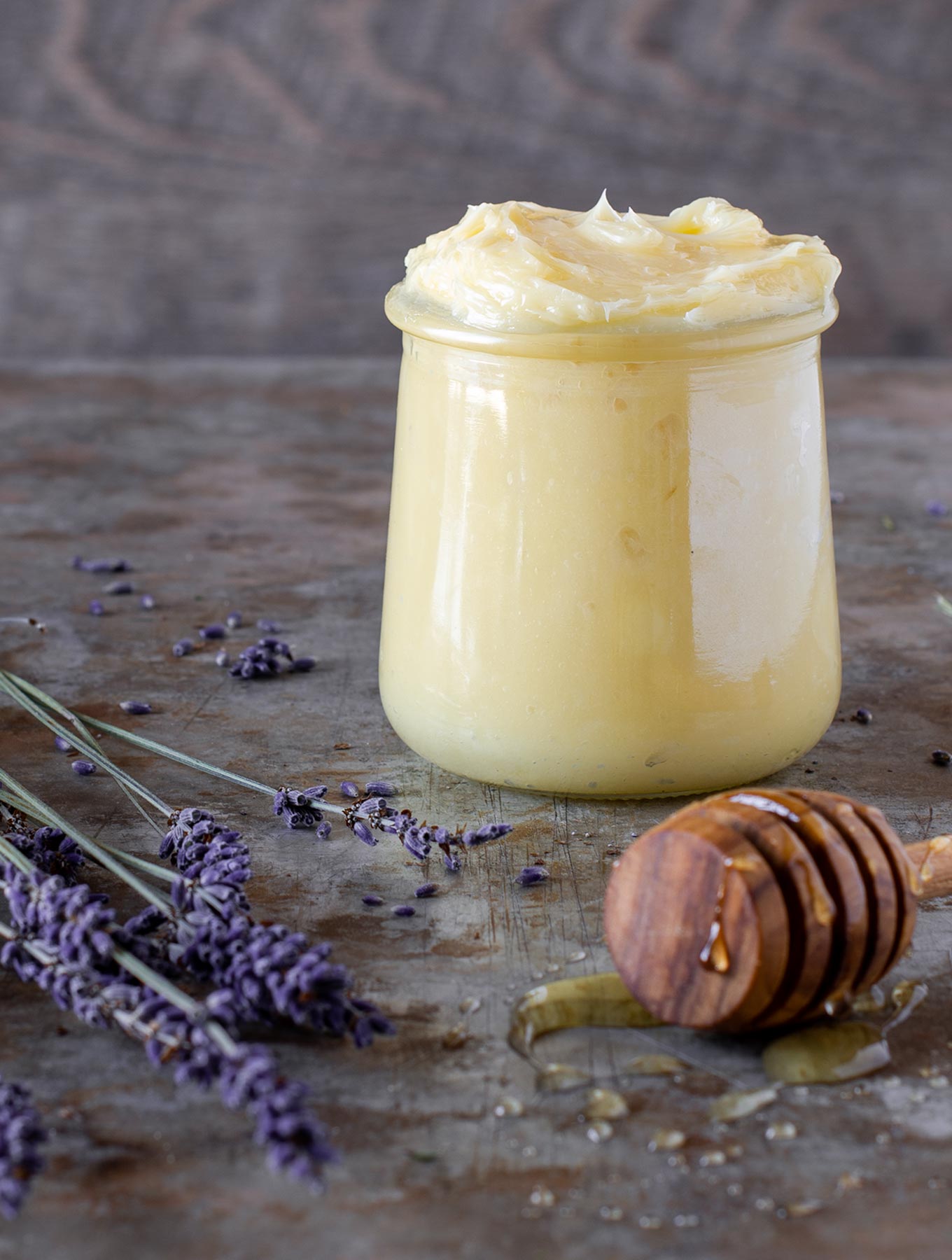 Let't talk about this whipped lavender honey butter. I just want to slather it on everything! It's amazing on these scones but would be great on:
Pancakes and Waffles
Muffins
Toast
Anything you want because its just that good!
This butter couldn't be any simpler. It's just three ingredients in the food processor, a couple of pulses and done. What could be easier? The floral notes of lavender are coming from essential oil. I love using essential oils in cooking because they are so concentrated and really give a burst of flavor. You will need to make sure you are using oils that are safe in cooking because not all are meant to be ingested. I talk more about that here in my Essential Oils 101 post.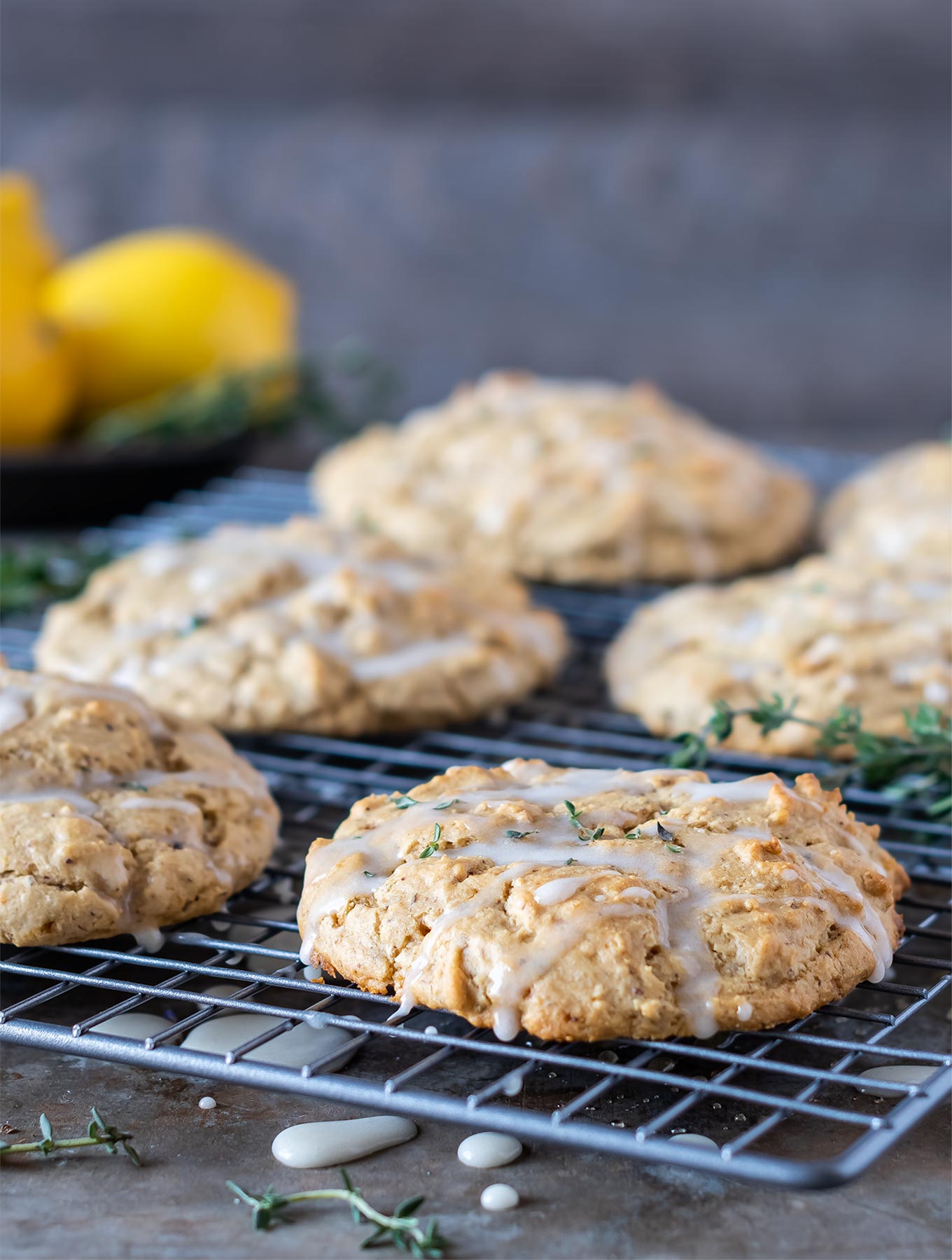 The lemon glaze you see drizzled on the top is completely optional, especially if you're trying to cut back on sugar in your diet. I say, if your having company ,then maybe add the extra glaze but with the lavender honey butter, you really won't miss it.
Now all you need is a cozy spot in your kitchen and a warm cup of coffee or tea. Happy weekend!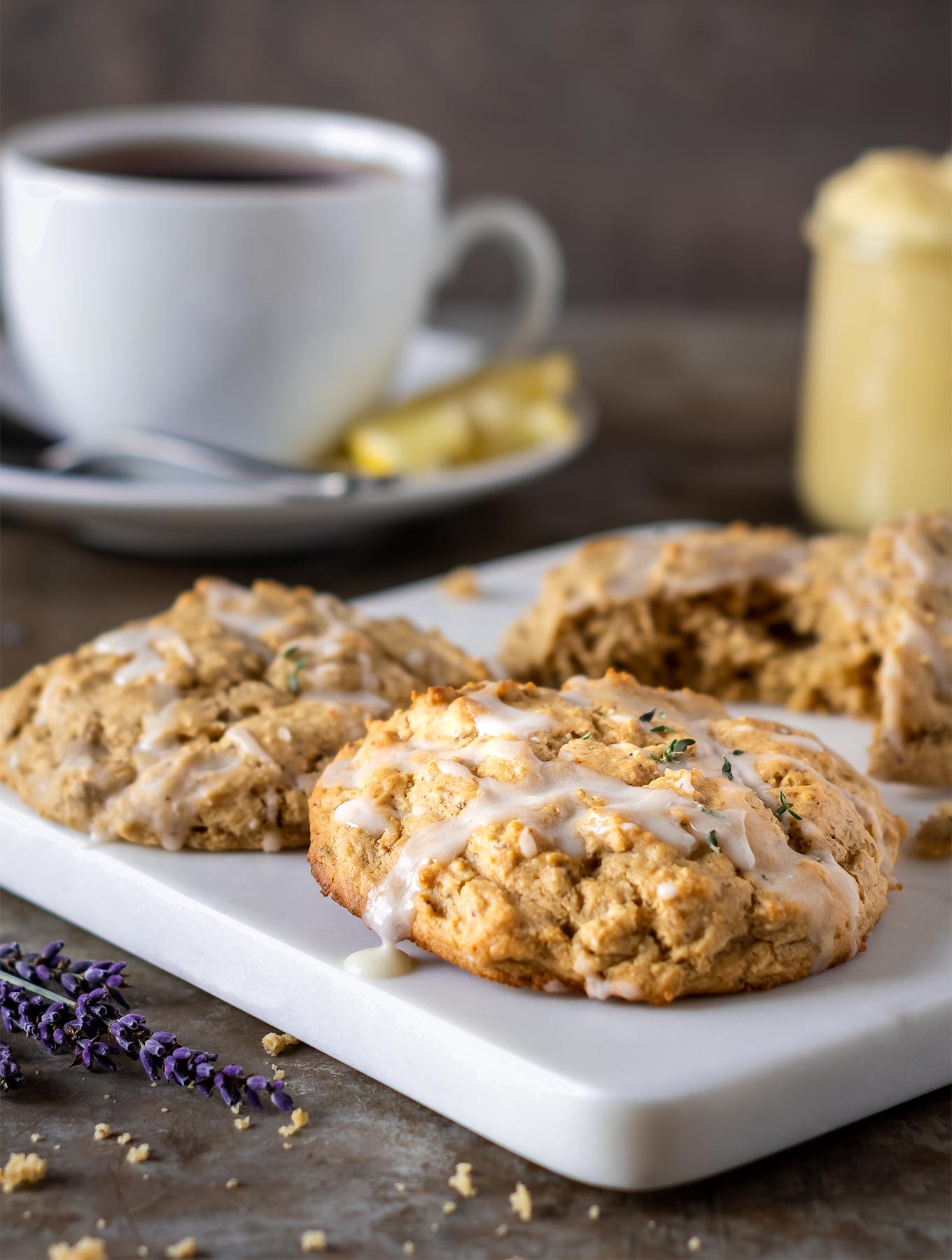 Print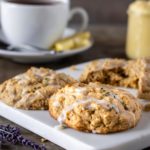 Gluten Free Lemon Thyme Scones with Lavender Honey Butter
Author:

Prep Time:

10

Cook Time:

15

Total Time:

25 minutes
---
Description
Welcome spring with these gluten free lemon thyme scones paired with a whipped lavender honey butter.
---
Ingredients
Scone Ingredients:
2 ¼

C. Pamela's Baking Mix

2/3

C.  Almond Milk

1

Egg (beaten)

1

t. Lemon Juice
 Zest of 1 lemon

1

t. Fresh thyme

1

t. Baking Powder

1/3

C. Coconut Palm Sugar

4

T Butter (cubed)
Lavender Honey Butter Ingredients:
1

Stick of Butter

5

Drops of Lavender Essential Oil

3

T. Honey
Lemon Glaze Ingredients (optional):
2

T. Lemon Juice

2/3

C. Organic Powdered Sugar

1/2

t. Vanilla Extract

1

T. Butter (melted)
---
Instructions
Scone Instructions:
Preheat oven to 375 degrees.
Combine the baking mix, baking powder, sugar, thyme, zest and butter in the bowl of a food processor.
Pulse until the butter is mixed throughout the mixture.
Pour the flour mixture into a large bowl and add the milk, lemon juice, lemon oil and egg.
Stir the mixture until well incorporated.
Using a cookie scoop, drop mounds of dough onto a cookie sheet lined with parchment or a silicone baking mat.
Bake for 15-17 minutes or until slightly golden.
Lavender Honey Butter Instructions:
Place butter and honey in a food processor.
Whip until honey is blended.
Add essential oil and blend gently until incorporated.
Enjoy!
Lemon Glaze Instructions (optional):
Add all ingredients to a small bowl.
Whisk until combined and creamy.
---
Notes
If using optional glaze, make sure scones are completely cooled before drizzling.