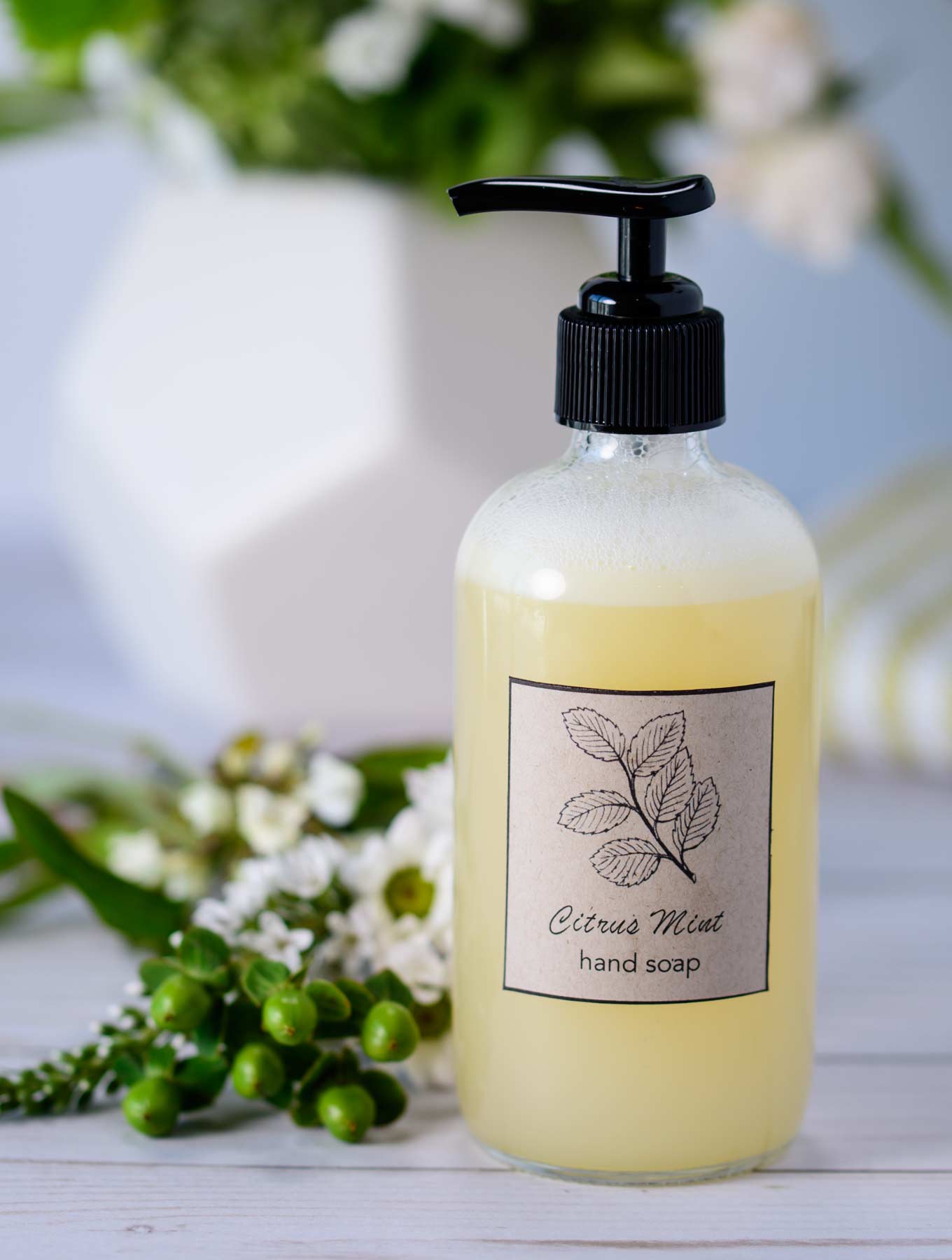 This beautiful DIY Citrus Mint hand soap is made with essential oils and makes a great gift!
So who says that soap needs to be purely utilitarian? I don't know about you, but when it comes to my hand soap, I am drawn to two key things; scent and packaging, hands down. I have always been a packaging junkie and just a sucker for beautiful design. I love to go to stores and just look at all of the different ways companies have branded their products. I pay special attention to the colors, patterns and textures of the paper used. I think it's the marketer in me or maybe I'm just a geek… there's that.
One other important area that we just can't avoid is the topic of chemicals. Yes, those nasty chemicals that have found their way into all of our health and beauty products. Do you remember the antibacterial craze? OMG! It was like the companies and the media were telling us to live in a sterile bubble. It was so bad that people were ready to go add a hazmat suit to their daily wardrobe. There were antibacterial soaps, wipes, you name it. We became this germophobe society where "pass the Purell" became a thing at every social event.
So why is all this so bad? Well you see, we need our immune systems to keep us healthy, and by over using all of these antibacterial products, we start to kill those natural fighters in our bodies. Last year the FDA finally announced that there was not enough scientific evidence to show that over-the-counter antibacterial soaps were better at preventing illness than washing with plain soap and water. If you want to find out more about the nasty chemicals, just google Triclosan, but make sure you are sitting down when you read about what types of chemicals have been allowed in our products. It is not pretty!
Well enough of being a Debbie downer. Let's get on with the good stuff. This hand soap could not be easier to make with just a hand full of ingredients, that won't compromise your immune system.
Supply List:
8 oz. Glass Pump Bottle (Make sure you use glass because the oils can erode plastic- found at SKS Bottle & Packaging)
Essential Oils (I used Lemon, Lemongrass, Tea Tree & Peppermint from Veriditas by Pranarom)
Distilled Water
Liquid Castille Soap (I used Dr. Bronner's Unscented Baby Soap)
Sweet Almond Oil or Jojoba Oil
Kraft Label Paper (Optional- but why wouldn't you want to make these cute labels?)
Packing tape or one sided laminating sheets
We will be scenting our soap with essential oils which not only smell amazing, but have some great health benefits. I spoke about essential oils in my Essential Oils 101  post. This is a awesome place to start, especially if you are new to essential oils.
For this blend, I chose peppermint, lemon, lemongrass and tea tree essential oils. I love the citrusy aroma of the lemon and the lemongrass, paired with the peppermint, and the tea tree acts as an antibacterial. I like the addition of a little almond or jojoba oil to the blend to make sure that the soap doesn't dry out our hands. I mean, I live in MN so we do not need any extra dryness to our hands, especially in the winter.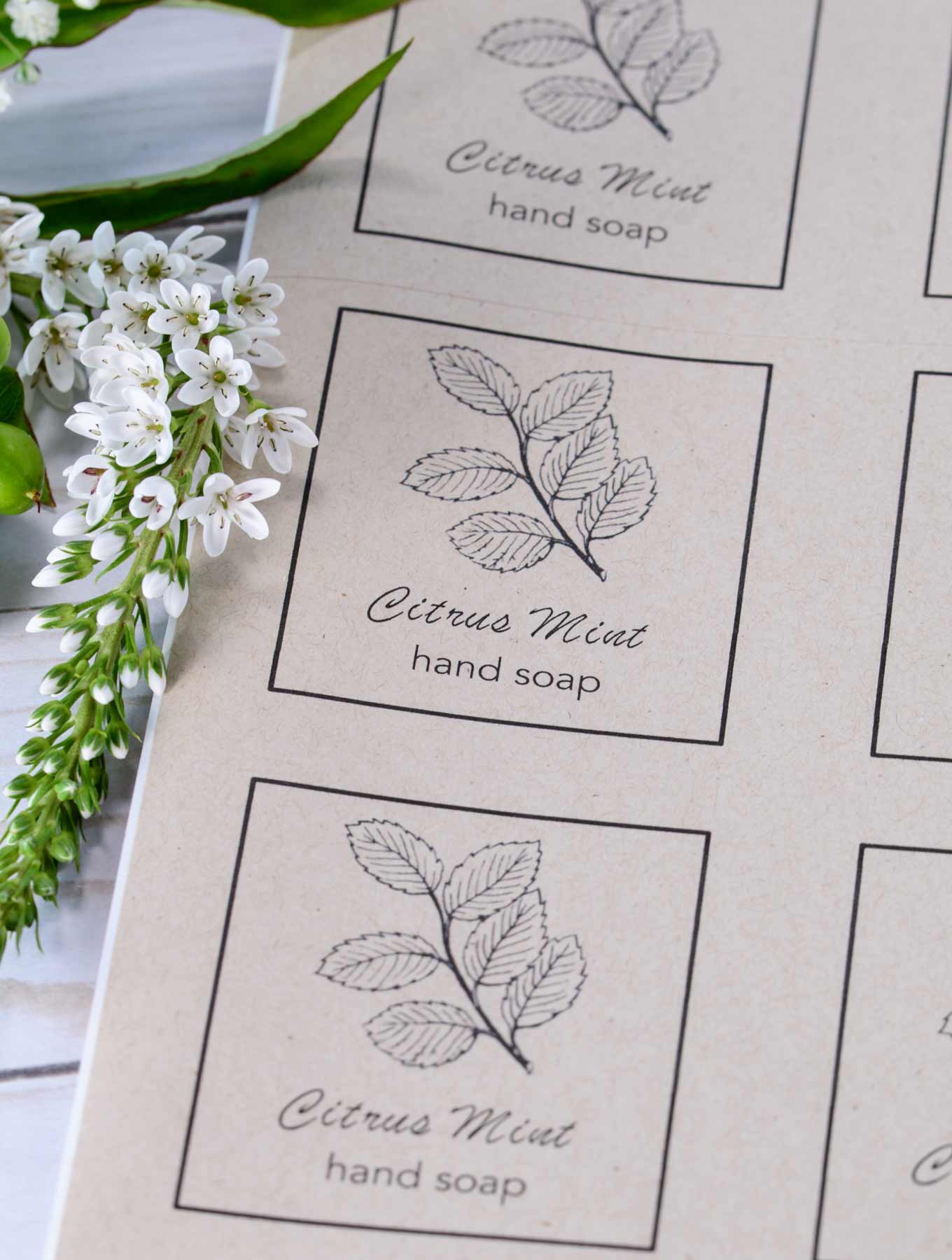 So let's talk about these labels. Aren't they lovely? I made them especially for you….awe. You can print them here Citrus Mint Hand Soap Label.  I couldn't give you a recipe for this great soap and leave you with some boring labeless vessel to put it in. Remember, it's all about the packaging. If you go the label route, you're definitely going to want to make sure you waterproof them, so please see the instructions in the recipe card found at the bottom of this post. You don't want to spend time making this beautiful handmade loveliness and then one pump of the soap and your ink has runneth away.
Feel free to explore different essential oil blends using the same base recipe, plus 20-25 drops of your favorite oils. There are so many ways you can go. Here are a few scent combos to get you inspired:
Orange + Spearmint
Lavender + Peppermint
Peppermint + Vanilla
I always make a couple extra bottles when I make a batch, because you never know when you need a quick last minute hostess gift. Pair this soap with a couple of nice dish or hand towels in a pretty basket and you have a fabulous, stylish, handmade gift. Who doesn't love something handmade?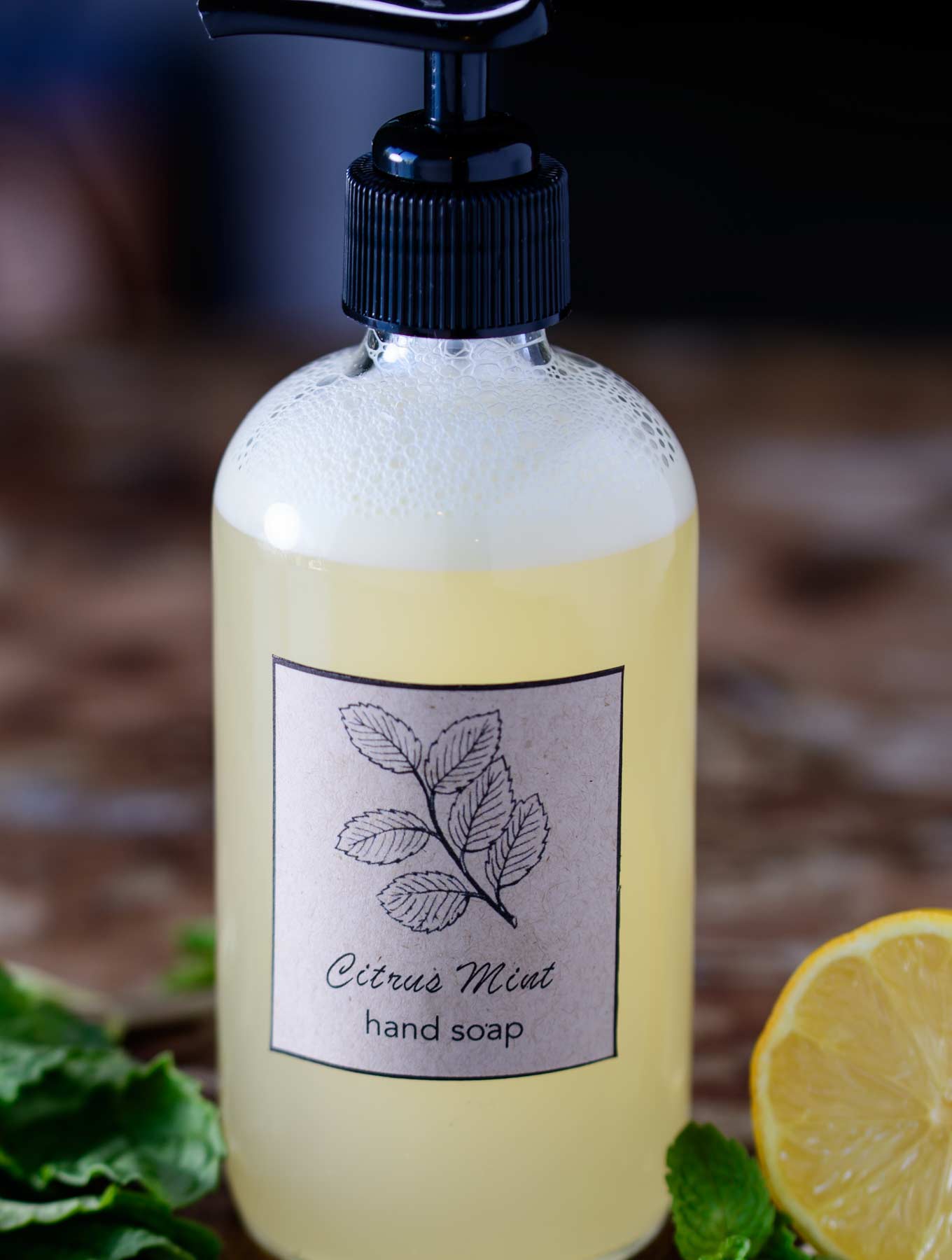 Print
DIY Citrus Mint Hand Soap With Printable Labels
---
Description
This luxurious, DIY hand soap is made with essential oils, is easy to make, and makes a great gift.
---
Ingredients
1/2

C. of Distilled Water

1/2

C. of Liquid Castille Soap

1

T. Sweet Almond Oil or Jojoba Oil

4

Drops of Lemon Essential Oil

4

Drops of Lemongrass Essential Oil

7

Drops of Peppermint Essential Oil

10

Drops of Tea Tree Essential Oil
Supplies:
---
Instructions
Place water and liquid soap in a glass container with a spout. Mix together until blended.
Add essential oils and almond/jojoba oil. Blend until combined. Pour into glass jar with pump.
Print labels according to your printer instructions using the template included in the link.
In order to make your labels waterproof, you can cover the entire label sheet with a one sided laminated sheet. For the "Scrappy Version", you can cut out the label and cover with a piece of packing tape and cut around the edges.
Remove label from backing and attach to your pump bottle.
Stay Clean!
---
Notes
If the ingredients become slightly separated, tilt the bottle a couple of times before pumping.
SaveSaveSaveSave
SaveSave
SaveSave
SaveSave
SaveSave
SaveSave
SaveSave
SaveSave
SaveSaveSaveSave
SaveSave
SaveSave
SaveSave
SaveSave
SaveSave
SaveSave
SaveSave
SaveSave
SaveSave
SaveSave