This DIY Cocoa Mint lip balm is amazing with only 4 ingredients!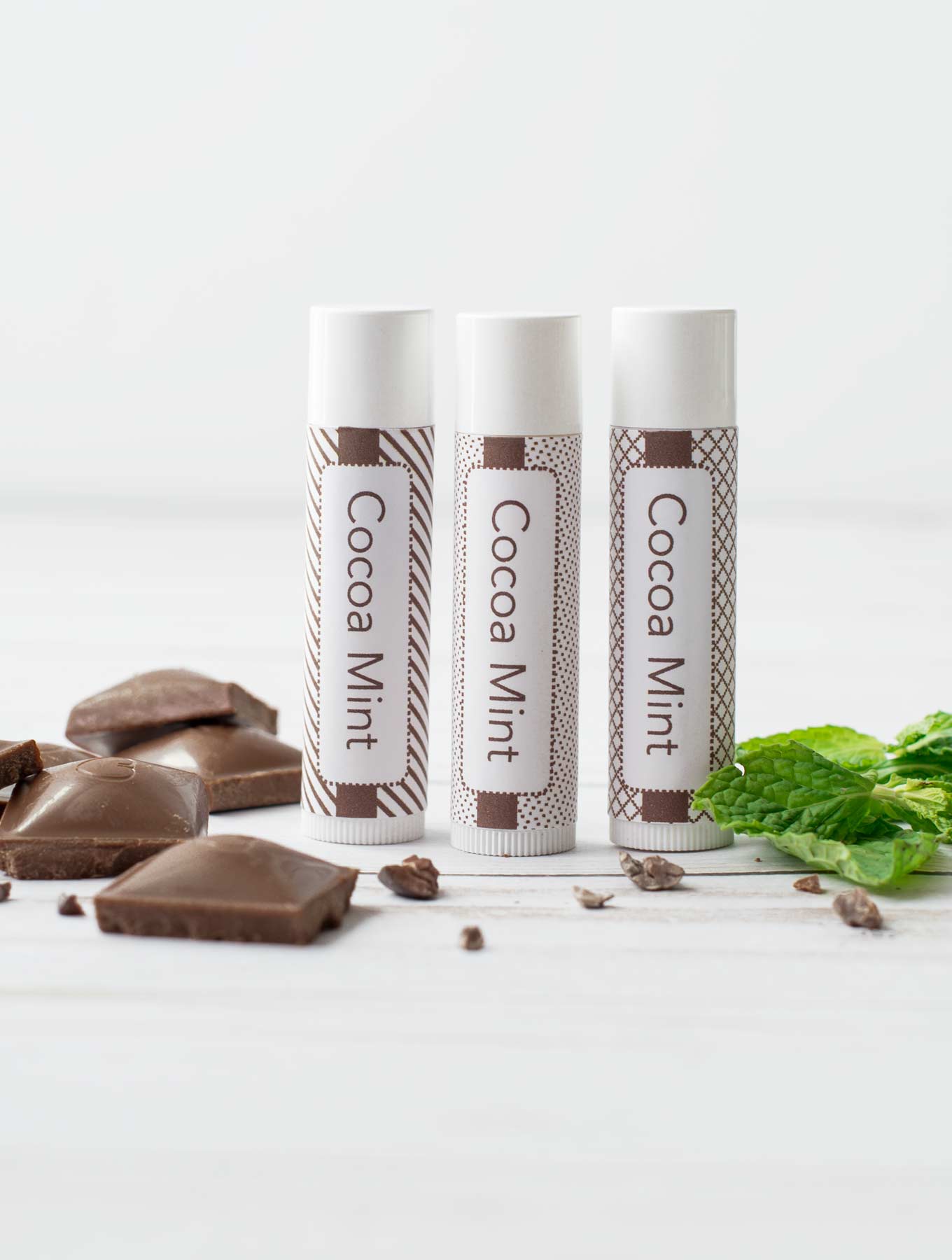 Having lived in Florida most of my life, and now in Minnesota, I may know a thing or two about having chapped lips. Whether from the scorching sun or the freezing cold, extreme temps can really make keeping your lips moist a problem. Enter the solution..Lip Balm. This is not your basic, store bought, chemical laden chapstick, this all natural DIY Cocoa Mint Lip Balm is made with the good stuff!
This lip balm is SO easy to make and only has four ingredients, all completely natural of course. The first time I made it, I really could not believe it. How could something that comes in this cute little tube, smells amazing, makes your lips feel like pure silk, be this easy to do? You will be asking yourself, why you didn't make your own lip balm sooner. It was probably because you were waiting for me to not only send you this easy recipe, but to send you these fantastic labels. You can print them here DIY Cocoa Mint Labels. I bet you're saying to yourself, the hard part is done, why not?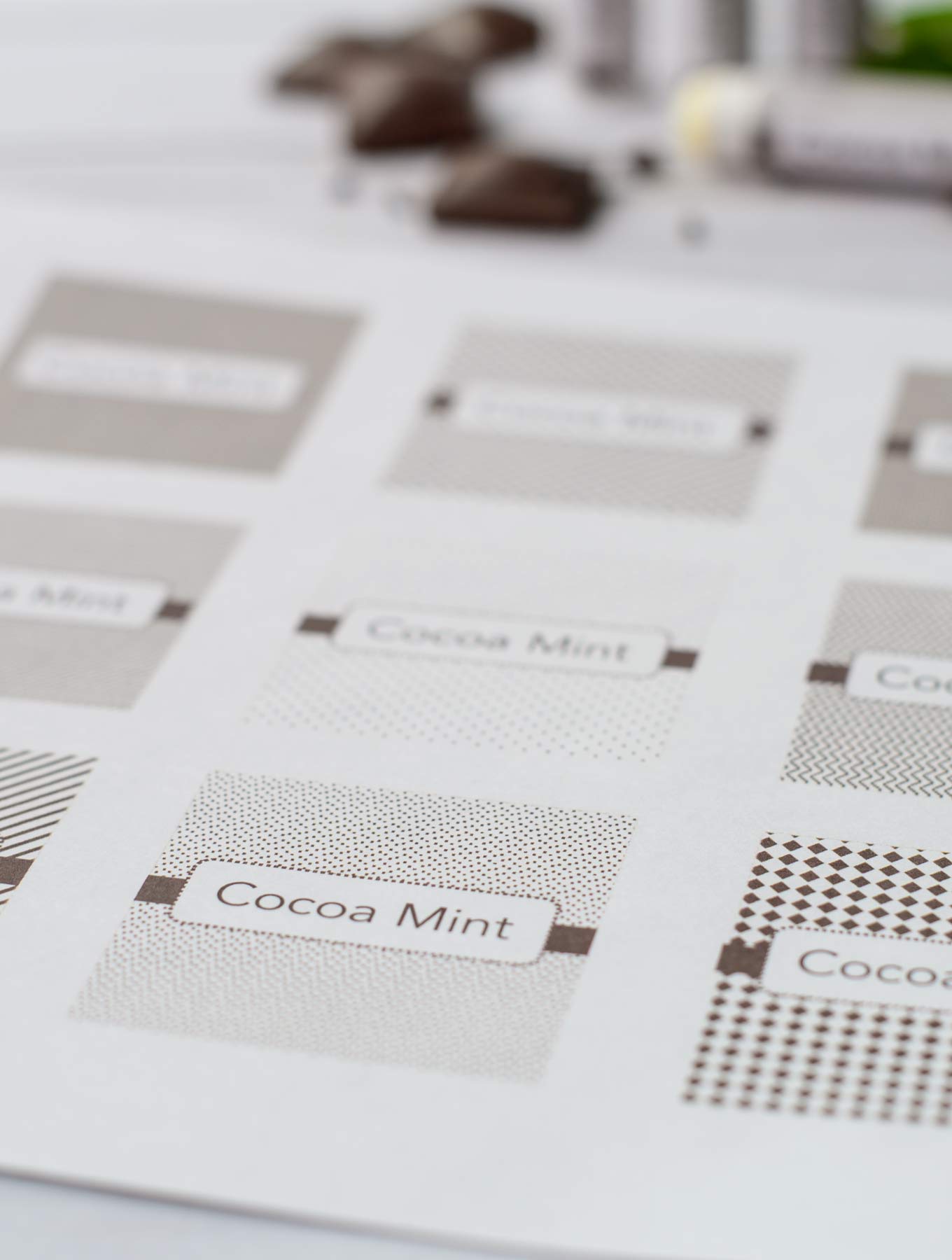 Trust me, it's not only fun and easy but makes you feel accomplished. Your friends will be so impressed and in awe that you actually made your own lip balm. You may even become addicted, and start churning them out like a sweat shop. If you are like me, you will have to start giving them away, because they will start taking over your kitchen. Luckily, they do make a great gift.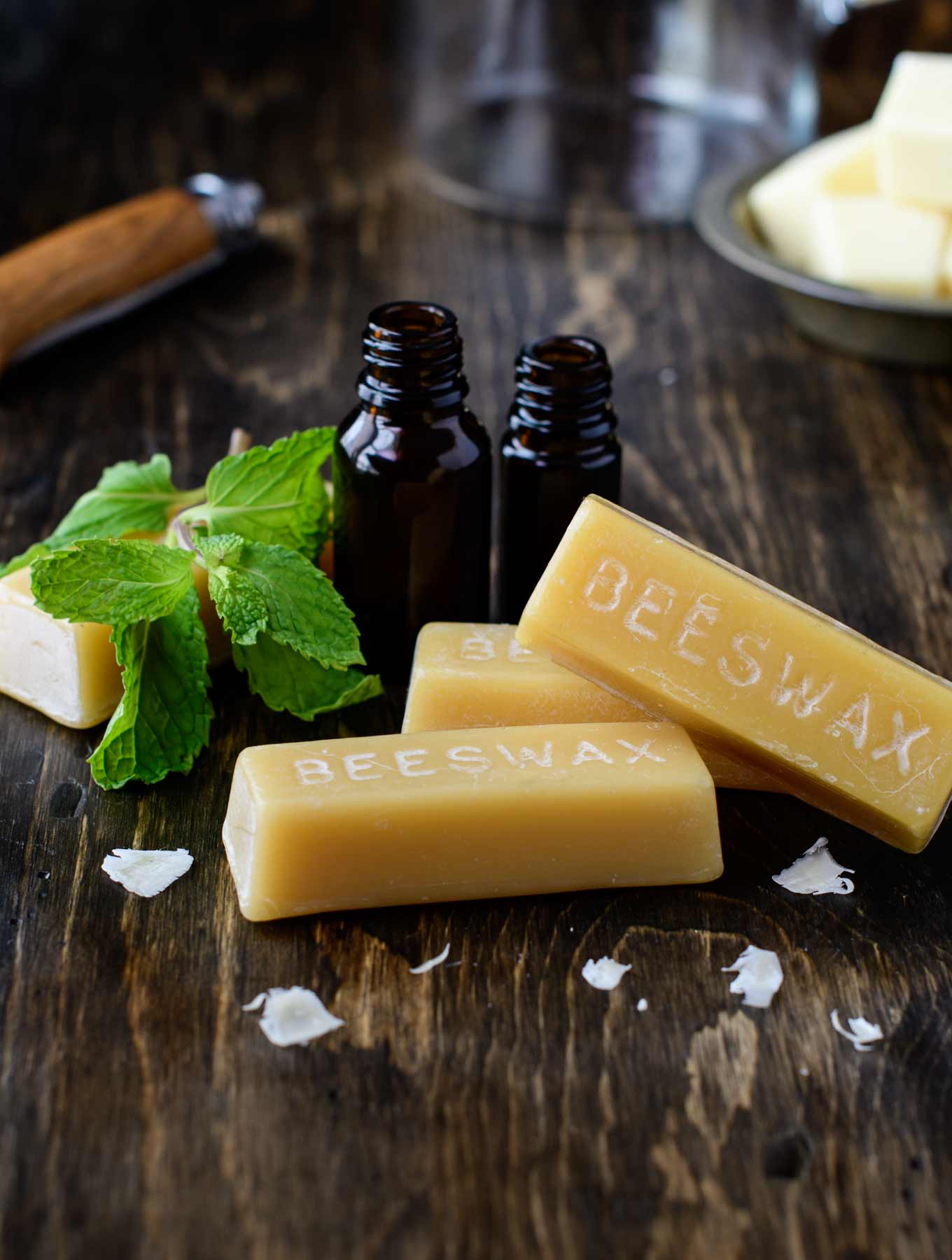 So let's get this lip balm making party started. You really only need a couple of supplies outside of the four main ingredients. If you are new to essential oils, I highly recommend that you read the  Essential Oils 101 before you get started.
Here's the deets. The ingredients can be found at your local health food store or at an online retailer like Amazon. I mean they carry everything, even bacon flavored floss..enough said. I can hear my husband now, they do? No Michael, we are not flossing our teeth with pork flavored floss!
For the lip balm tubes, check out SKS, they are the candy store of packaging.
Ingredients & Supply List:
Beeswax Pastilles or Beeswax Blocks
Jojoba Oil (or you could use almond oil)
Peppermint Essential Oil (I used Veriditas by Pranarom)
White Label Sheets ( I used Avery full sheet shipping labels #8165)
Packing Tape or One Sided Laminate Sheets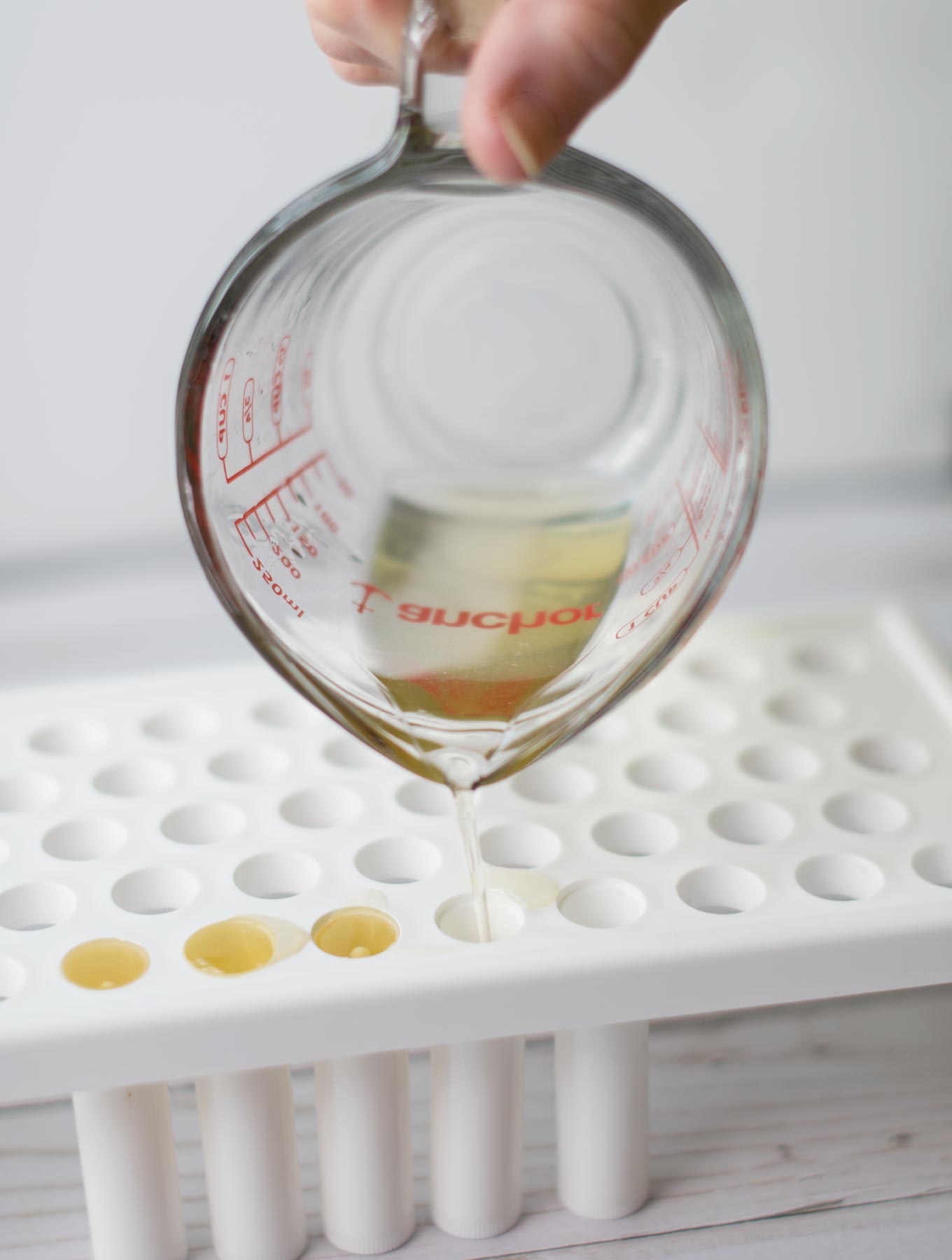 The process of making the actual lip balm is so simple. It really comes down to melting and pouring the ingredients. So here is the deal, you really don't need the fancy lip balm filling tray. If your feeling scrappy, you can take an empty egg carton, turn in upside down and poke some holes the size of the lip balm tube and use that. That is of course, until you love making lip balm so much, that you just have to spend the extra $7-$10 to get one for yourself. Whatever you do, I do not recommend trying to fill the tubes without some sort of support. Even with the steadiest hands, you could potentially have a waxy mess on your counter. I warned you!
After you have mastered the basic recipe, have fun experimenting with other flavor combinations. Here are a couple ideas to get you started:
Cinnamon Roll – 15 Drops Vanilla + 5 Cinnamon
Peppermint Latte- 2 Drops Cocoa + 5 Peppermint + 7 Coffee
Cookies & Cream – 7 Drops Cocoa + 7 Drops Vanilla
Would love to hear what combinations you come up with. Please share in the comments section below and be sure to tag us on Instagram.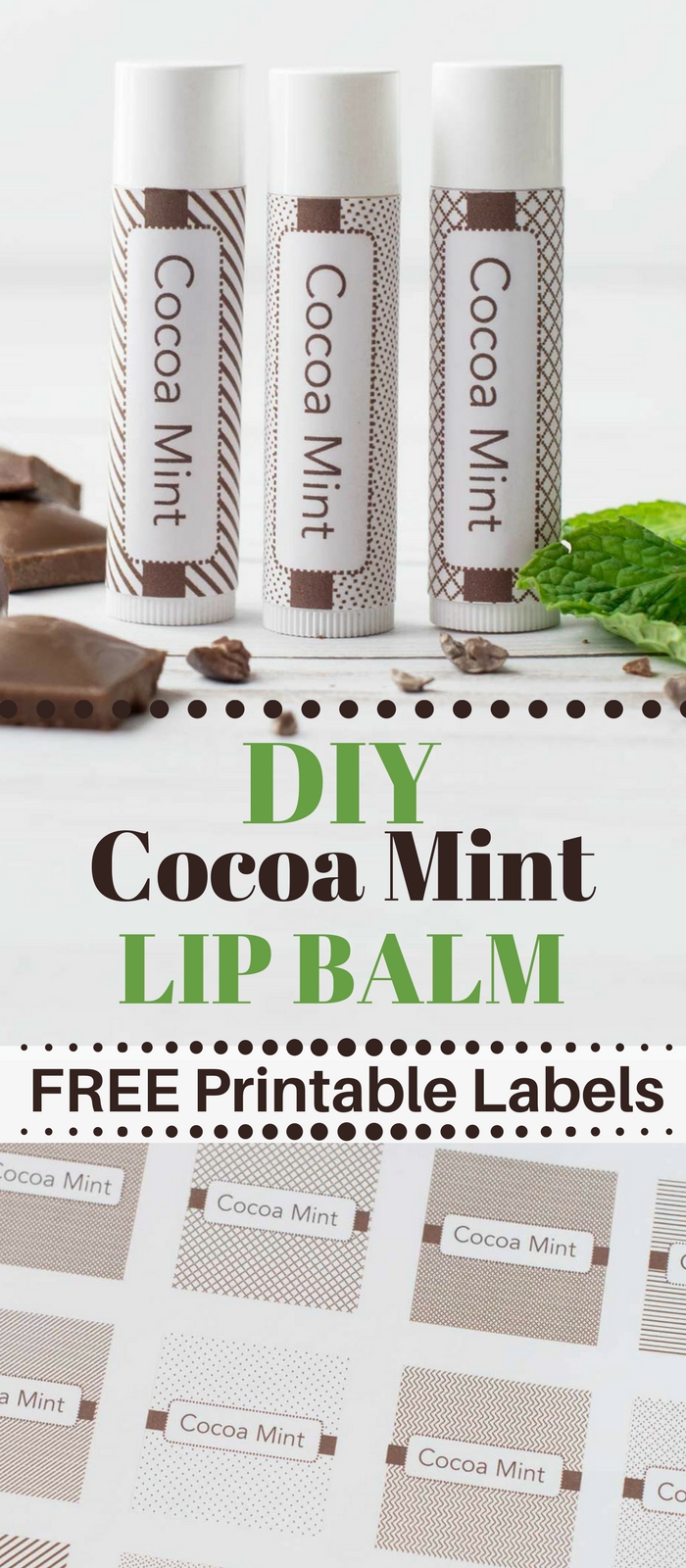 Print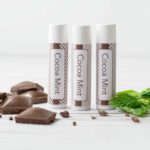 DIY Cocoa Mint Lip Balm with Printable Labels
Author:

Yield:

6

Tubes

1

x
---
Description
DIY Cocoa Mint lip balm that's so easy to make and very moisturizing. Its made with essential oils and makes a great gift.
---
---
Instructions
Place beeswax, coco butter and jojoba oil in a glass pourable measuring cup.
Place container in a pot of water to act as a double boiler. Bring water to a simmer and stir ingredients until fully melted. Remove from heat and add essential oils.
Pour into lip balm tubes and put in the refrigerator or freezer until fully set (about an hour or so).
Trim off any excess and place cap on.
Print labels according to your printer instructions using the template included in the link.
In order to make your labels waterproof, you can cover the entire label sheet with a one sided laminated sheet. For the "Scrappy Version", you can cut out the label and cover with a piece of packing tape and cut around the edges.
Remove label from backing and attach to your lip balm tube.
SaveSave
SaveSave
SaveSave
SaveSave
SaveSaveSaveSave
SaveSave
SaveSave
SaveSave
SaveSave
SaveSave
SaveSave
SaveSave
SaveSave
SaveSave
SaveSave
SaveSave
SaveSave
SaveSave
SaveSave
SaveSave
SaveSave
SaveSave
SaveSave
SaveSave
SaveSave
SaveSave
SaveSave
SaveSave