Coconut Curry Chicken!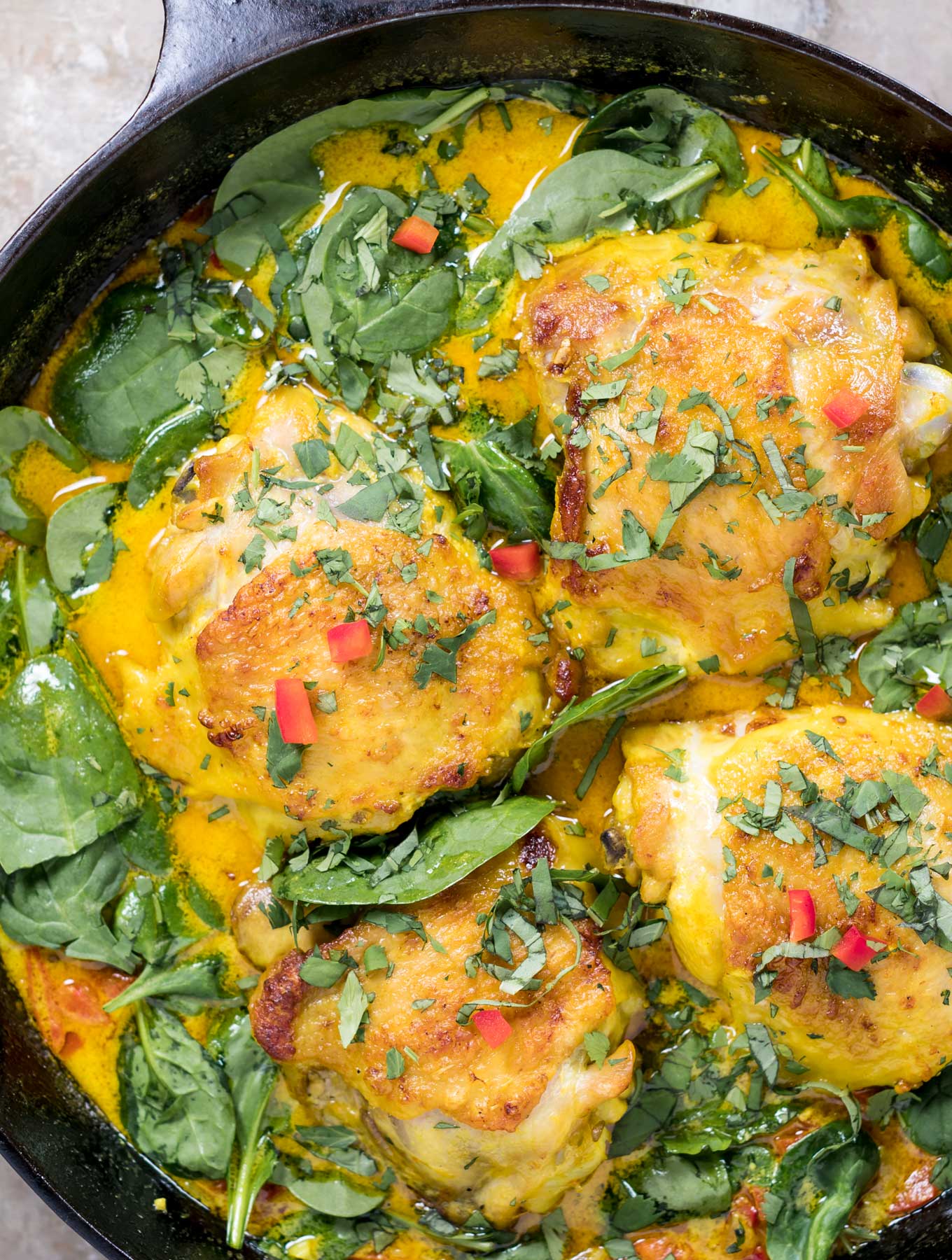 All I can say at this moment is…TGIF!! What a busy week it's been trying to get caught up on life.  Last week I was in Colorado to watch my daughter compete in snowboard nationals. The mountains were breathtaking and the weather was beautiful.  Meanwhile, back home in MN while I was gone, something incredibly different was happening. We were getting a dumping of snow in the tune of 8″. The weather fairy is obviously playing a nasty trick on us. How could this be? It's mid April and still snowing. To top things off, we are expecting more this weekend. Ugh..this is about the time when I am officially over it. The only good thing about this cold weather is we can still enjoy soups and warm bowls of curry.
Are you a curry lover? I have to be honest, I went through most of my life thinking I hated curry. It wasn't until a couple of years ago that I discovered sweet curry and my opinion changed forever.  I never realized that there were so many varieties of curry.  The sweet one has cinnamon in it and does not read spicy at all which I love! When I discovered sweet curry, my imagination went into over drive and I started using it in everything. No joke..I made curry ice cream, curry chocolate truffles and the list goes on. One of my favorite curry dishes though is this Coconut Curry Chicken.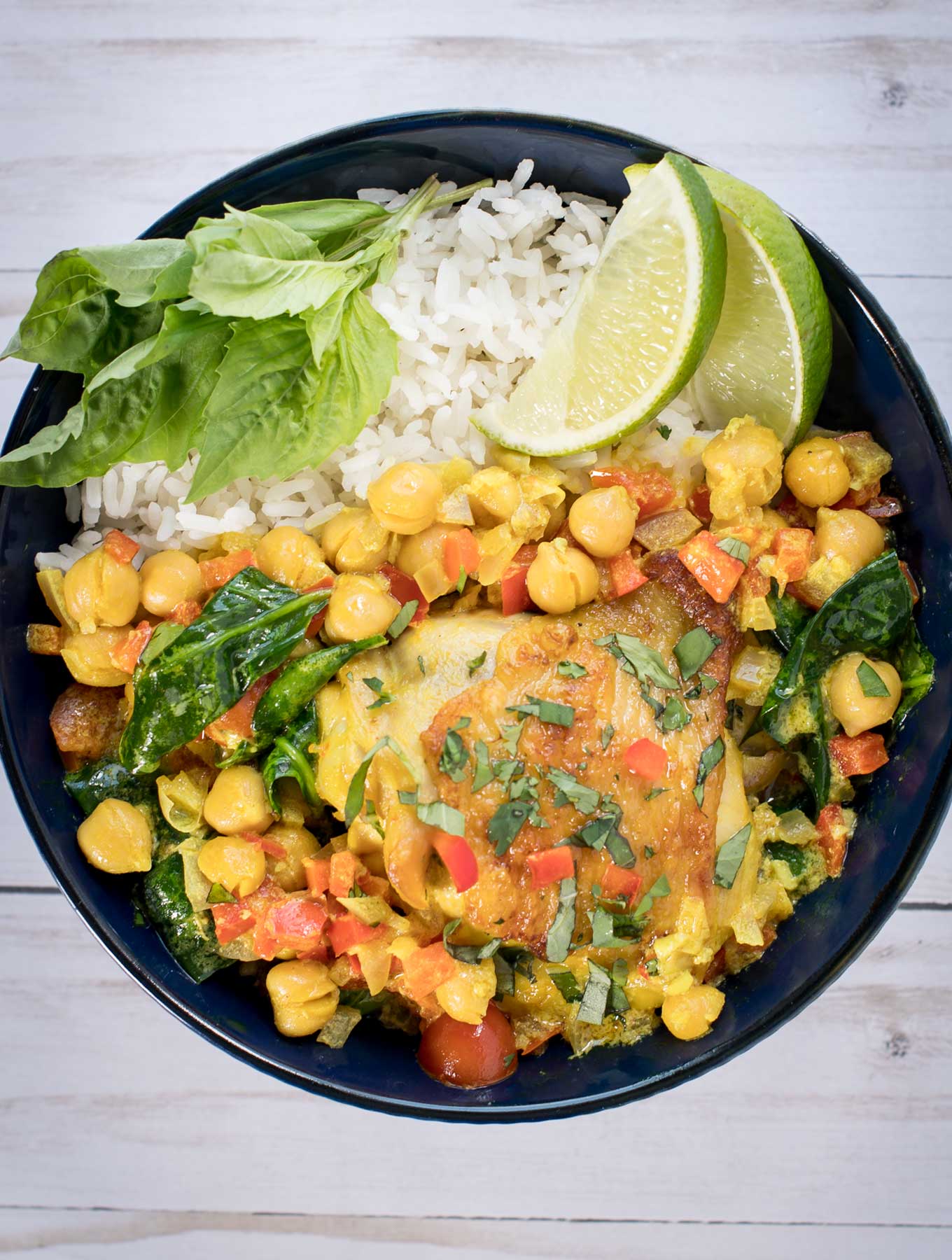 This dish has it all:
It's chock full of colorful healthy ingredients… reds, greens and yellow
It has loads of protein with both chicken and chick peas (you could omit the chicken and make this vegan)
It has anti-inflammatory ingredients like ginger, garlic and turmeric
It's all made in one pan making clean up quick and easy
It's delicious!!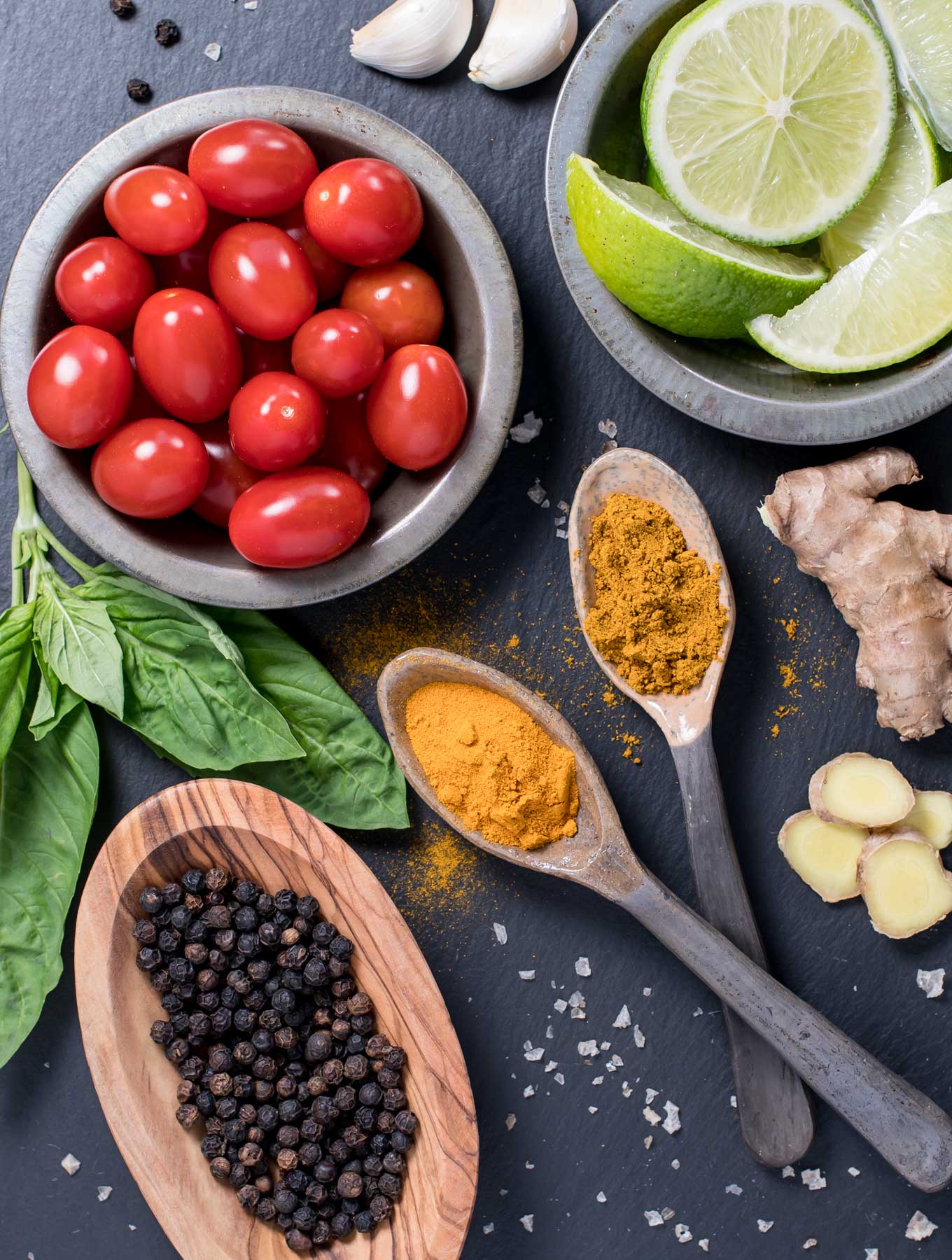 I really have to under score the quick and easy part, although you may look at the ingredient list and think…what? no way, that's too many ingredients. Trust me, most of them are herbs and spices. Don't let the list intimidate you, because it comes together in a snap.
First things first. Prep your ingredients. This dish comes together with ease when you do all your prep first and then your basically tossing the ingredients in the pan..Yes! It's that simple.
Let's start with my time saving tip. My friends, has anyone ever shown you how to properly cut a pepper? Say goodbye to all those pesky seeds and painstaking cutting. It's this easy.
Cut the ends off of the top and bottom of the pepper.
Make a vertical cut on one side of the pepper and then run your knife along removing the center with the seeds
Roll out the pepper into a long sheet.
Now you can either cut into strips or dice..voila!
After you have all of your slicing and dicing done, it's time to start cooking. The first thing you want to do is get a good sear on your chicken. Why? Searing meat locks in moisture and gives your meat that nice golden color with extra yumminess.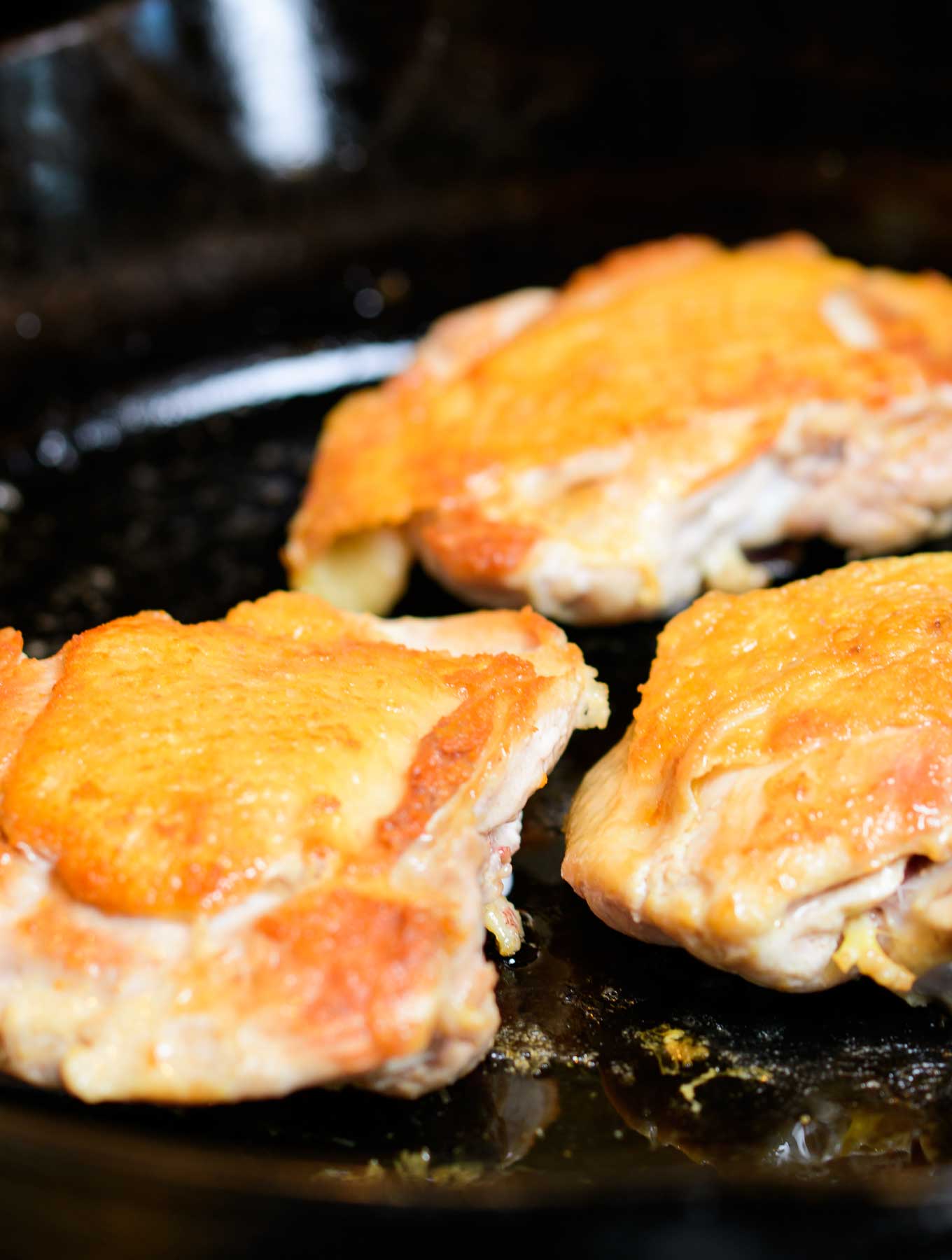 Once you sear the chicken and remove it from the pan it's now time to start adding your other ingredients. You will be amazed by how much flavor this dish has and how quickly it comes together in such little time.
You can enjoy this dish as a stew, or the way I like to serve it, is over a bowl of steamed rice or quinoa.
I encourage all of you to have fun exploring in the kitchen, even if it's just taking a recipe and making it your own. So if you have never tried curry before, maybe it's time to give it a try.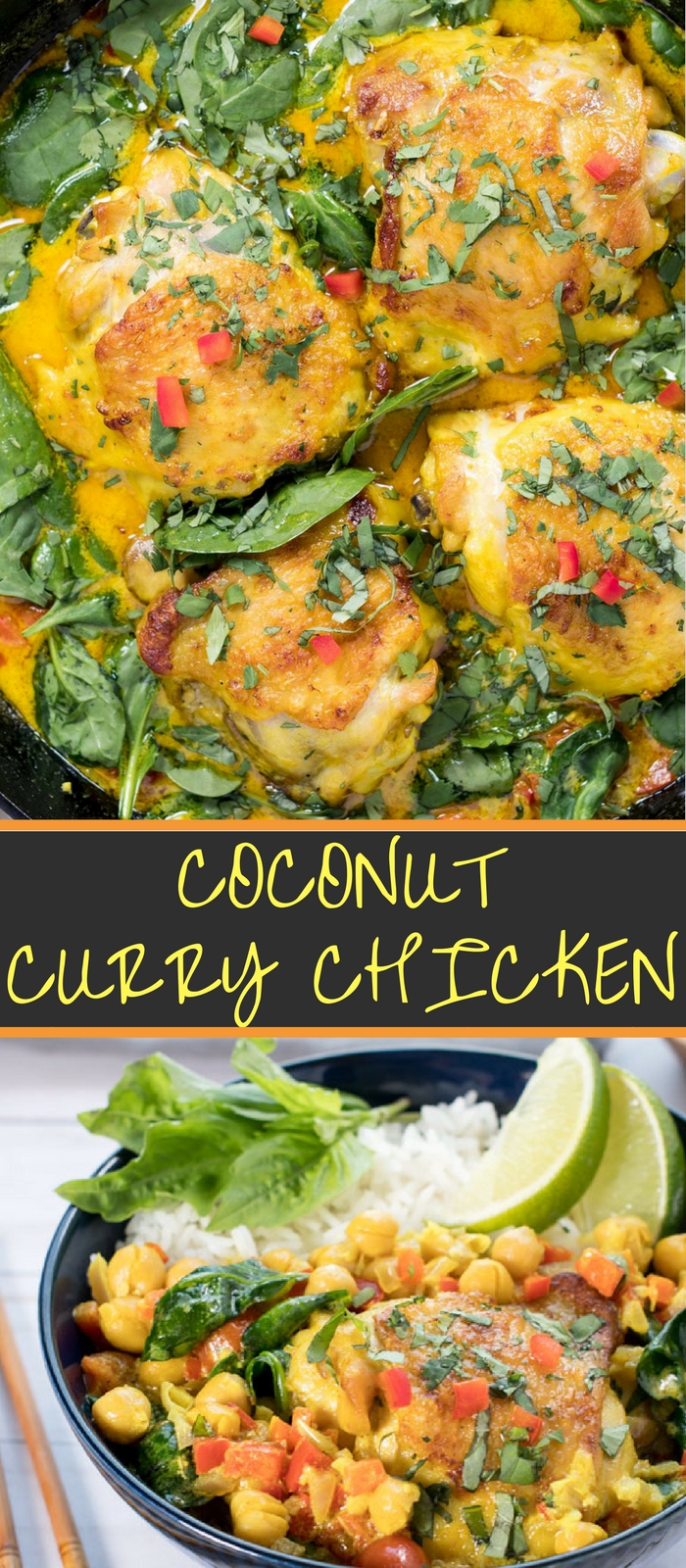 Print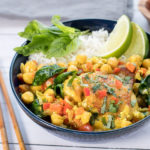 Coconut Curry Chicken
Author:

Prep Time:

15

Cook Time:

20

Total Time:

35 minutes

Yield:

4

-

6

Servings

1

x
---
Description
This Coconut Curry Chicken comes together in 30 minutes. It's loaded with lots of colorful and healthy ingredients.
---
Ingredients
1

pkg Boneless Skinless Chicken Thighs

1/4

Red Onion (diced)

1

Can Chick Peas

2

Cloves of Garlic (minced)

1

T. Basil (chopped)

1/2

C. Grape Tomatoes (quartered)

1/2

Lime (juiced)

1/4

C. Chicken Broth

1

Red Pepper (diced)

1

t. Turmeric

1

Can Full Fat Coconut Milk

1/4

C. Cilantro (chopped)

2

Handfuls of Fresh Spinach

1/2

t. Curry Powder (I like to use sweet curry)

1

t. Fresh Ginger (minced)

1

–

2

T. Coconut Oil
---
Instructions
In a large skillet, heat 1 T. of coconut oil. Add chicken and brown on both sides. Remove and set aside.
Add onions, garlic and ginger and remaining tablespoon of coconut oil if needed. Cook until soft.
Add turmeric and curry powder and stir to make a paste. Cook a couple of seconds and then add coconut milk and chicken stock.
Stir in red pepper and chick peas. Add chicken back to pan and simmer for 15-20 minutes or until chicken is cooked through.
Add tomatoes, lime juice, basil, cilantro and spinach. Stir until well combined.
Salt to taste.
Instant Pot Option:
On Sauté, melt coco oil and lightly brown chicken. Remove chicken and set aside.
Add onions, garlic and ginger. Cook until soft. Add turmeric and curry.
Cook a couple of seconds and add coconut milk and stock. Stir and add red pepper and beans.
Place chicken on top and push down slightly to cover with liquid.
Turn off and set to manual for 7 minutes.
Release pressure, lift lid and add  tomatoes, spinach, herbs and lime juice
---
Notes
This Coconut Curry Chicken is great served over a bowl of steamed rice or quinoa. For a vegan option, omit the chicken. You already have the chick peas to serve as your protein.