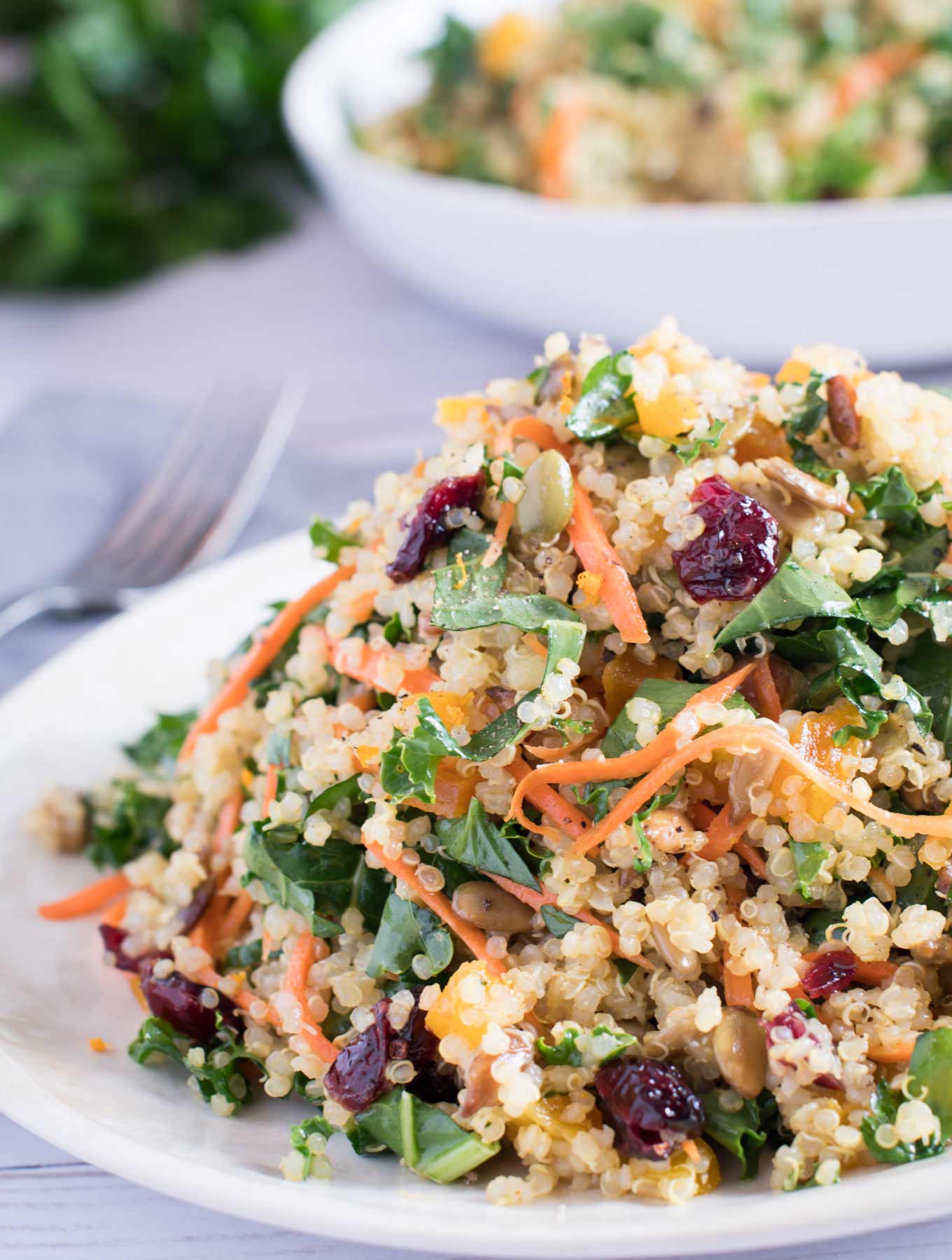 Winter Kale & Quinoa Salad with Citrus Maple Vinaigrette- Yes Please!
OK, so it's after the holidays, and like me, I'm sure you've been feeling the effects.  Jonesing for tasty salads and smoothies followed by the never ending guilt of "I really should be working out more" while committing to the new hot diet.  One thing that you have to know about me – I hate trendy diets.  In fact, I just really hate diets in general, ranking them somewhere well north of paper cuts and a touch south of root canals. I'm a firm believer in eating good clean healthy food and listening to your body. Each of us has a unique biochemistry,  and one fad diet may be good for one person but not the other. We each have foods that work for us and some that don't. When we really start to slow down and pay attention to our bodies, we can begin to see the tell tale signs of what foods make us feel good,  and which ones don't. No rocket science here.  For me, soy milk makes me feel… well, let's just say, not so good.
So, now that I've given you a hall pass on the diet of the year, let me give you the satisfyingly scrumptious alternative. A salad, that is no ordinary run of the mill greens, carrots, and croutons. This is the real deal. It's not only healthy and easy to make but:
Has lots of crunch
Is full of color (i.e. tons of nutrients)
Has loads of yummy plant based protein
Has a to-die-for golden dressing with inflammation fighting ginger & turmeric
This is what I like to eat during the winter because it's hardy, and the kaleidoscope of colorful and healthy ingredients   fill my soul as well as my hunger on a cold day.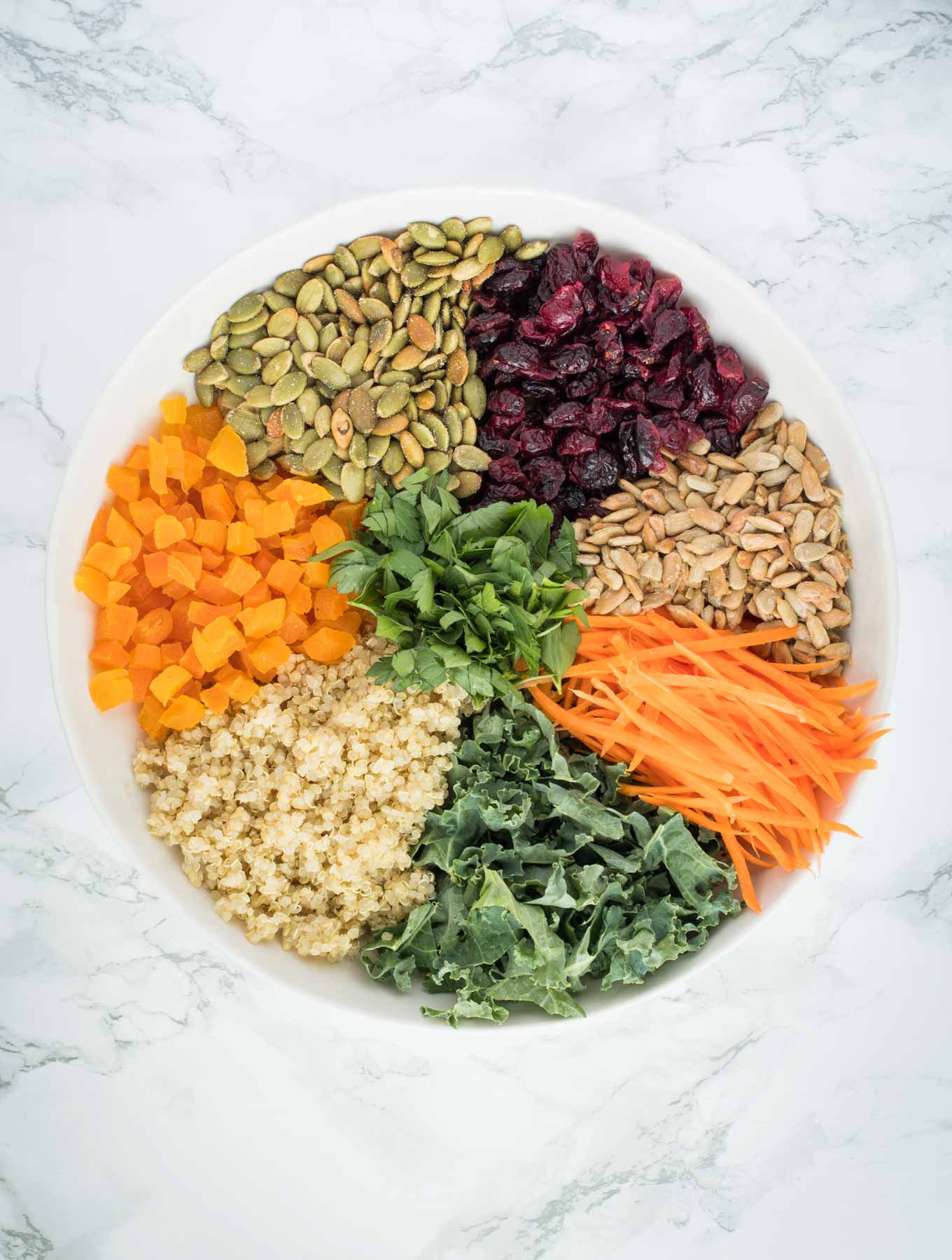 This dish is packed with plant-based sources of protein, like the sunflower and pumpkin seeds, and can serve as a meal all on its own! In addition to the seeds, I've kicked up the protein with quinoa. If you're not familiar with this mighty, mini, powerhouse, let me introduce you. Blog friend, meet Quinoa, a nutrition packed seed (although often mislabeled a grain) that hails from the Andes mountains. This is probably one of the most mispronounced food items that I know (say "keen-wha"not "quin-oh-ah") and it's an amazing superfood! It is super easy to make (cooks in 10 to 15 minutes), goes with everything, (think sweet or savory) and has more than 8 grams of protein in a cup. It's also pretty high in fiber and a good source of iron. I like to batch prep buckets of this stuff on the weekends and store it in nifty containers to create salads, quinoa bowls, and even yummy breakfast porridge during the busy workweek. I am all about easy meal prep and saving time in the kitchen whenever I can.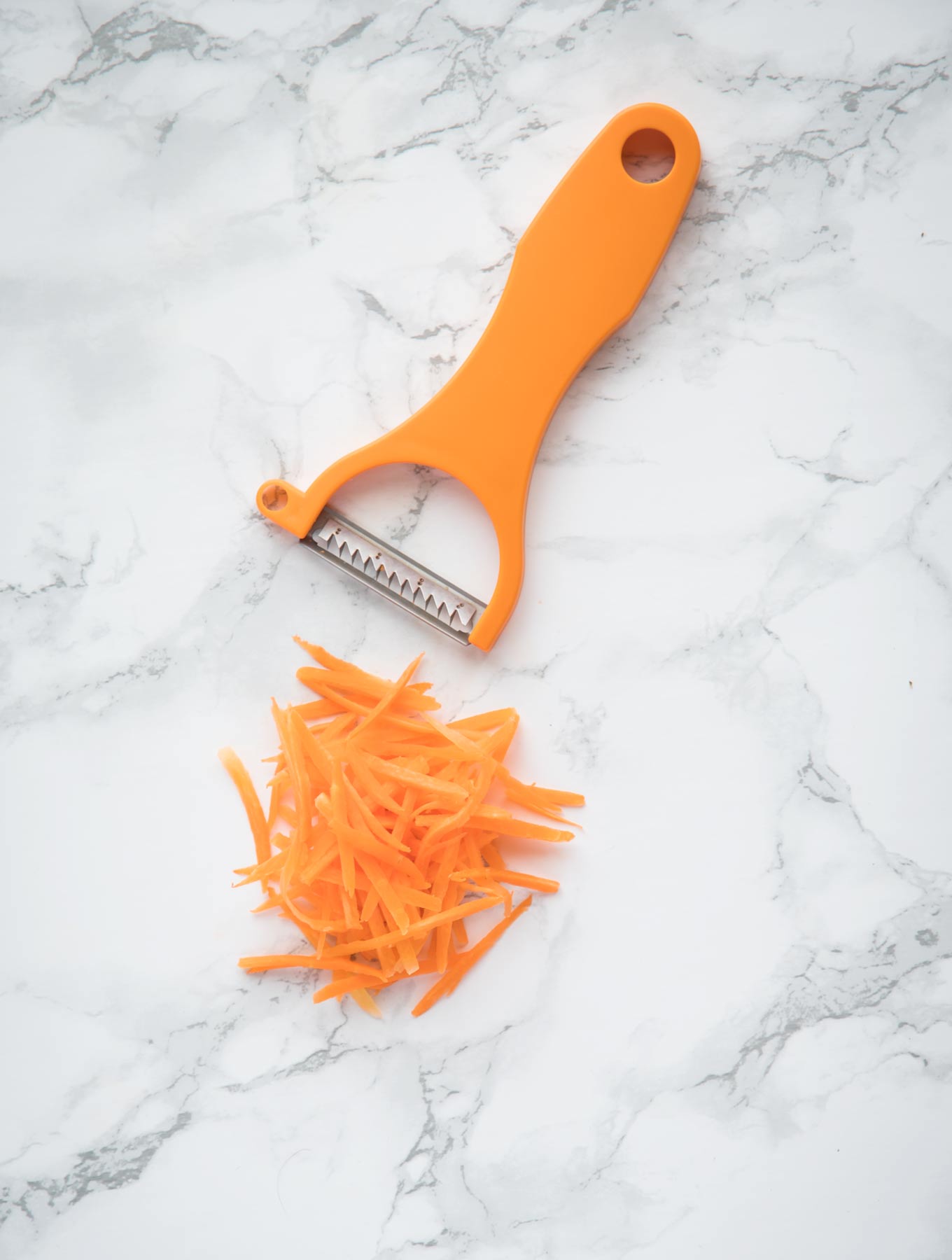 Time out for a public service announcement on time saving kitchen gadgets. Namely, my julienne slicer. OMG, have you seen one of these before? It's a mini hand held one that fits perfectly in the palm of your hand and takes up less space in the kitchen drawer than your wine opener. No more lugging out that bulky slicer that's the the size of a Buick, or painstakingly cutting all of those carrots into perfect little strips. Yes, I know you can buy them already cut up, but sometimes my store doesn't have them. I like having this cool gadget around for cutting other veggies like cucumbers and zucchini too. I teach cooking classes at a local health food store and one of the fan favorite classes is on time saving gadgets like this.  Without fail, every time I show this one slicer, everyone's face just lights up. Its like, hello gorgeous, where have you been all my life? I highly recommend adding one of these julienne slicers to your cooking repertoire. You will not be disappointed!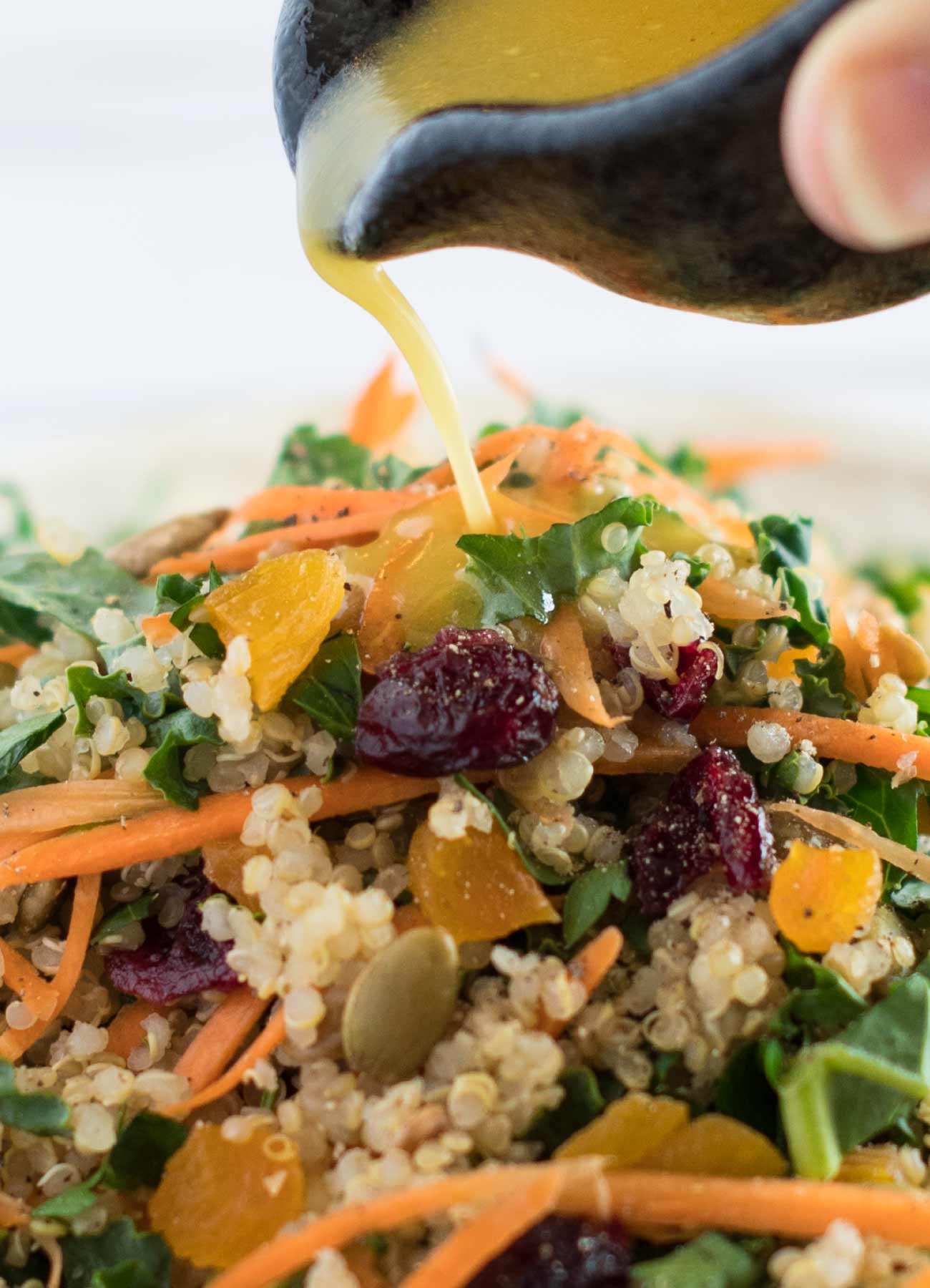 OK, back to the recipe… A couple of my other fave ingredients in this salad are the additions of the dried cranberries and apricots. I love the sweetness they add against the saltiness of the seeds. I carry this sweetness through in the yummy citrus maple vinaigrette, which balances out the acidity and makes it hard to put your fork down. The addition of the ginger and turmeric kick this up on the health scale and adds just the right amount of complexity to the dressing. So, there we have it! I served you up the most delicious, easy, hardy and healthy salad, sure to fill you up and still satisfy you on a cold day! You can thank me now, your body will thank you later!
Print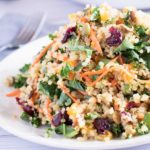 Winter Kale & Quinoa Salad
Author:

Category:

Salad
---
Description
A hearty winter kale and quinoa salad loaded with lots of plant based protein and topped with a yummy citrus maple vinaigrette.
---
Ingredients
Salad Ingredients:
1

C. Quinoa

2

T. Fresh Parsley (minced)

½

C. Dried Cranberries

½

C. Dried Apricots (chopped)

¼

C. Sunflower Seeds (roasted & salted)

½

C. Pumpkin Seeds (roasted & salted)

1

Carrot (julienned)

2

Leaves Kale (chiffonade-fancy word for thin strips)
Salt & Pepper to Taste
Dressing Ingredients:
2

T Maple Syrup

½

C. Sunflower Oil

¼

t. Salt

1

t. Dijon Mustard

2

T. Apple Cider Vinegar
Juice of

½

orange

1/8

t. Ground Turmeric

1

t. Fresh Ginger (minced)
---
Instructions
Rinse quinoa in water and strain. Bring quinoa and 2 c. of water to a boil. Reduce heat. Place lid on and cook for about 15 minutes or until liquid has been absorbed. Set aside until cool. For dressing, place all ingredients except sunflower oil in a high speed blender and blend until well combined. Slowly drizzle in oil until emulsified. Once quinoa is cool, toss all ingredients together with desired amount of dressing. Top with fresh cracked pepper and salt to taste.
SaveSave
SaveSave
SaveSave
SaveSave
SaveSave
SaveSave
SaveSave
SaveSave
SaveSave
SaveSave
SaveSave
SaveSave
SaveSave
SaveSave
SaveSave
SaveSave
SaveSave
SaveSave
SaveSave
SaveSave
SaveSave
SaveSave
SaveSave