This Mediterranean inspired Roasted Garlic Bean Dip is simple and delicious.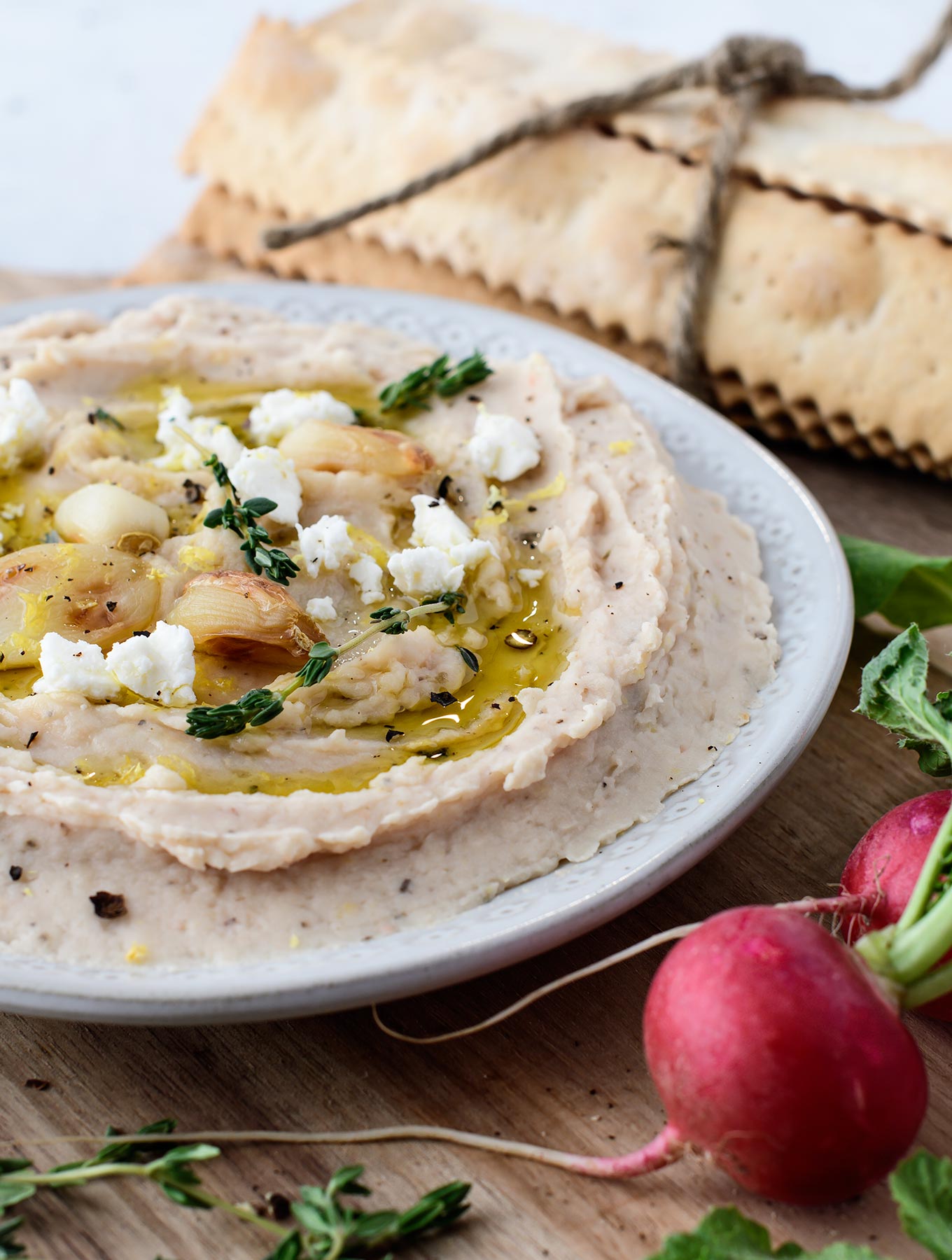 So, by a show of hands, who is ready for the Super Bowl this weekend? Me, not raising my hand..LOL Don't hate me or think I'm a total weirdo for saying this, but I don't even know who is playing. OMG, I just put that out there. I'm not a big sports fan. I guess you figured that out, but I do love making all the yummy foods for entertaining. Does that count for anything? Please say yes.
Game day does give most people permission to be totally glutinous. Loads of cheesy, fried, meaty stuff filling your plates. Seriously no judgement. I have had my fair share of over indulging during gatherings. But friends, I have something for you. A yummy dip thats both healthy, delicious and may even satisfy your craving for naughty indulgence without the guilt. Winning!!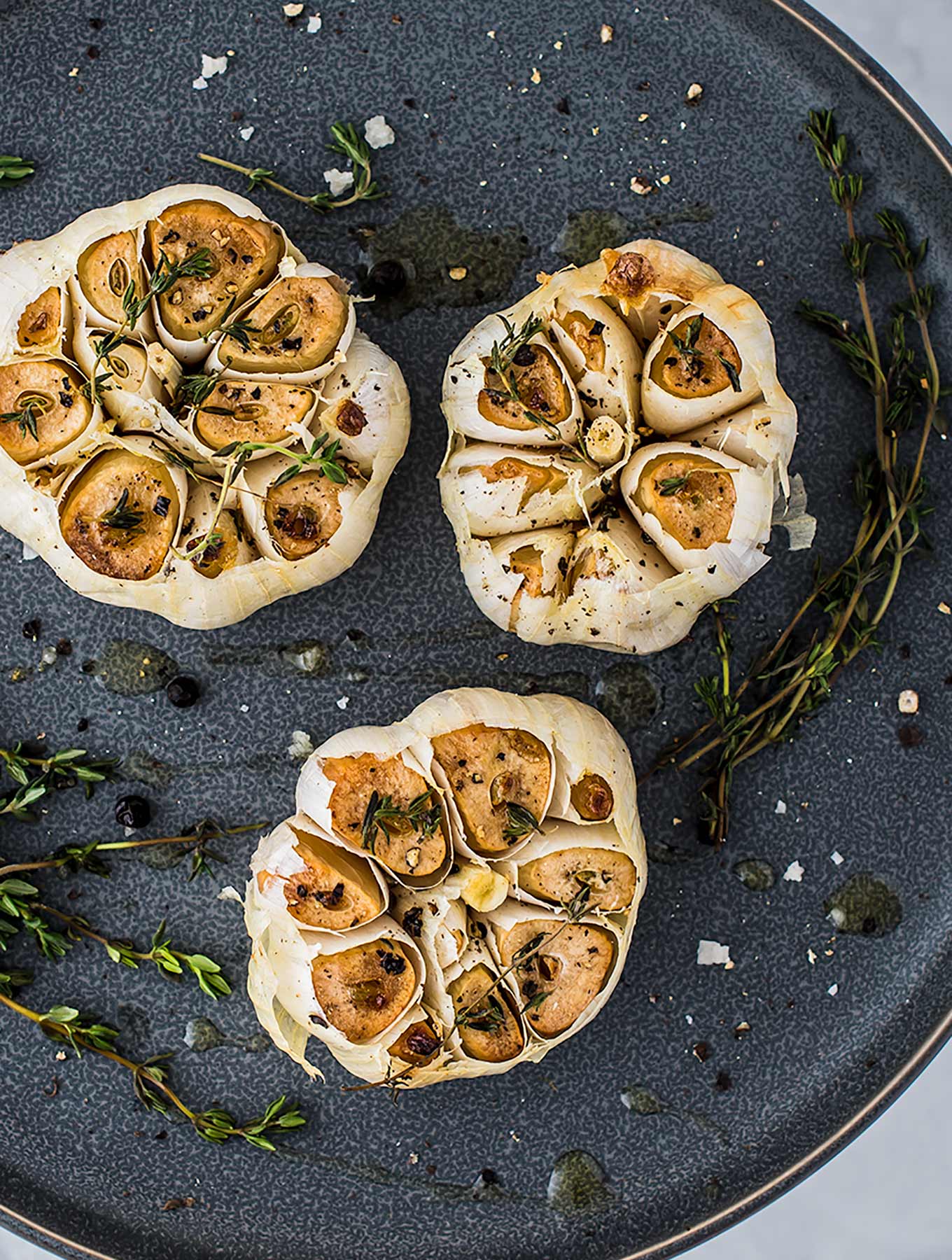 It all starts with roasted garlic. Can I tell you something? I LOVE garlic. Growing up in a latin household, every dish began with garlic. Garlic was in everything! If you've never had roasted garlic, you are in for a treat. Roasting it makes it milder, sweeter, and yummier. It's pretty simple. You can roast the whole bulb or just a few cloves at a time. I like roasting the whole bulb so you have extra on hand after you make the dip.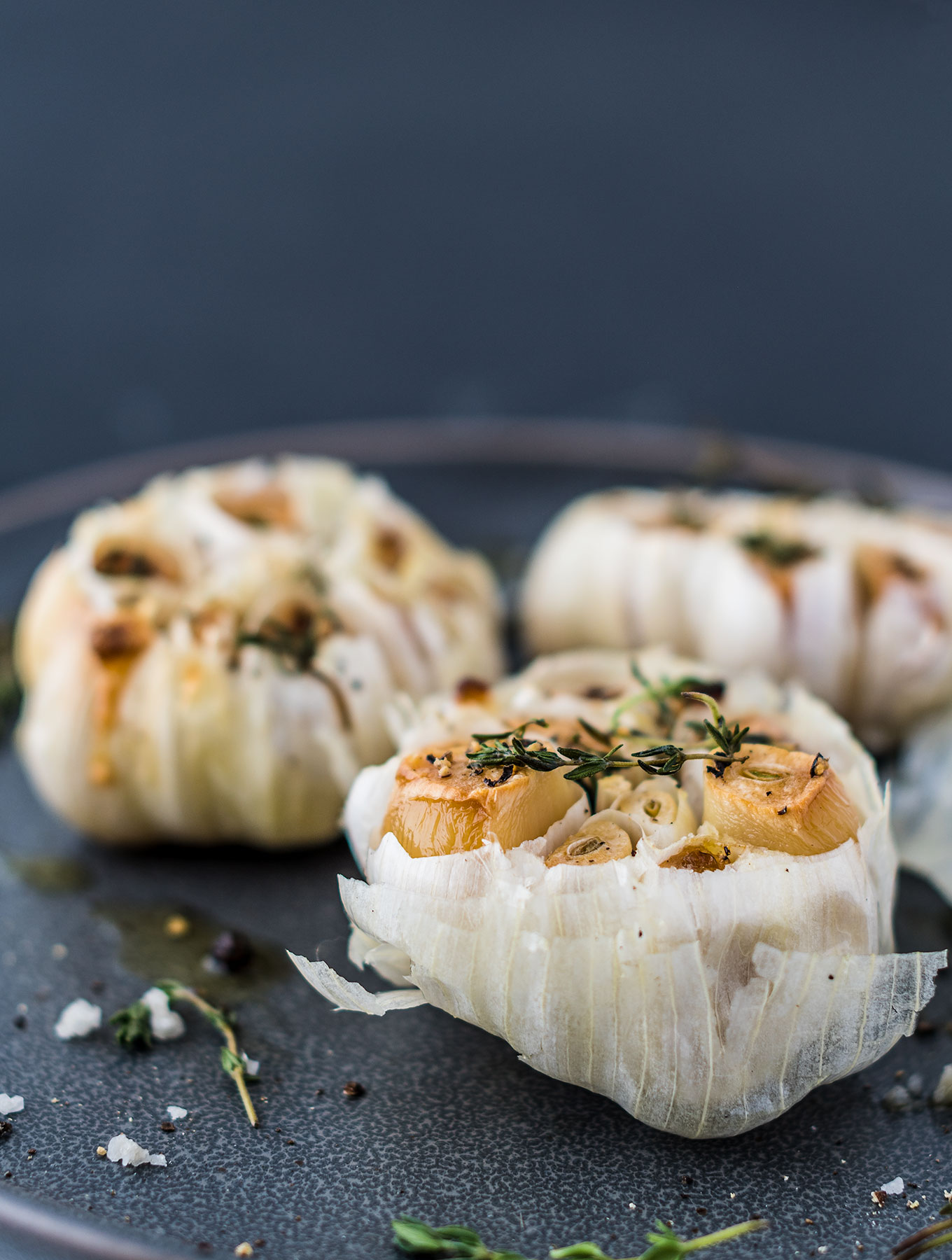 You can use roasted garlic in many ways.
Mix it in some butter with some fresh herbs (great on steaks, potatoes and veggies)
Delicious in cream cheese (great on bagels)
Mix it in some mayo for a simple aioli (great as a sandwich spread)
Throw it in some pasta or zoodles
Add it to some sauteed veggies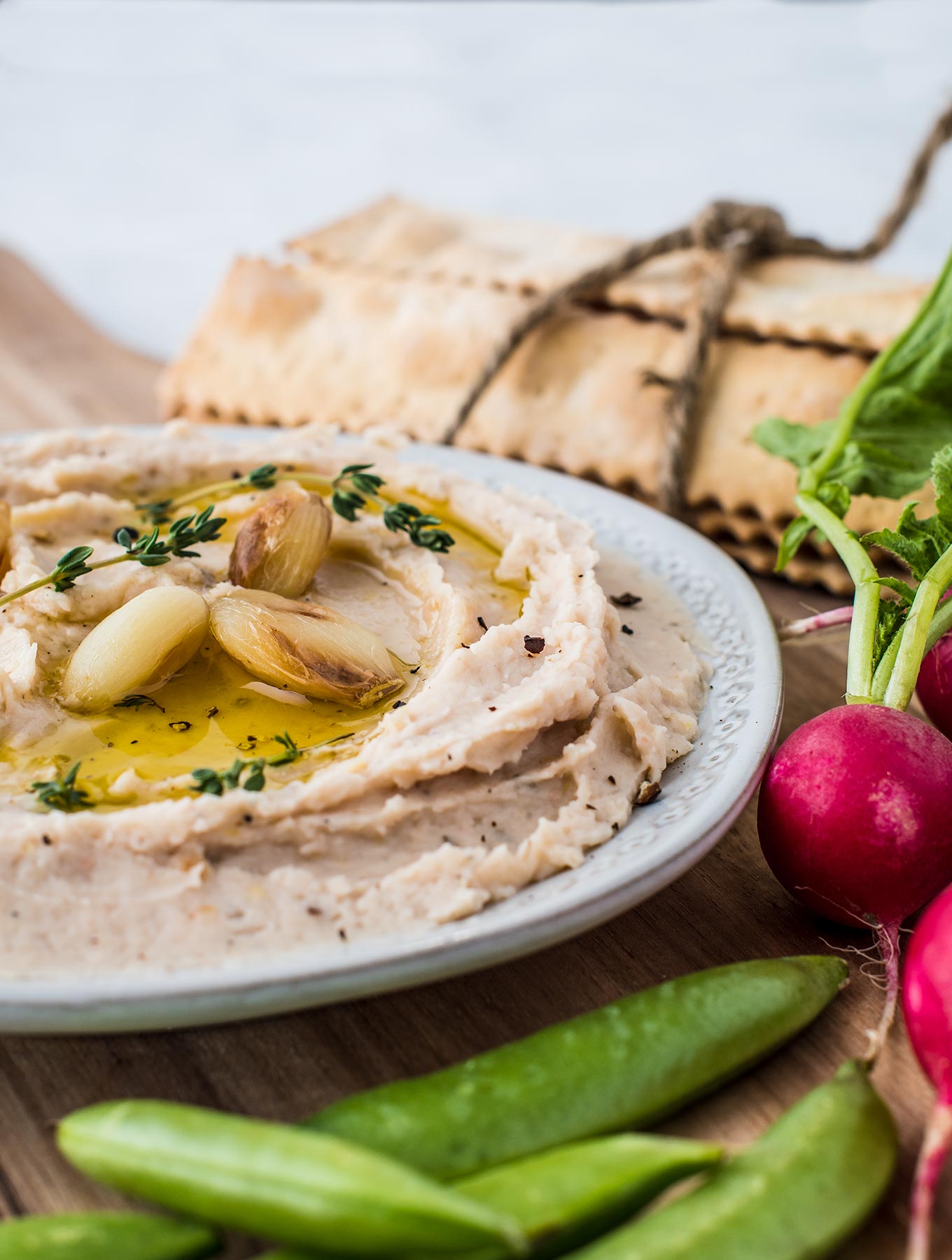 After you roast the garlic, you are minutes away from creamy, garlicky, lemony yumminess. The remaining ingredients get tossed into a food processor and voila your done. It's that easy. This dip is great served with fresh veggies..think radishes and sugar snap peas. Yum! You can also serve with crackers or toasted pita bread.
The feta sprinkled on the top is completely optional if you're vegan or just dairy free. I like to drizzle some olive oil on top and some fresh herbs (oregano, rosemary or thyme) with extra roasted garlic cloves. So simple and so delish!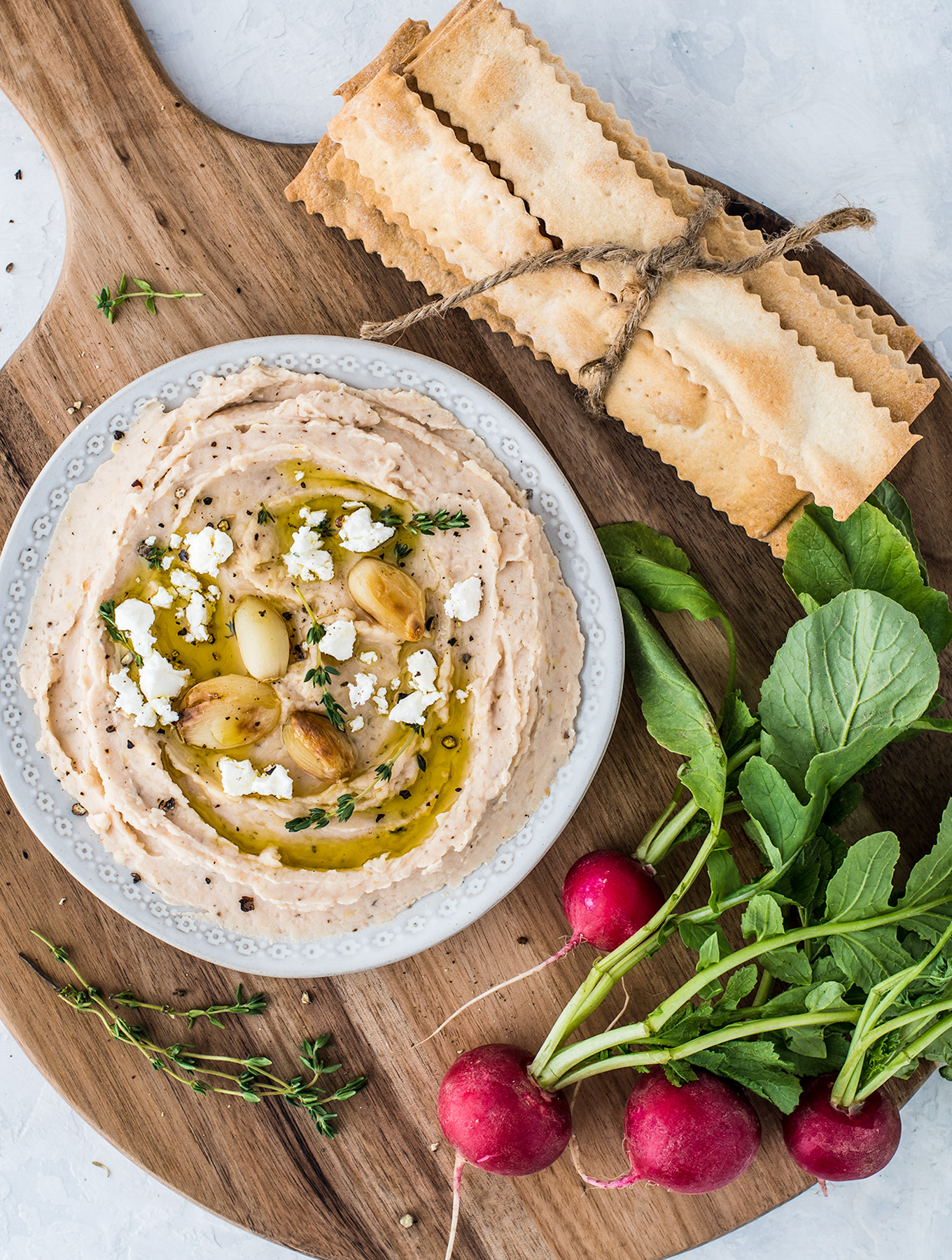 If you try this recipe, be sure to comment below. You can also tag your photos on instagram with #crazyinspiredlife. Happy Friday!
Print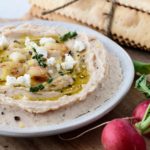 Roasted Garlic Bean Dip
Author:

Prep Time:

10

Cook Time:

30

Total Time:

40 minutes
---
Description
This mediterranean inspired roasted garlic bean dip is simple and delicious. Great served with colorful veggies or toasted pita bread.
---
Ingredients
2

Cans of Cannellini Beans (drained)

3

Cloves of Garlic

2

t. Greek Seasoning (Recipe)
Zest of

1

Lemon
Juice of Half Lemon
Olive Oil
Crumbled Feta Cheese for Garnish (optional)
Fresh Thyme or Oregano (for topping)
---
Instructions
Peel garlic cloves and wrap in foil.
Roast in oven at 375 degrees for 30 minutes.
Place all ingredients except feta cheese and olive oil in a food processor.
Blend until well combined.
Slowly drizzle in olive oil until smooth.
Place in a serving bowl and drizzle with olive oil.
Top with feta cheese and a sprinkle of fresh herbs.
---
Notes
This dip can be served with warm pita bread, chips, veggies or crackers.
You can also roast whole heads of garlic by cutting off the top and drizzling with a little olive oil and topping with some fresh herbs.