Hold the crab…These Faux Crab Cakes with Chipotle Aioli are made with hearts of palm and are delish!!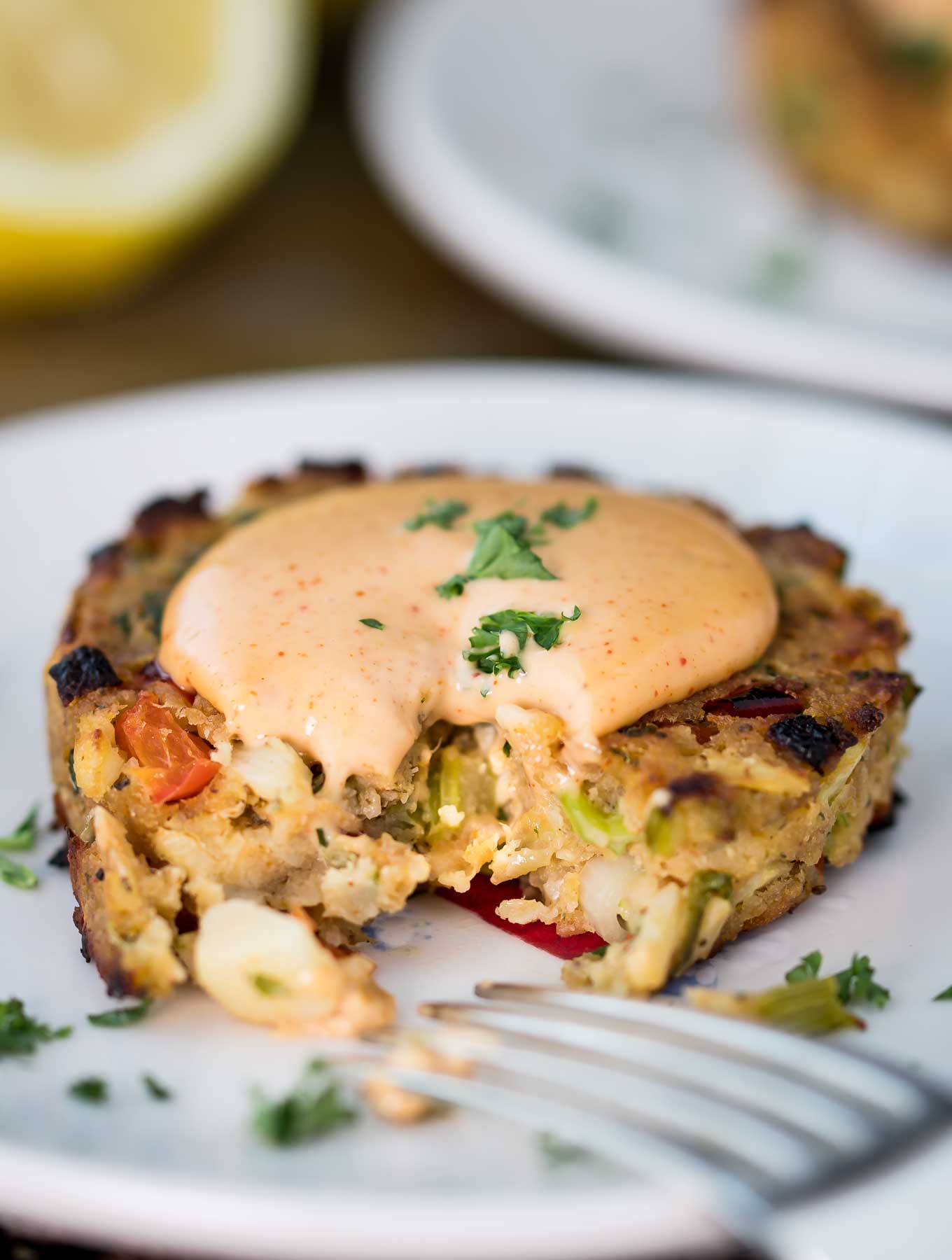 I know, I know your skeptical about the hearts of palm, or maybe not.  I can assure you that these faux crab cakes are the bomb!! I promise you that you won't miss the crab. The great thing is, that if you do, you can use crab instead of hearts of palm and voila, you have a real crab cake. So, why the hearts of palm? Well, it's all about the color and texture. Did I mention the cost savings vs lump crab? Extra bonus points! You will not believe how much these look like crab cakes when you make them.
This is, hands down, one of my most favorite things that I make. So what does that mean? You NEED to make them. It's Friday, and there may still be time to get to the store to get your ingredients. I tell you, it will be worth the trip. You will soon be flooding my inbox to ask me how you went through life without them…TRUST ME!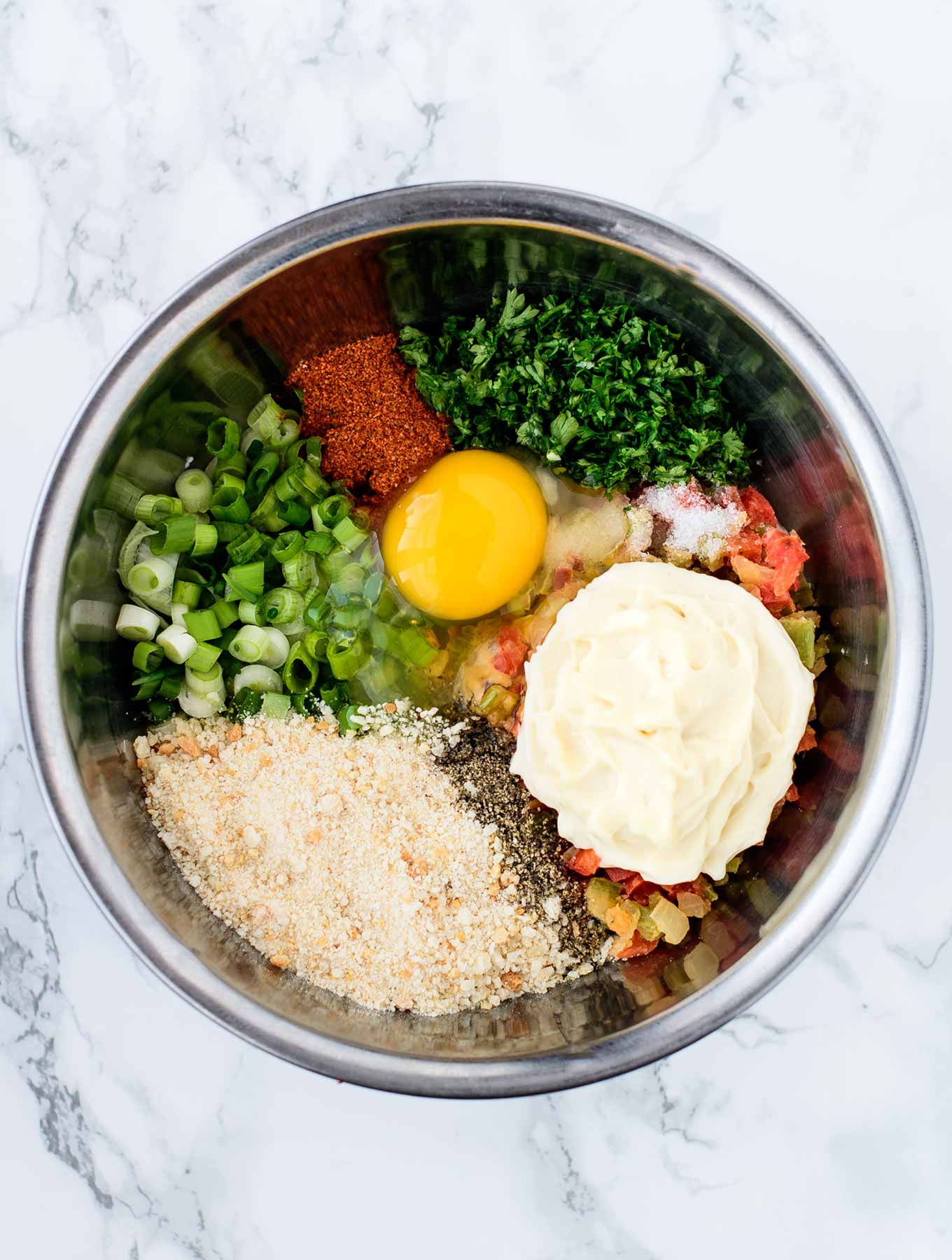 Don't let the long list of ingredients scare you away from this recipe, because these come together pretty quick, and with only 8 minutes of cook time, you got this! It's a matter of tossing all of the ingredients into a bowl, shaping them into cakes and broiling them for 8 minutes. Easy peasy!
This recipe can also be made gluten free by substituting gluten free panko, and 100% vegan, using a flax egg. Whatever you need to do to make this recipe work if you are on a special diet, do it! It's that good. It's easy, delicious, and sophisticated enough for company. My favorite kind of recipe.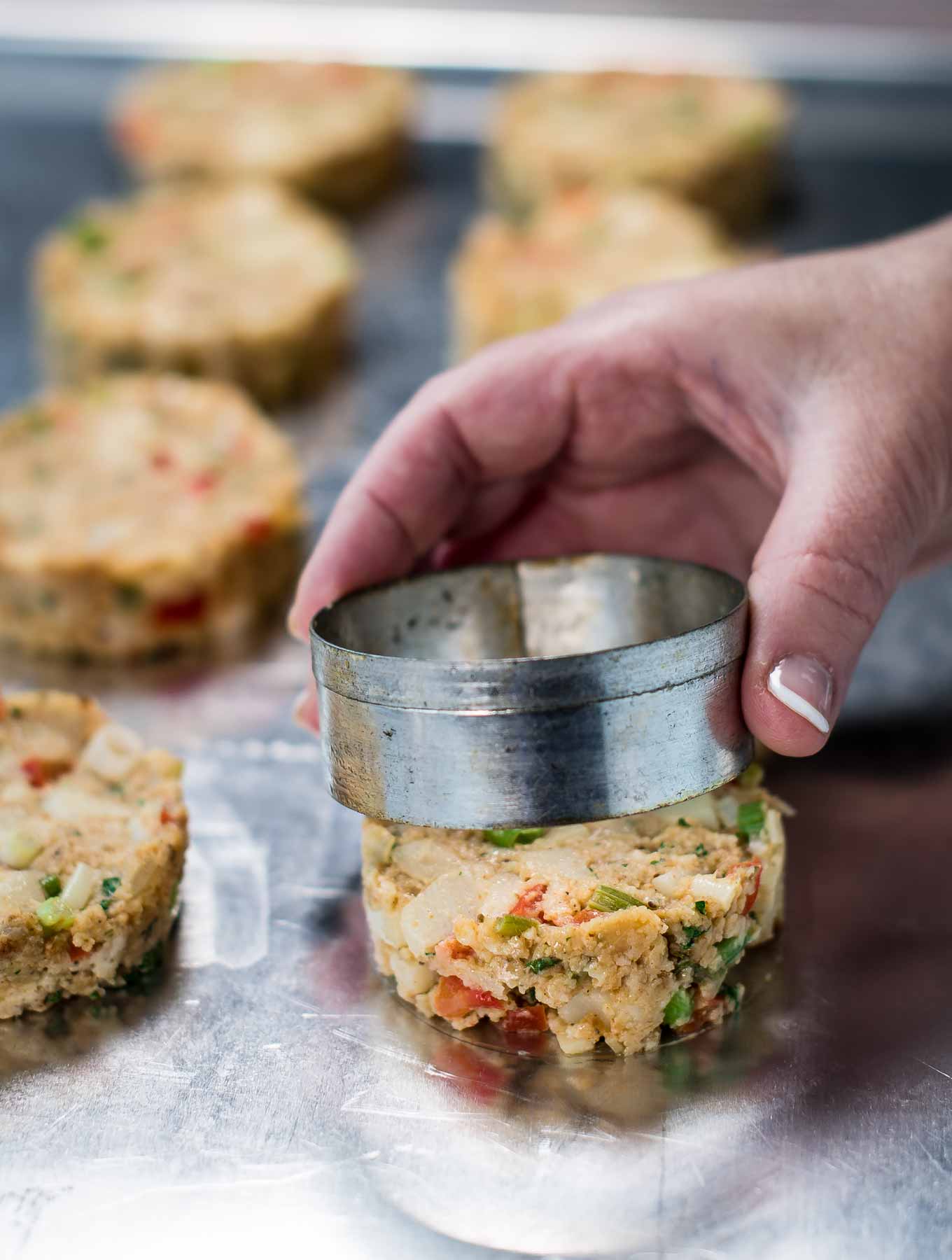 So how do we get them so perfect, round and uniform in shape? Ring molds! They can be found at kitchen stores like Sur La Table, Williams Sonoma or Amazon, they have everything. They may go by the name round cookie cutter but make sure you don't get a mold that is too thin. The one that I used here is about 2 1/2 " in diameter and 1″ thick.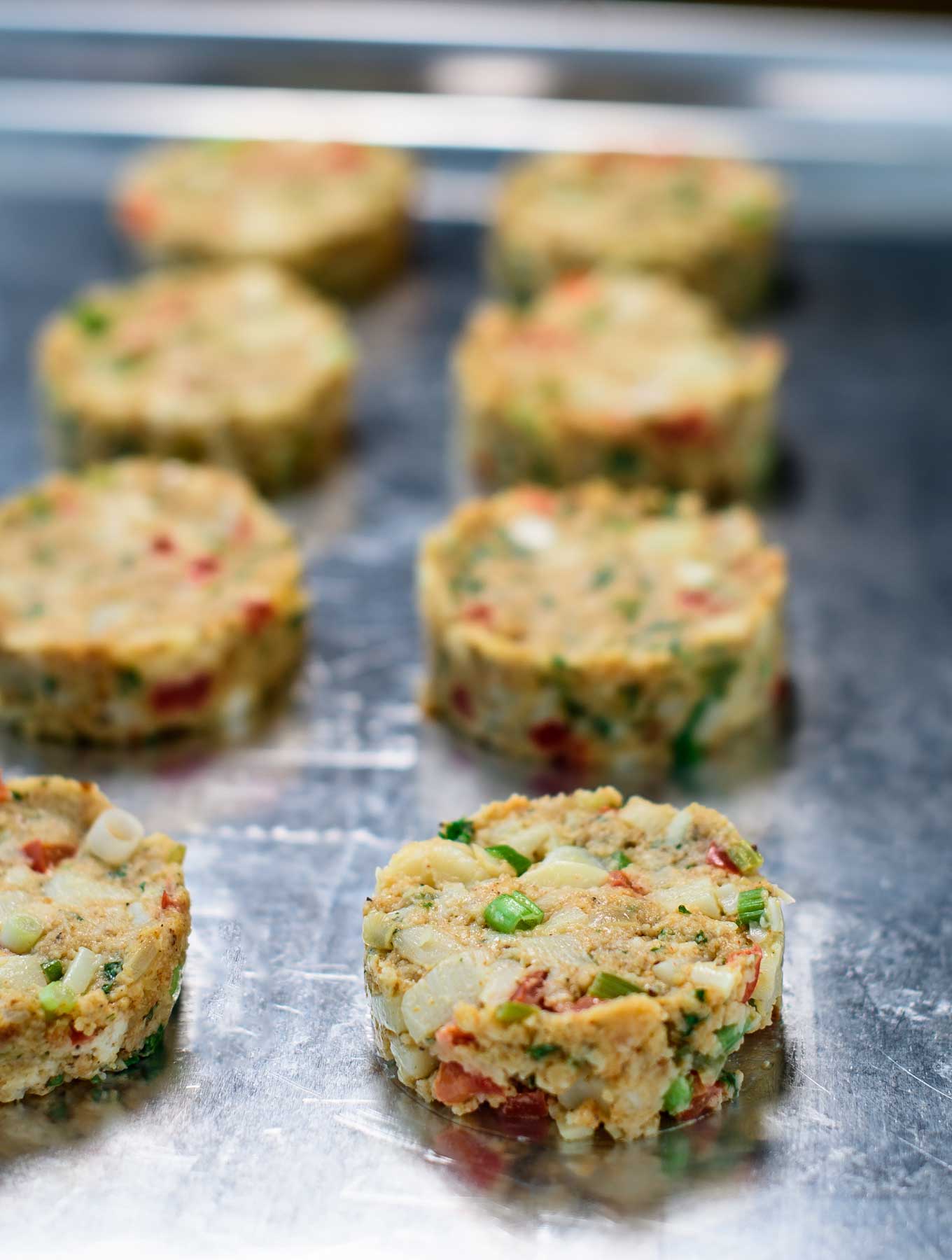 They come in a bazillion different size diameters. You can even make mini cakes too. The minis are great if you are making a large platter for a party.
One of my favorite things to do with the leftover cakes (if there are any) is to reheat them in the morning and top with a poached egg and a little drizzle of the chipotle aioli. OMG..Yum!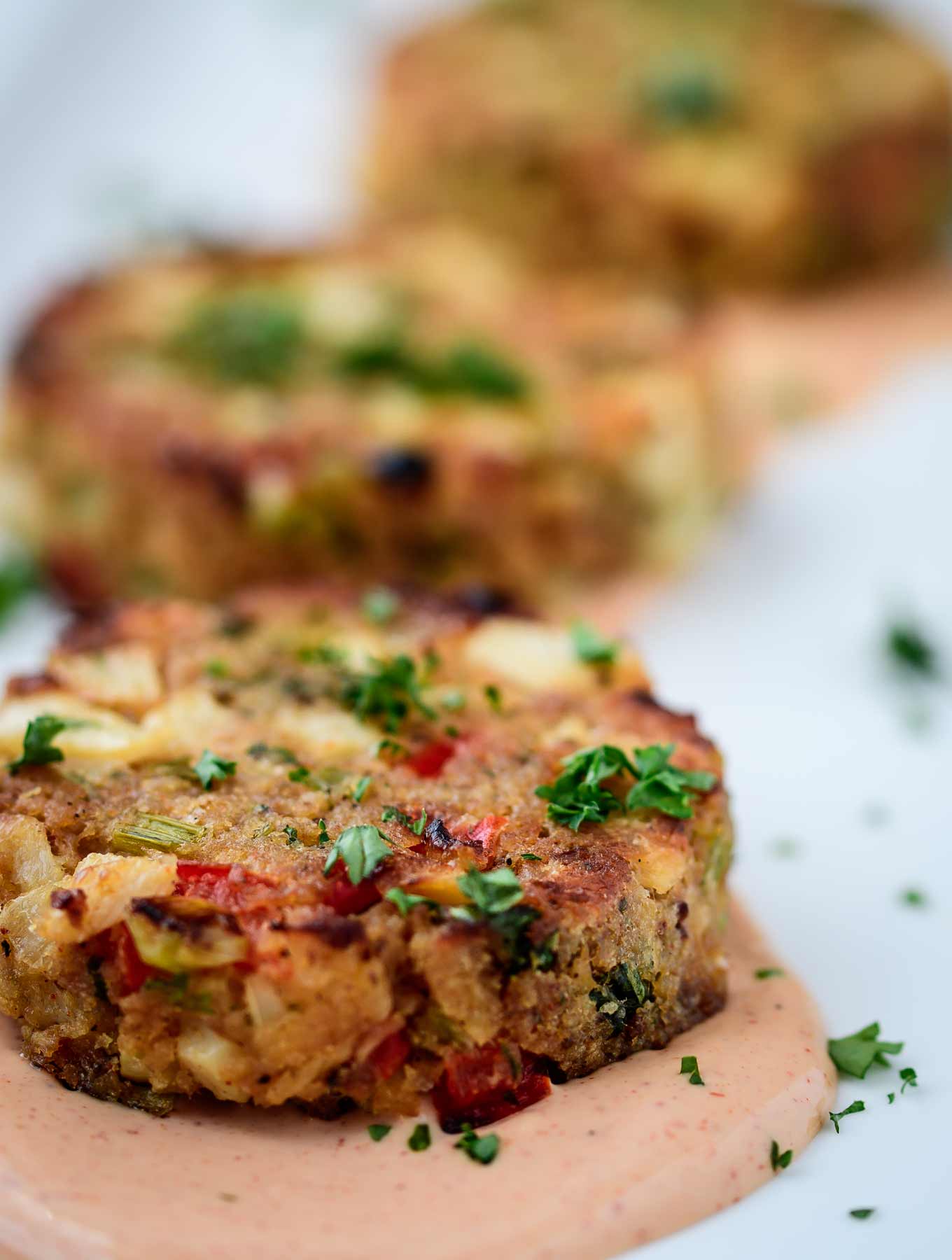 So there you have it. All you need now, are some friends or family to share these with and a cold glass of Prosecco. I hear the patio calling now.
As always, if you make anything from the blog, I would love to hear your comments. You can drop me a line in the comment box below each recipe. If your on instagram or facebook, come by and say hi.
Pin for later!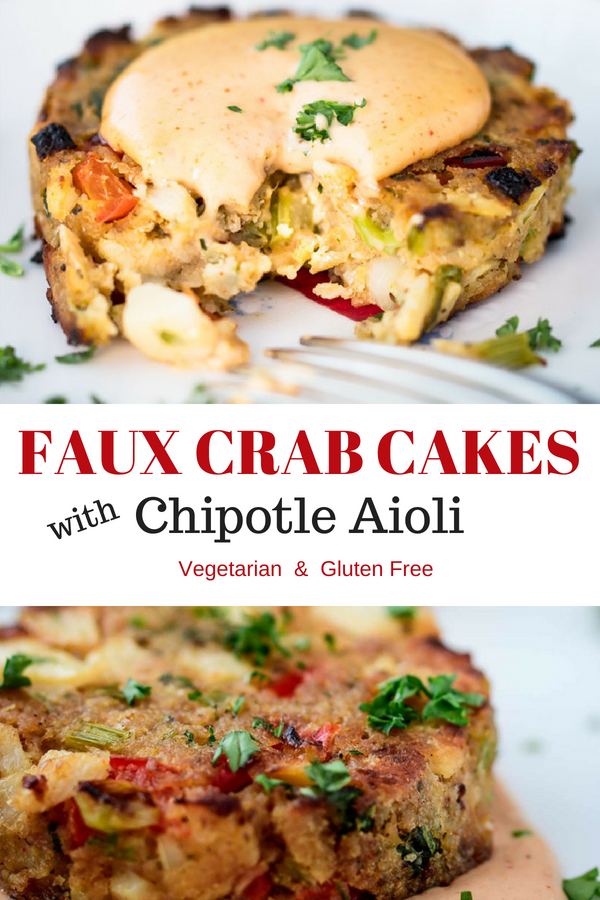 Print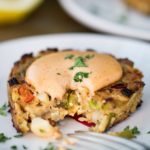 Faux Crab Cakes with Chipotle Aioli
Author:

Prep Time:

20 Minutes

Cook Time:

8 Minutes

Total Time:

28 minutes

Yield:

8

-

10

Regular Size

1

x
---
Description
Hearts of Palm are transformed into delicious faux crab cakes paired with a chipotle aioli. Easy, delicious and sophisticated enough for company.
---
Ingredients
Faux Crab Cake Ingredients:
2

T. Butter

1/3

c. Red Pepper (diced)

1/3

c. Celery (diced)

1/3

c. Onion (diced)

½

c. Panko Bread Crumbs

¼

c. Minced Green Onions

¼

C. Vegan Mayo (Just Mayo)

1

Egg

2

T Minced Parsley

2

t. Worcestershire

2

t. Old Bay Seasoning

2

t. Dijon Mustard

½

t. Salt

½

t. Cracked Pepper

1

Can Hearts of Palm (chopped)
Chipotle Aioli Ingredients:
1

C. Just Mayo

1

T. Lemon Juice

4

T. Chipotle Sauce (I use Cholula's..and love it!)

1

Clove of Garlic (minced)

1

t. Tamari

1/2

t. Smoked Paprika
---
Instructions
To make Faux Crab Cakes:
Sauté celery, onion and red pepper in butter until soft and set aside.
Add all other ingredients to a bowl including the celery, peppers and onion except hearts of palm.
Stir until mixture is well incorporated. Add hearts of palm and toss gently until combined.
Using a lightly oiled ring mold, pack about a ¼ c. of mixture into mold to shape cake. Press mixture firmly into the mold.
Place on a lightly oiled baking sheet.
After making all cakes, put in refrigerator for about an hour or more to set.
Broil for 4-5 minutes on each side until slightly brown on top. Serve with chipotle aioli.
To make Chipotle Aioli:
Mix all ingredients until well blended. Can be made in a blender.
---
Notes
To make crab cakes substitute 1 lb. of lump crab meat for the hearts of palm.
I love to make extra and have for breakfast in the morning with a poached egg on top and topped with the chipotle aioli..Yummy!!
SaveSave
SaveSave
SaveSave
SaveSave
SaveSave
SaveSave
SaveSave
SaveSave
SaveSave
SaveSave
SaveSave
SaveSave
SaveSave
SaveSave
SaveSave
SaveSave
SaveSave
SaveSave
SaveSave
SaveSave
SaveSave
SaveSave
SaveSave
SaveSave
SaveSave