Chicken Shawarma Wraps with Tzatziki Drizzle…in one word…WOW! OMG! DELICIOUS! Okay that was three, but you get the point. This recipe is amazing!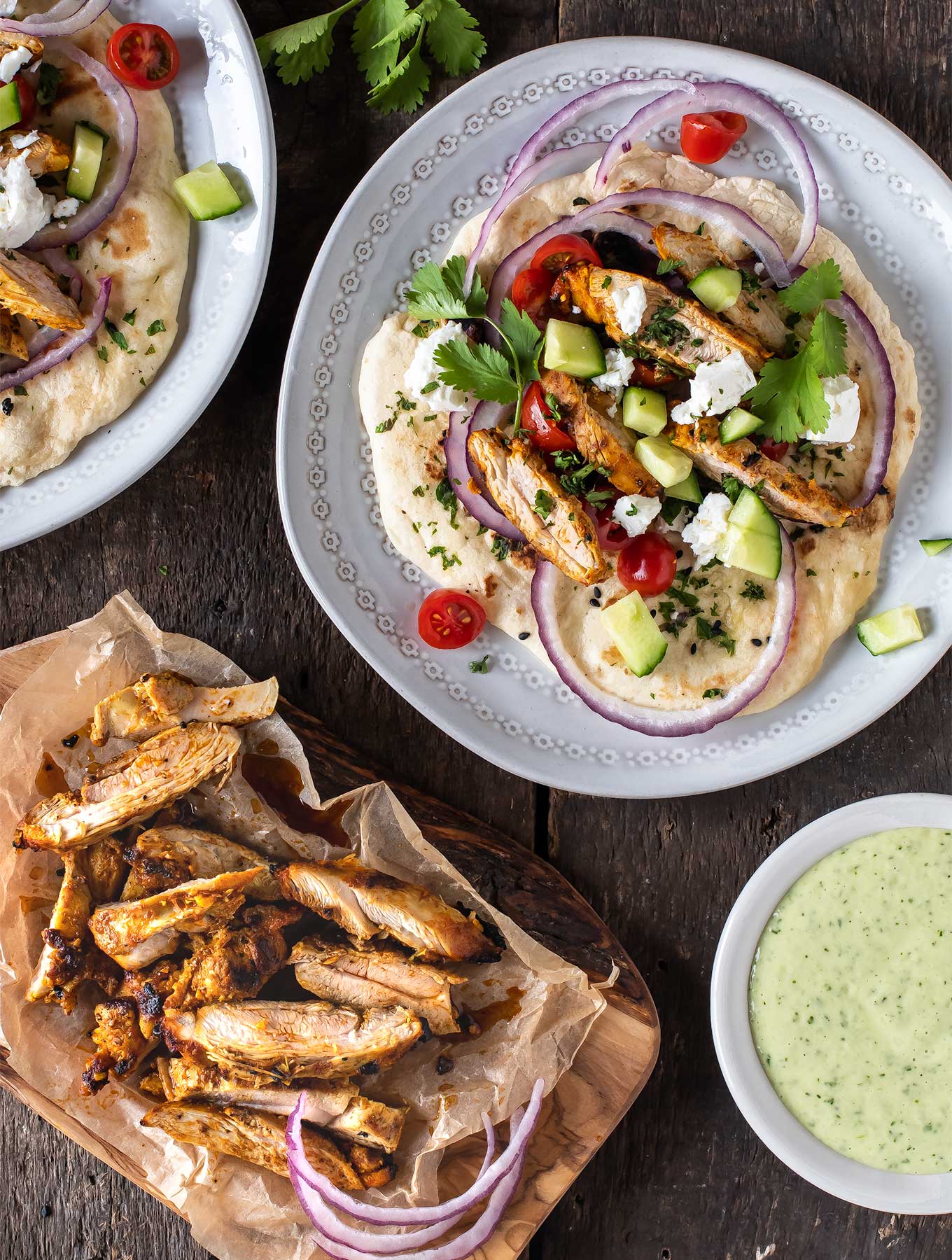 Hello there friends. I am excited to say that SPRING is in full force here in Minnesota. Temps are in the high 50's and the snow is melting away…ahhhhhhh!  I'm hoping this is not a psyche out like we had last year, where we went from warmer spring temps into April snow. Nope not happening, I can't handle one more day of snow.
All this warm weather makes me crave being outdoors. Prosecco on the patio, farmers markets and recipes with lots of fresh ingredients are in store. I'm kicking things off with these Chicken Shawarma Wraps with Tzatziki Drizzle…So So good!! If you have not heard of, or had Chicken Shawarma Wraps before, they are similar to gyros.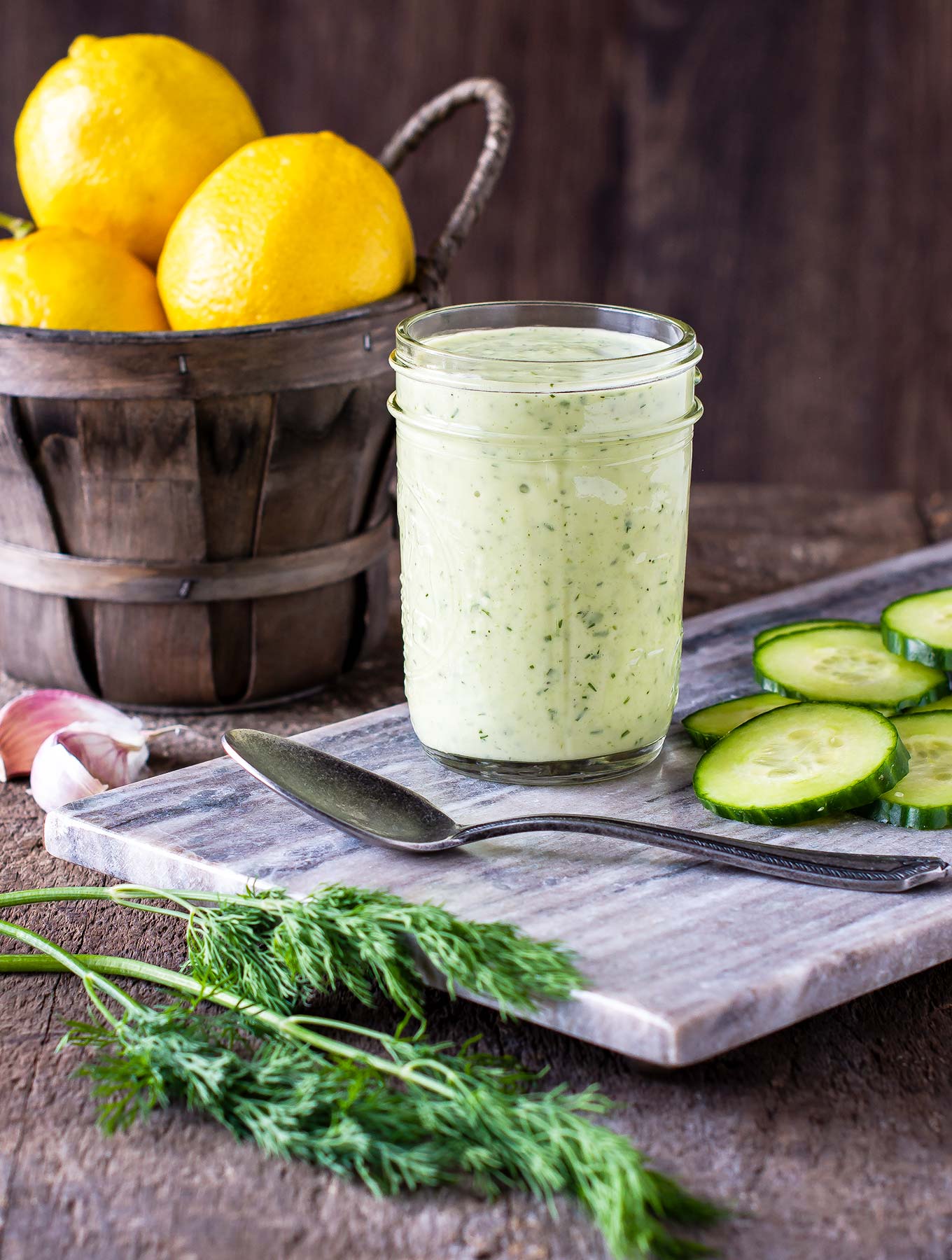 This recipe may look like a lot of work, because we actually have three recipes here in one post. The beauty of this post, is that you can make all three components or pick and choose what you want to make because there is so much versatility in each one of the recipes.
First we start with the delicious tzatziki drizzle. I call it a drizzle, but it can be a dressing, and a dip too! It comes together quickly in a blender with:
Cucumbers
Fresh Dill
Lemon Juice
Just Mayo (hands down..my fave mayo)
Garlic
Salt & Pepper
And now for the yummy naan bread. This is an extra step, so if you're pressed for time feel free to use pita bread. I gotta say, it's worth the extra effort and it's surprisingly easy to make too! You will feel like such a rock star making your own naan bread. Naan is great for these chicken shawarma wraps but it also makes a great pizza crust. I love recipes that have lots of versatility.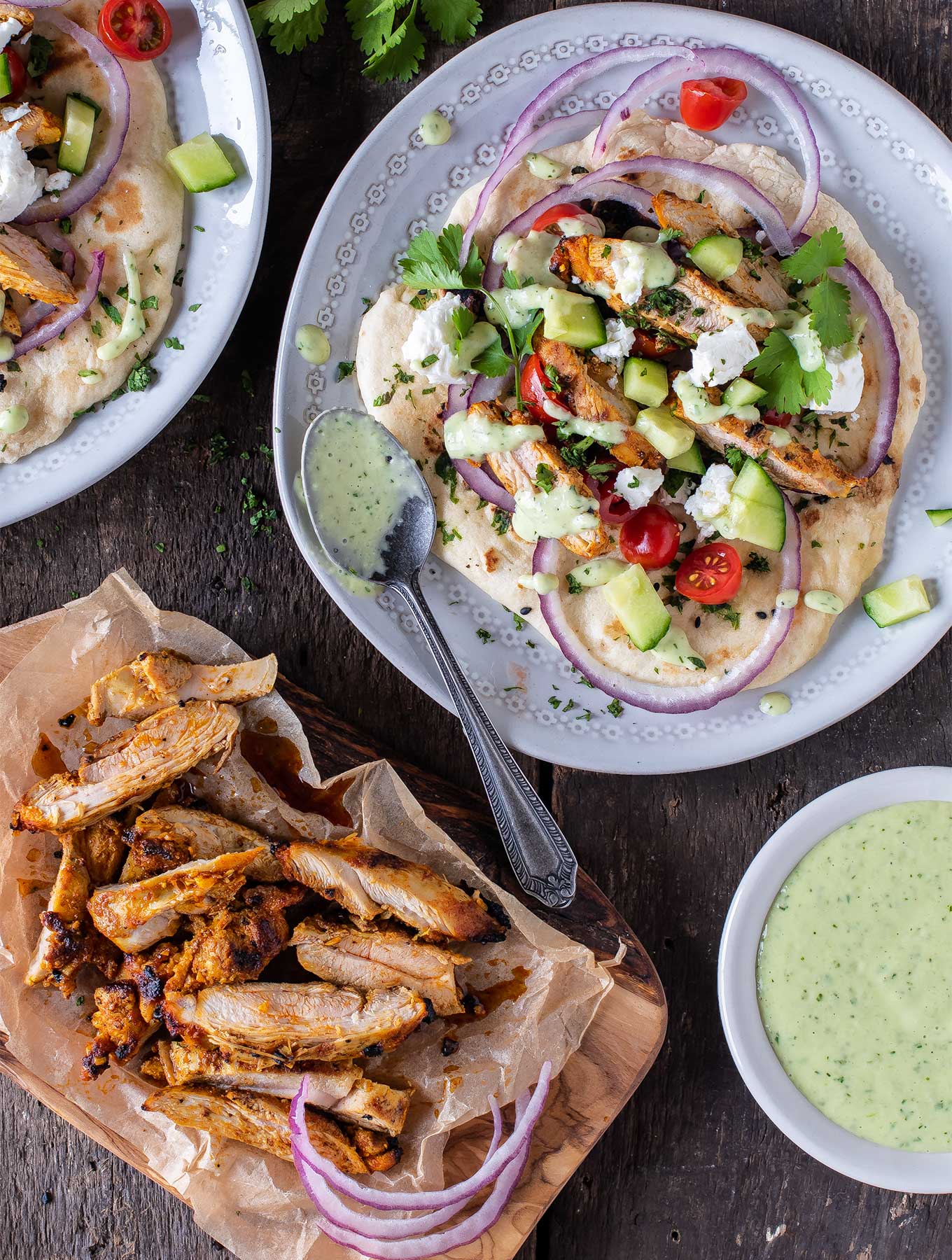 Making the chicken is super easy. You are basically taking all the chicken shawarma ingredients putting them in a shallow dish and leaving them to marinade overnight. Then, it's just a matter of popping the chicken on the grill for about 20 minutes and then off to assemble these delicious wraps.
The chicken can be used in so many different ways. You can literally take all the recipe components of this post and make a salad, wrap or a flatbread by just combining the ingredients in a different format. How's that for easy?
Print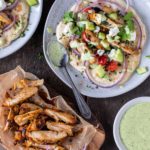 Chicken Shawarma Wraps with Tzatziki Drizzle
Author:

Prep Time:

15 minutes

Cook Time:

20 minutes

Total Time:

35 minutes
---
Description
Chicken Shawarma Wraps with home made naan and tzatziki drizzle. Made with lots of fresh and healthy ingredients. So easy and delicious!
---
Ingredients
Naan Ingredients:
2

C. Flour

1

t. Coconut Palm Sugar

1/2

t. Baking Powder

1/4

t. Baking Soda

2

T. Greek Yogurt

2

T. Warm Milk

1

T. Grapeseed Oil

1/2

t. Salt

1/2

t. Yeast

1/2

C. Warm Water
Tzatziki Ingredients:
 1 C. Just Mayo

1

C. Cucumber (chopped)

2

T. Fresh Dill

1

sm. Clove of Garlic

2

T. Lemon Juice

½

t. Salt
Cracked Pepper
Chicken Shawarma Ingredients:
1

pkg. Chicken Thighs (boneless skinless)

3

Cloves of garlic (minced)

1/2

t. Salt

1

t. Cumin

1/4

t. Turmeric

1/2

t. Coriander

3

T. Lime Juice

2

t. Smoked Paprika

3

T. Olive Oil
Additional Ingredients:
Tortillas
Feta Cheese
Red Onion
Tomato
---
Instructions
Naan Instructions:
Add yeast, sugar, and water to bowl of a stand mixer. Stir to activate and let sit for 10 minutes.
Add the flour, baking soda, salt, baking powder, oil, milk and yogurt to the bowl.
Mix until flour is fully incorporated using the dough hook.
Remove dough and knead on a floured surface.
Place dough in a slightly greased bowl.
Cover and let rise for about an hour.
Cut dough into 6-8 equal pieces.
Roll into circles. Brush bottom with a little water.
Add to a screaming hot skillet (watered side down) coated with coconut oil.
Cook until brown on both sides.
Tzatziki Instructions:
Place all ingredients in a high speed blender.
Blend until smooth and creamy.
Chicken Instructions:
Place all marinade ingredients in a shallow dish and mix until well blended.
Add chicken and marinate in refrigerator over night.
Remove chicken from marinade and grill until cooked (about 8-10 minutes per side).
If you don't have a grill, bake at 425 for 20-30 minutes (or until internal temp of 165 degrees).
Assembly:
Place chicken on naan bread.
Top with tomatoes, feta cheese, cucumber, and red onion.
Drizzle with tzatziki and serve.
---
Notes
For a great salad option, add the cooked chicken to a bowl of fresh romaine lettuce, tomatoes, red onion, feta cheese, chopped cucumber and top with tzatziki drizzle as a dressing.